A stroll amid Roman legionaries' tough caligae, Greek courtesans' seductive sandals and the sophisticated footwear that shod the aristocracy of the ancient world, with more than a passing glance at the incredible range of shoes, boots and sandals worn by the stars of such epics as Ben Hur and The Gladiator, or at the creations of eminent fashion designers who turned to the Classical world for their inspiration such as Emilio Pucci, Salvatore Ferragamo and Yves Saint Laurent.
All of this and more awaits visitors to "Worn by the Gods", an exhibition curated by Lorenza Camin, Caterina Chiarelli and Fabrizio Paolucci, and hosted in the Museo della Moda e del Costume in Palazzo Pitti from 16 December 2019 to 19 April 2020.
The exhbition, focusing on a theme as fascinating as it has been hitherto unexplored, sets out to recount the myriad roles played by footwear in the Western world from antiquity to the present day. The stars of the show, consisting of some 80 works (several of which have been loaned by such leading international museums as the Louvre), are the examples of the main types of footwear used in the Classical era from the 5th century BC to the 4th century AD, illustrated both on precious works of art such as painted vases and reliefs and "in the flesh" by a series of outstanding archaeological finds from the Roman fort of Vindolanda in Northumberland.
But the exhibition also sets the ancient world alongside the modern, showcasing footwear by some of the contemporary world's greatest stylists (Genny, Céline, Richard Tyler, Renè Caovilla, Donna Karan) together with original models by Calzaturificio Pompei, Italy's most celebrated maker of costume footwear, for such cult epics as Cleopatra with sandals that graced the feet of Liz Taylor, Ben Hur with shoes worn by Charlton Heston, or The Gladiator and Alexander with the footwear that shod Russell Crowe and Colin Farrell
The exhibition winds up with a multivision devised and directed by Gianmarco D'Agostino (Advaita Film) immersing visitors in a world of images in which archaeology and fashion merge with the legends of the silver screen.
Gallerie degli Uffizi Director Eike Schmidt: "Since time immemorial, man has always sought to turn the humble shoe, a item of daily use if ever there was one, into a reflection of the principles of harmony and symmetry that governed Classical taste. Thus the shoe became a work of art in its own right, an object shaped more for aesthetic than for practical considerations. With the deliberate aim of fully illustrating this 'destiny', whose premises are already found in the Greek and Roman worlds, we decided to expand the exhibition to include two closely connected aspects of contemporary culture, fashion and the cinema. Taking their cue from the Classical world, the curators explore this novel aspect of the 'popularity of the ancient world', discovering echoes, evocations and assonances that forge an unexpected link between the past and our own day thanks to films such as Cleopatra or to the inspiration of leading fashion designers".
Fabrizio Paolucci, curator of the exhibition and Director of the Uffizi Antiquities Department:
"That shoes are far more than a mere accessory was something the ancient world was already quite clear about, as indeed it was about the skill required to make them. Plato, for example, showed no hesitation in labelling the shoemaker's art a science in its own right. With its shapes and its colours, this item of clothing said everything there was to say about its wearer: their gender, their wealth (or otherwise), their social standing and their profession. An item that has long been considered a mere detail in a person's attire now plays the star role in an exhibition aiming to restore the humble shoe to its rightful place as a valuable document recording the taste and techniques of the Greek and Roman worlds".
A POTTED HISTORY OF ANCIENT FOOTWEAR
The style of a person's footwear frequently denoted their specific social class, status or profession in the Classical world. Hobnailed caligae, for instance, were primarily worn by soldiers because they were ideal for long marches, while calcei, a kind of ankle boot often brightly coloured when worn by women, pointed to the wearer's membership of the upper classes (patricians, senators and emperors). Historical sources, on the other hand, inform us that courtesans often wore sandals with small nails arranged on the sole in such a way as to leave a message for prospective customers in the dust of the roadway: "Follow me!"
But then seduction has always been a feature of this item of clothing, and it is no mere coincidence that footwear played an important symbolic role in the wedding ceremony in antiquity. In fact the shoe was a leading player in such myths as that of Rhodopis, the Cinderella of the ancient world, first recounted by Herodotus and subsequently relayed by Strabo. Footwear has also featured in numerous figures of speech since that era. In one of his Philippics, for example, Cicero uses the expression "mutavit calceos" to tell us that a certain person's social status had changed. The man had become a senator, and the calcei of a senator were a very different matter from those of an ordinary patrician.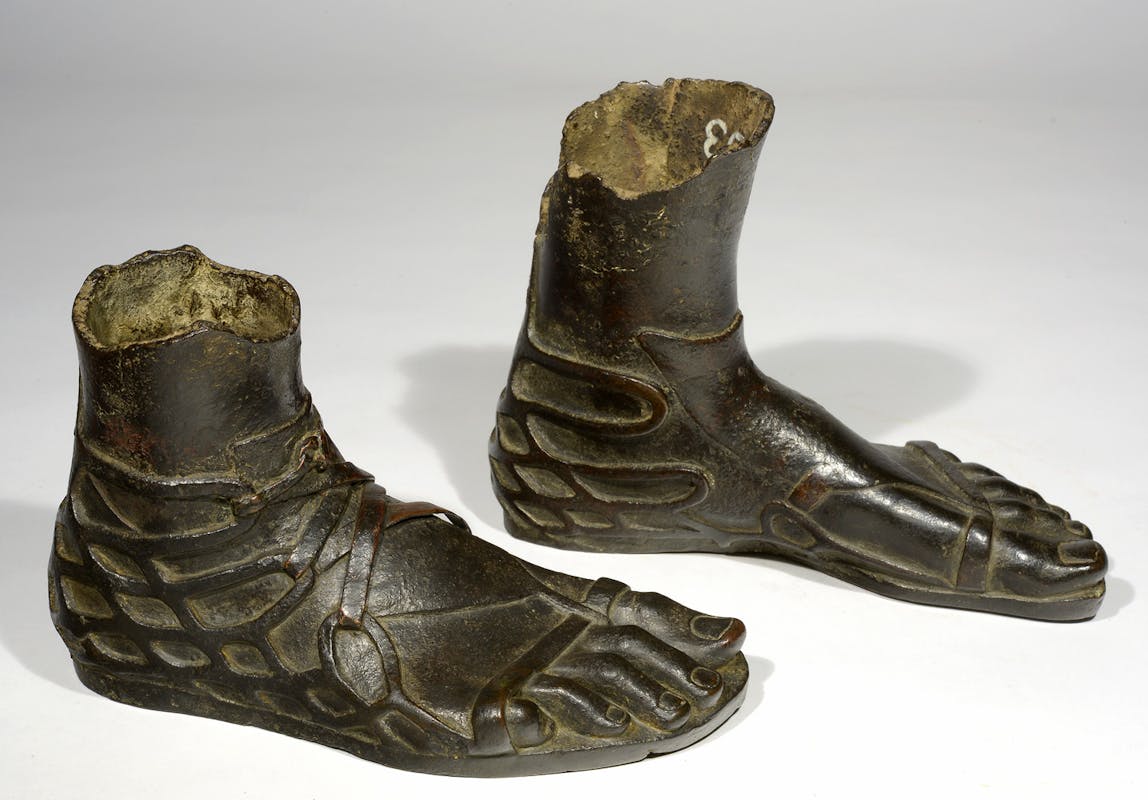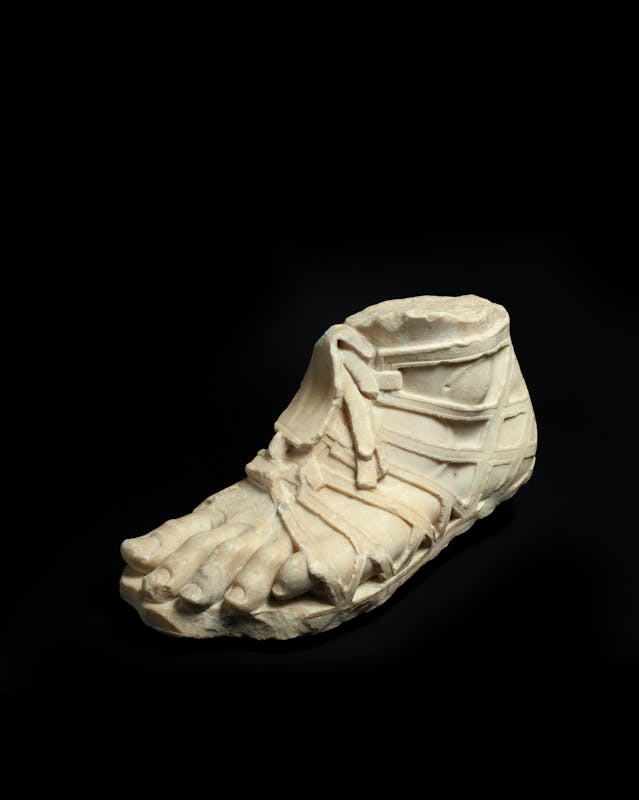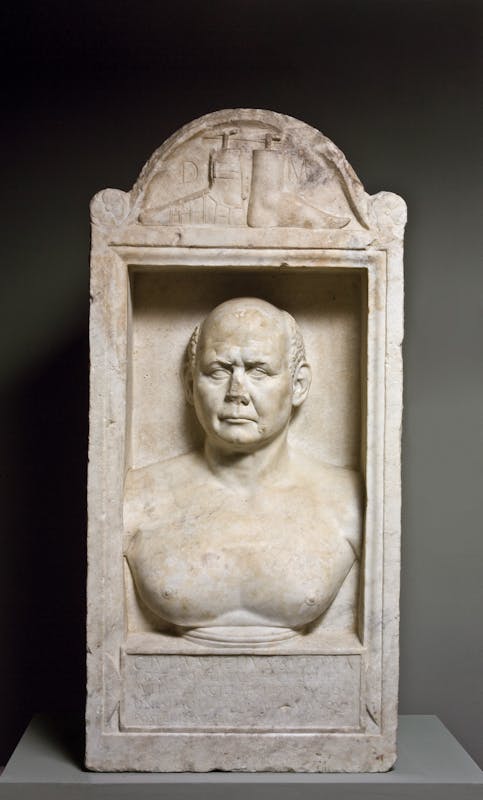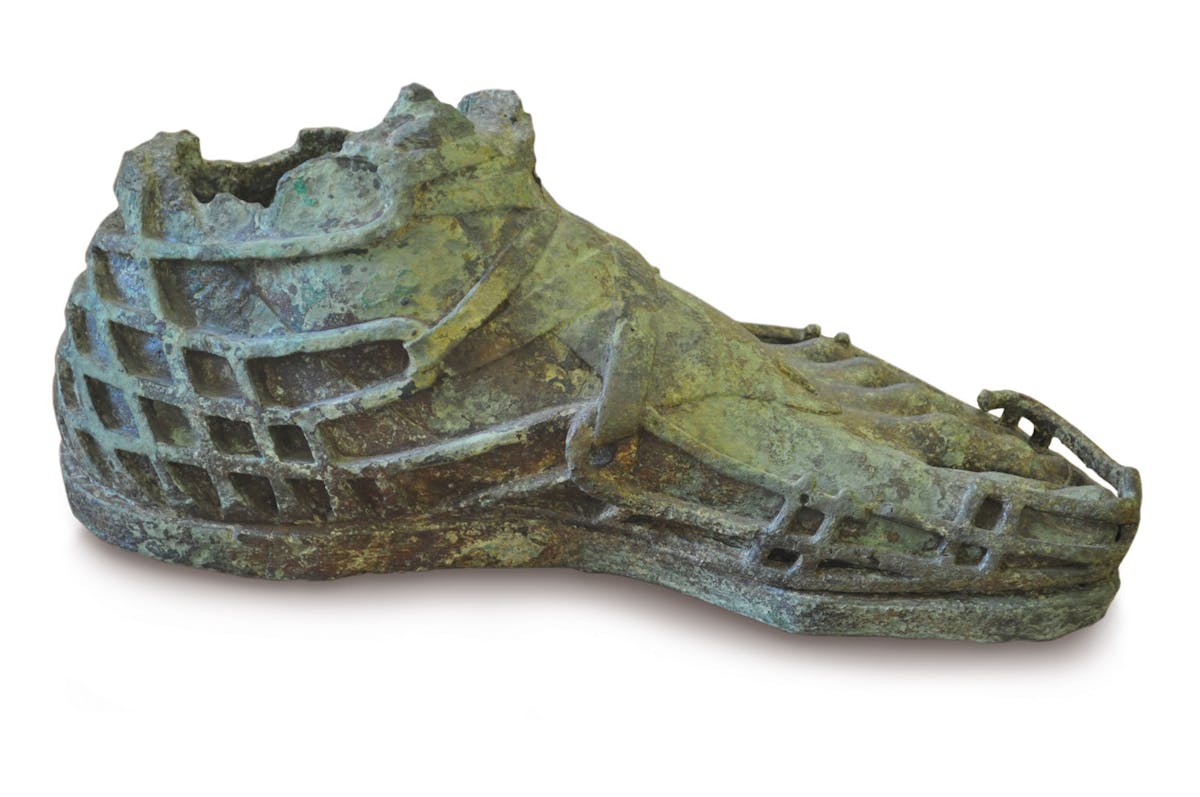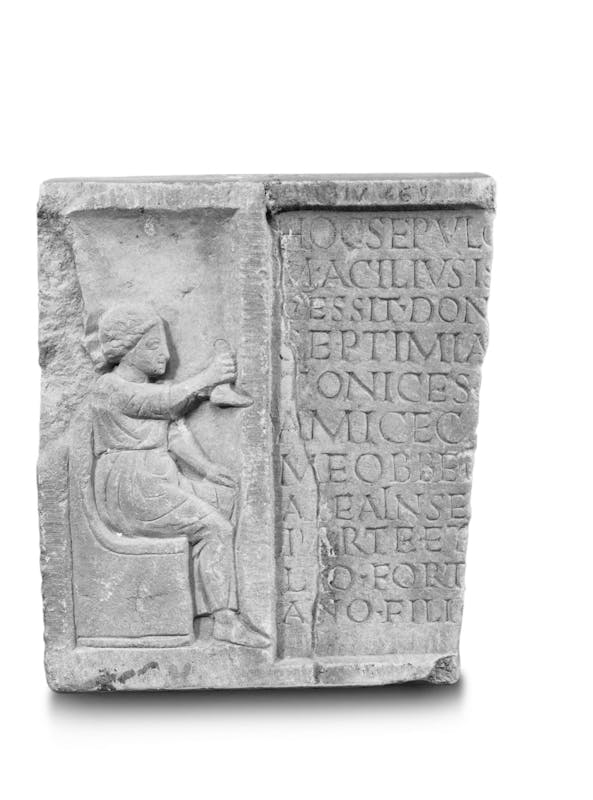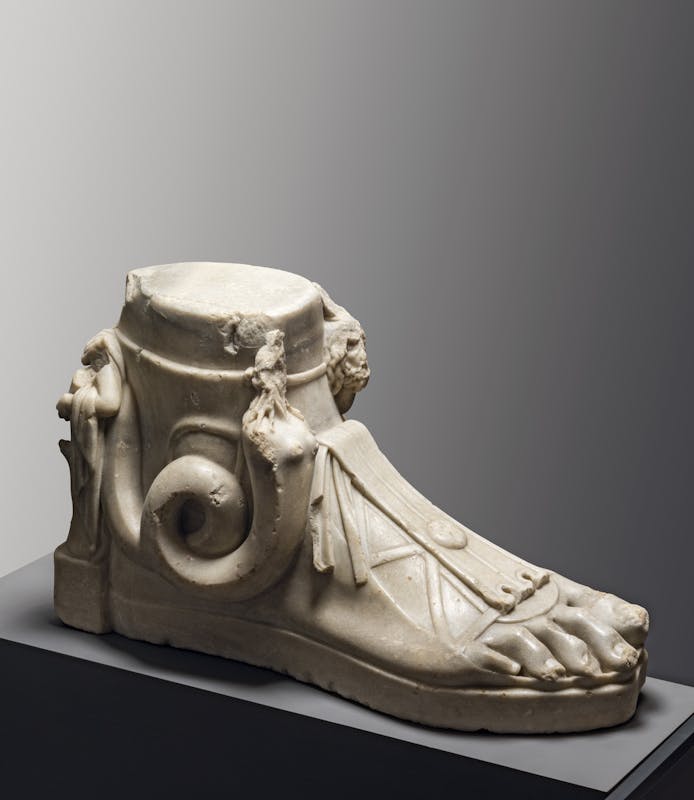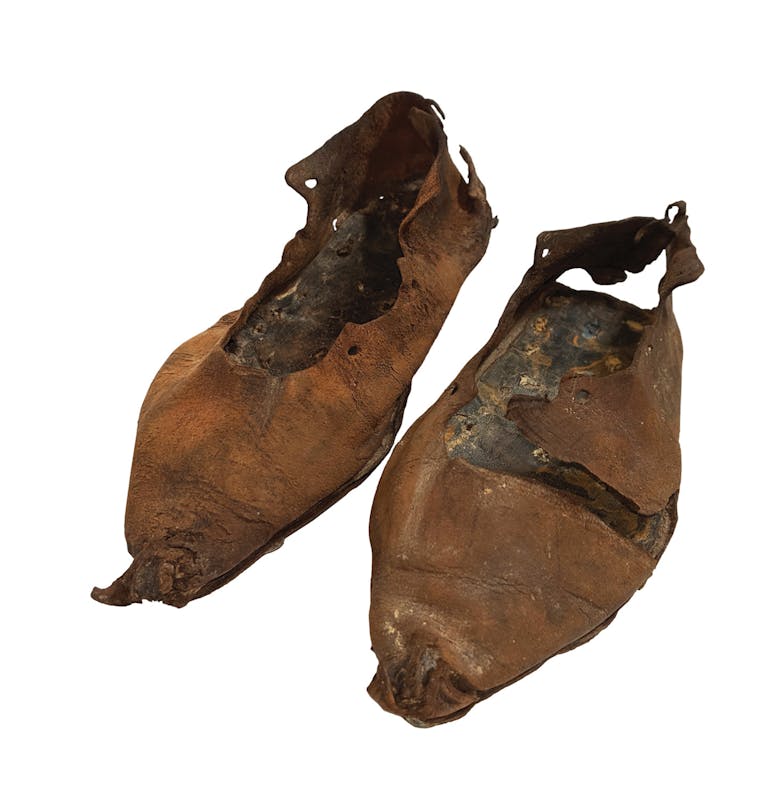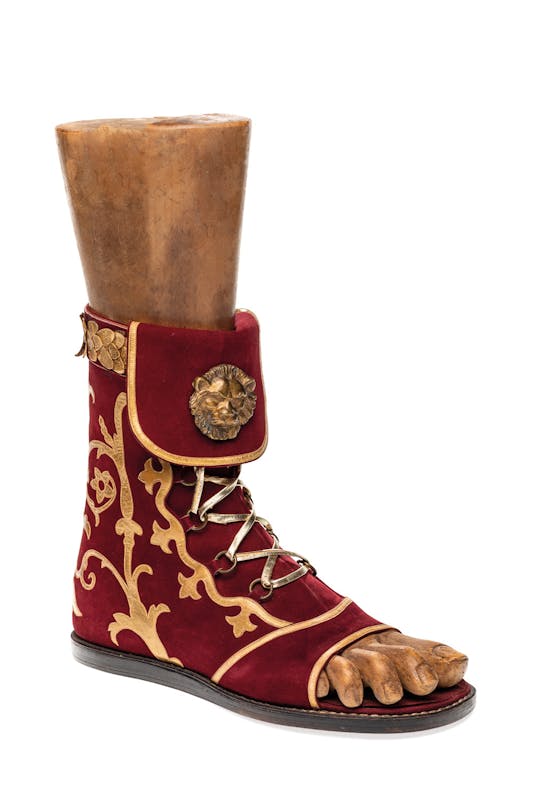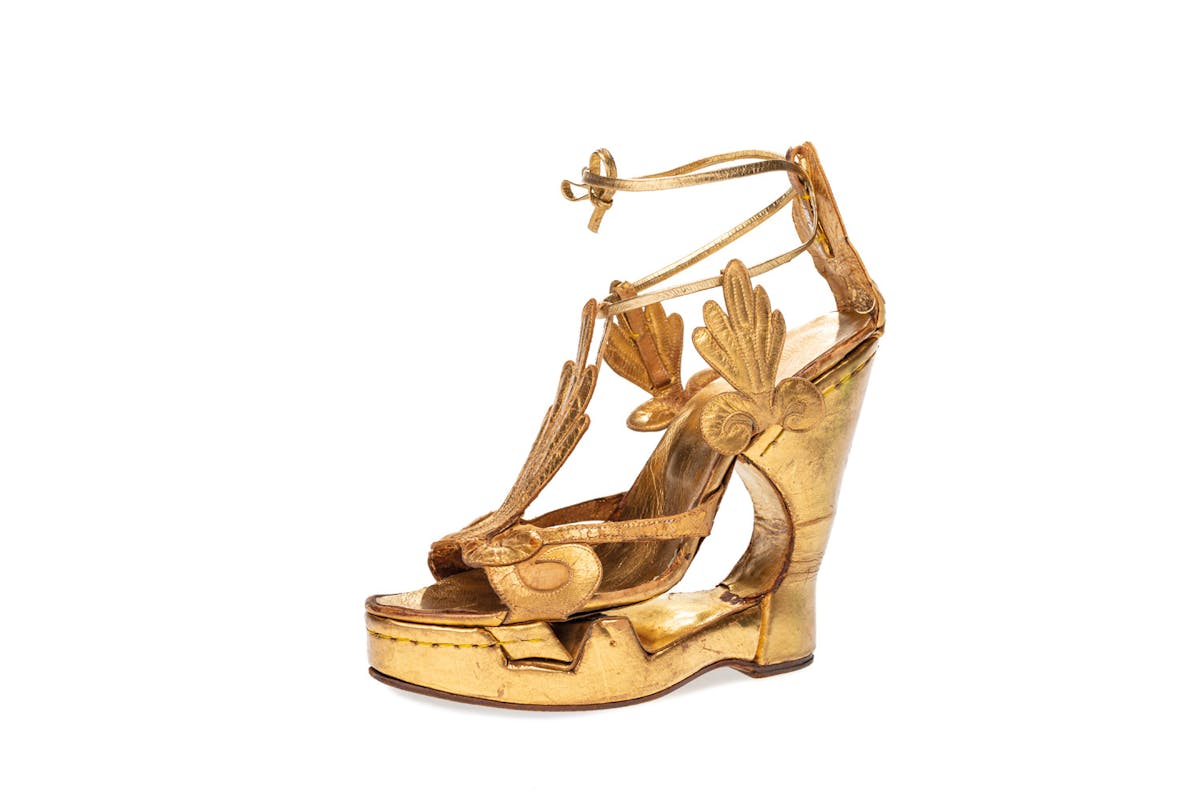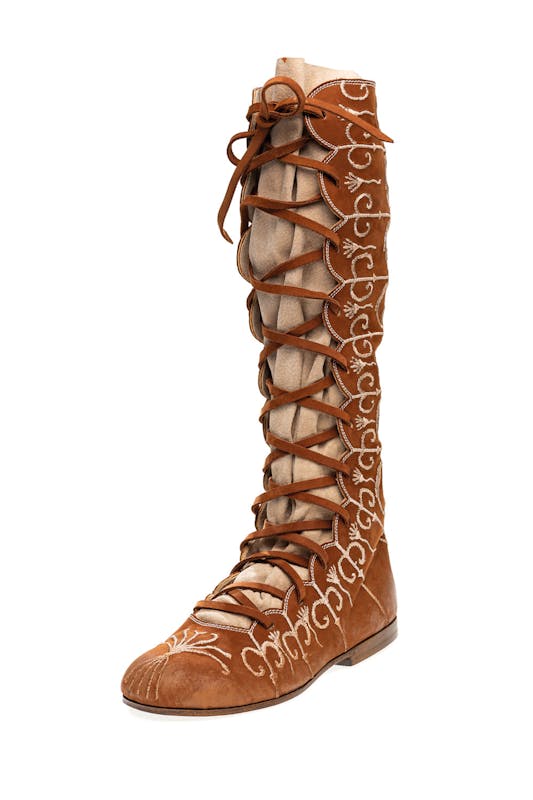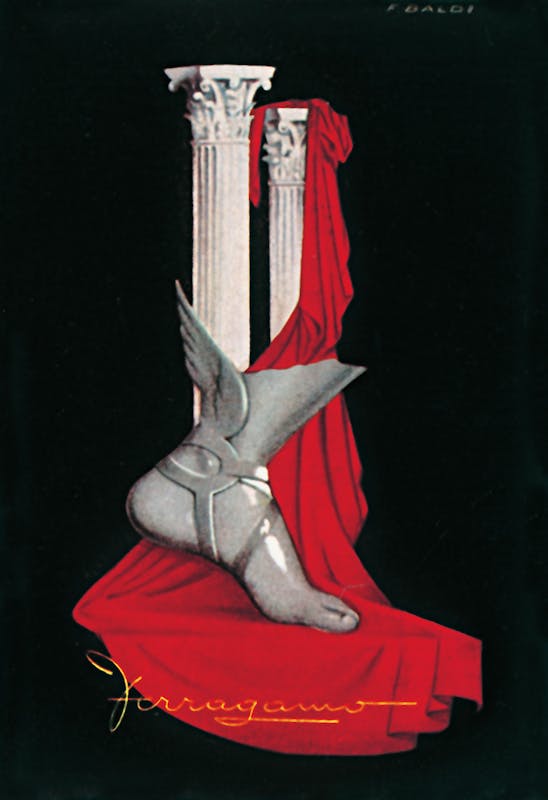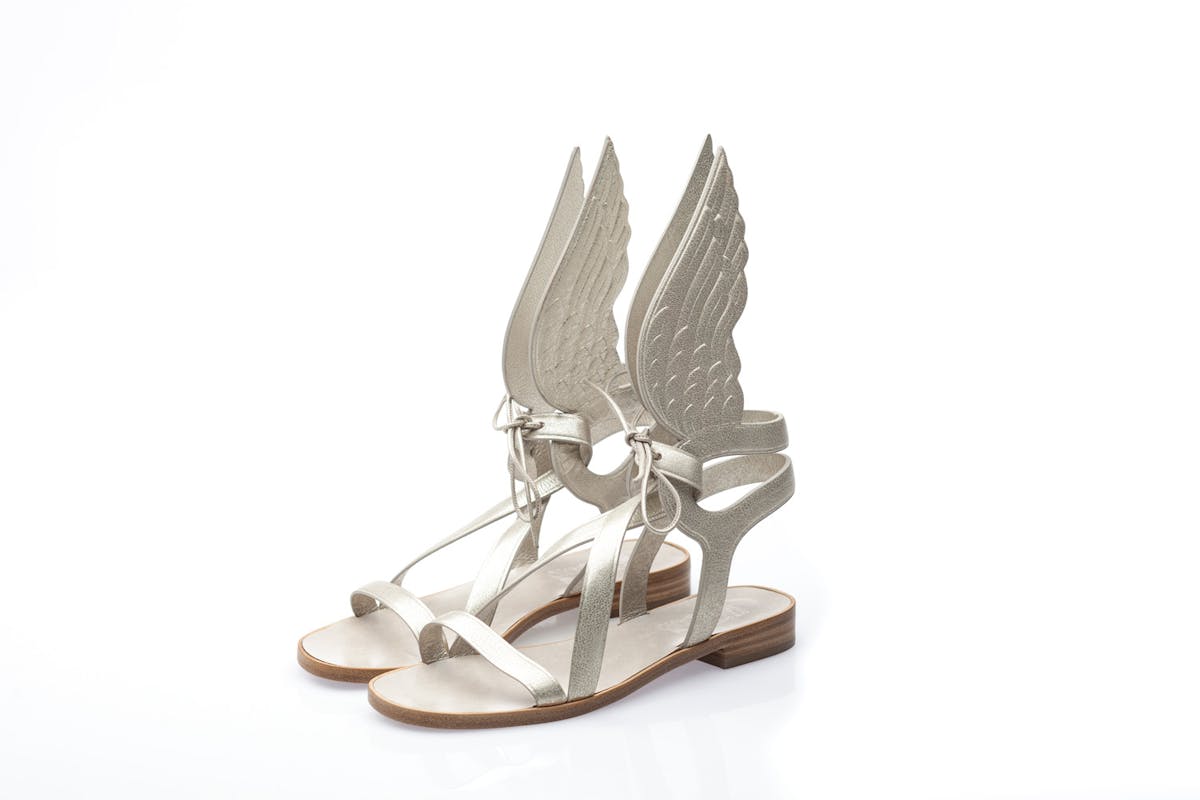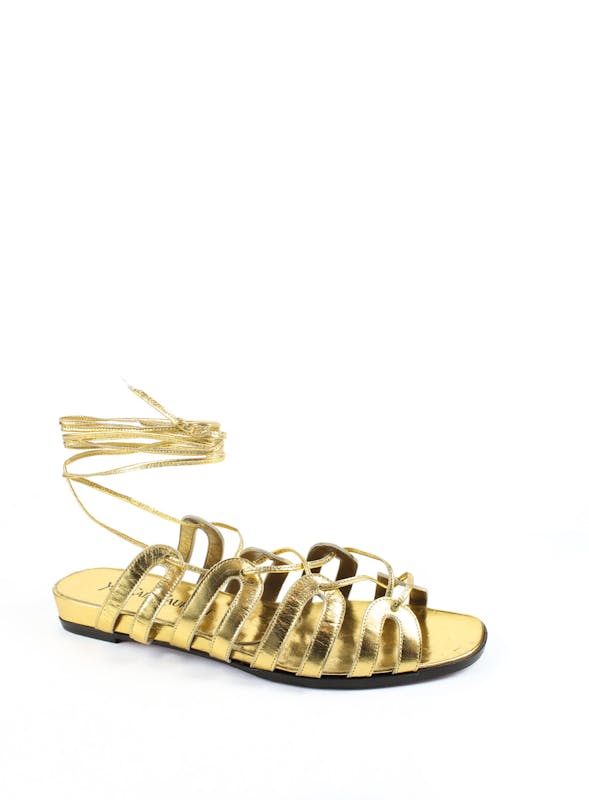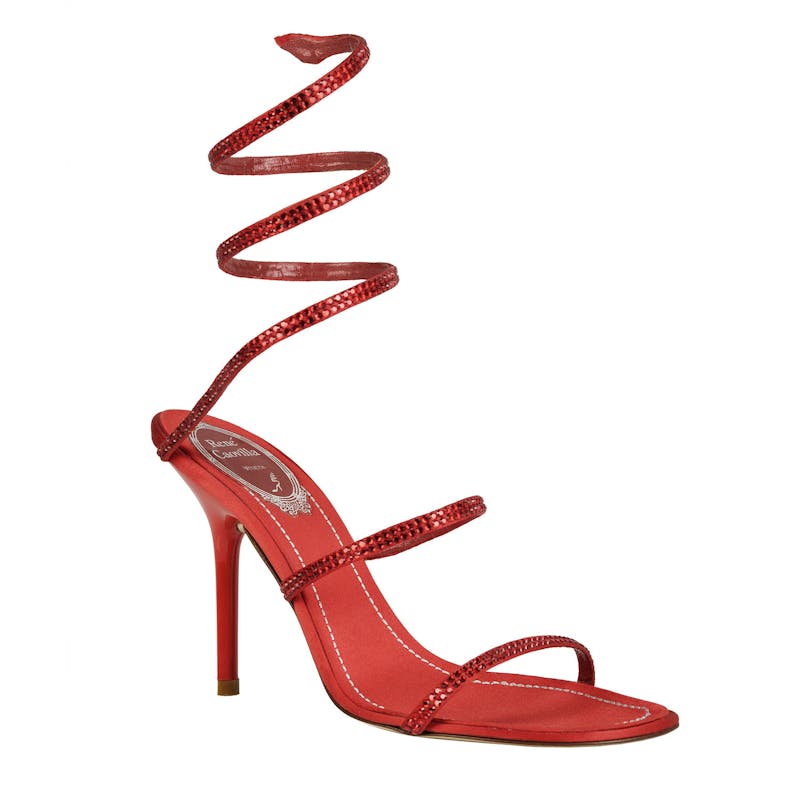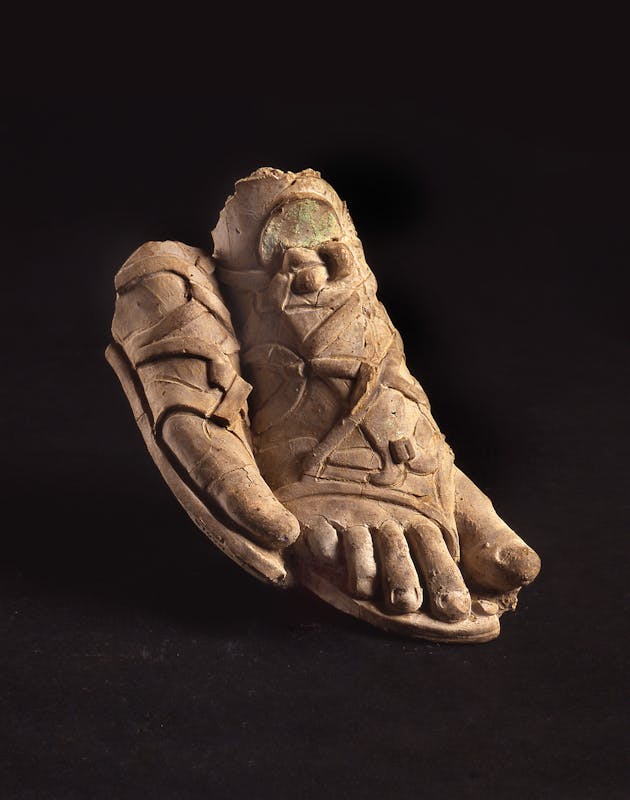 Exhibition promoted by
Ministero dei Beni e delle Attività Culturali e del Turismo
Gallerie degli Uffizi
Firenze Musei
Exhibition title
Worn by the Gods. The Art of shoemaking in the ancient world, the epic movie and contemporary fashion
Exhibition venue
Museum of Costume and Fashion - Pitti Palace
Exhibition to run
17 December 2019 – 20 September 2020
Opening hours
8.30 am - 6.30 pm;
the ticket office closes at 5.45 pm.
Closed Monday
Admission
17 December 2019 – 29 February 2020:
Full price € 10.00; concession € 2.00 for EU citizens aged 18 to 25;
1 March 2019 – 19 April 2020:
Full price € 16.00; concession € 2.00 for EU citizens aged 18 to 25;
Admission free: for children of any nationality under the age of 18, disabled visitors and one carer, journalists members of the Italian journalist order, academic staff and students of architecture, cultural heritage conservation and the educational sciences, or pursuing the archaeology or art history pathway in a degree course in the humanities and philosophy, or a degree or equivalent course in any European Union member country, and for Italian full-time or part-time teachers in state schools or the equivalent.
Educational services for schools
Guided tours for school groups by appointment only. € 3.00 per student.
information and reservations: Firenze Musei (+39) 055.294883