To celebrate the 500th anniversary of the birth of Cosimo I de' Medici
The exhibition uses the White Room and the Hall of Niches to reconstruct the former arrangement of the tapestries, commissioned by Ferdinando II, in the Hall of Saturn
Nine majestic wool and silk tapestries hanging in the White Room and the Hall of Niches in the Pitti Palace illustrate the key moments in the rule of the first Medici Grand Duke. The exhibition, entitled Weaving a Biography. 17th century tapestries in honour of Cosimo I, sets out to highlight the way in which Ferdinando II de' Medici intended the production of the tapestries between 1653 and 1668 to serve as a dual tribute to the founding father of the Grand Duchy of Tuscany.
"Holding an exhibition of tapestries is probably the most fitting way to celebrate the 500th anniversary of the birth of Cosimo I de' Medici – explains Gallerie degli Uffizi Director Eike Schmidt - inasmuch as he was the man who first set up the Tapestry Manufactory in 1545. Moreover, the series of tapestries on display offers us an encomiastic overview of the sovereign's person and achievements with a sequence of episodes exalting Cosimo's central role in the history of the Medici dynasty and in the governance of Tuscany".
The tapestries, which range from five to over eight metres in length, were originally devised for the Hall of Saturn in the Pitti Palace, the heart of sovereign authority which Grand Duke Ferdinando II set aside for his Secret Hearings, ennobling and imparting legitimacy to his own rule with this commission while simultaneously paying tribute to his predecessor.
The precious series tells the story of Cosimo I's public life and most significant achievements in chronological order, from his rise to power through the consolidation of his rule over Tuscany, the architectural transformation of Florence and his relations with papal power, to his foundation of an order of chivalry. Designed by celebrated painters and woven in the manufactory set up by the Duke, the tapestries were intended for display in a thoroughly Baroque triumph of decoration foreshadowing the lavish splendour of the greatest royal palaces of Europe. The result was to be an apotheosis of Medici power, embodied by Cosimo, amid the gilding and stucco work of Giovan Battista Frisone and the frescoes of Ciro Ferri depicting The Ideal Prince Borne Aloft between Prudence and Valour towards Glory and Eternity. Ultimately, only six of the eight tapestries woven were actually hung, and they have been identified by their dimensions. The seventh and eighth in the series, devoted to relations with the monarchies of Europe, are on display in the Hall of Niches in order to give visitors an impression of the complete set. The original arrangement, recreated in images in the catalogue, points up the importance of this undertaking dedicated to Cosimo: both a tribute from his grandson Ferdinando II who wished to celebrate his forefather and, with him, the whole of the Medici dynasty, and a reminder for us today of the glorious season of the Tapestry Manufactory established in Florence by Cosimo I.

Exhibition curated by Lucia Meoni and Alessandra Griffo.
Catalogue published by Sillabe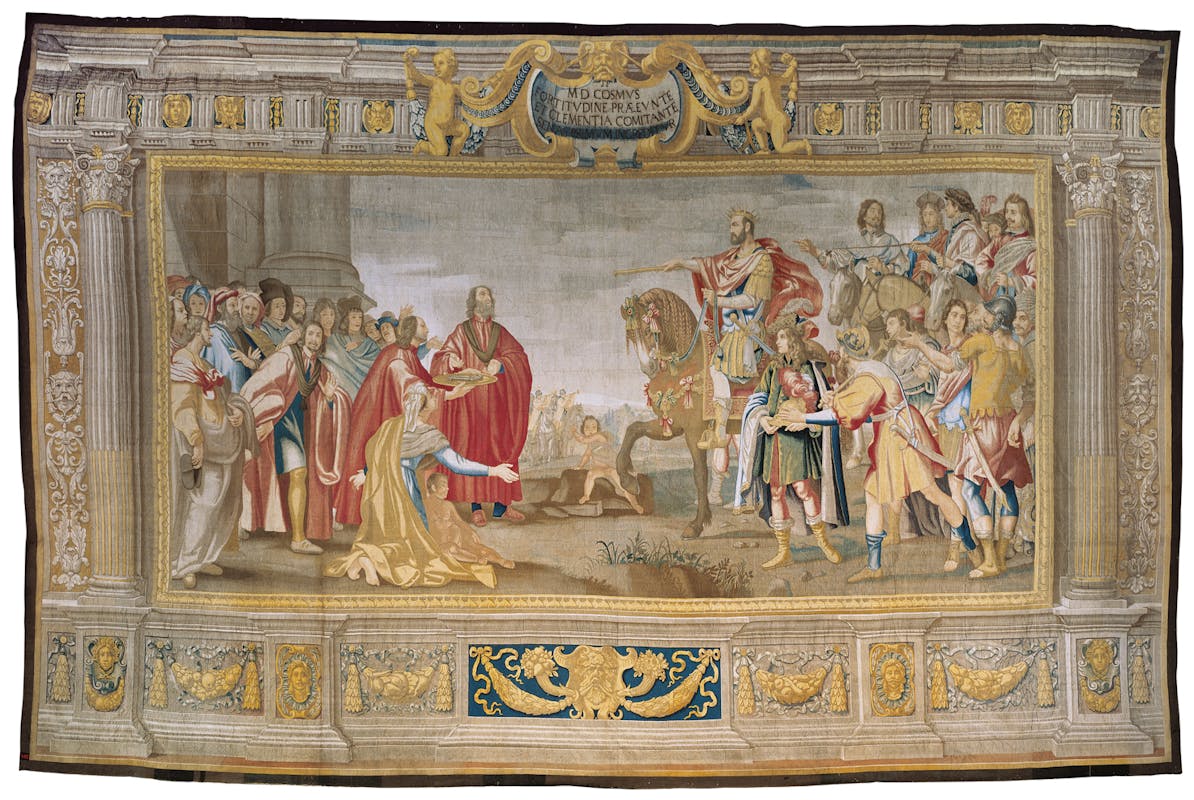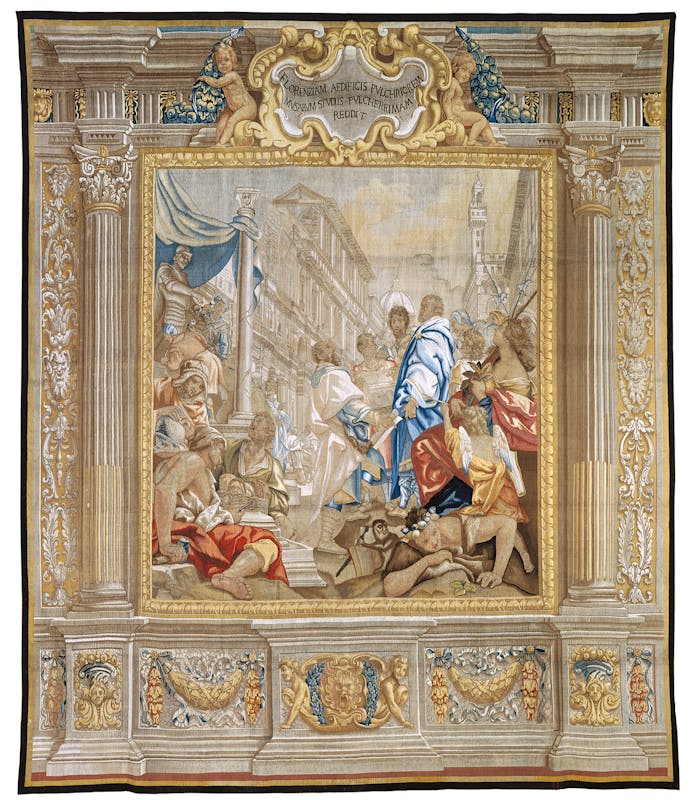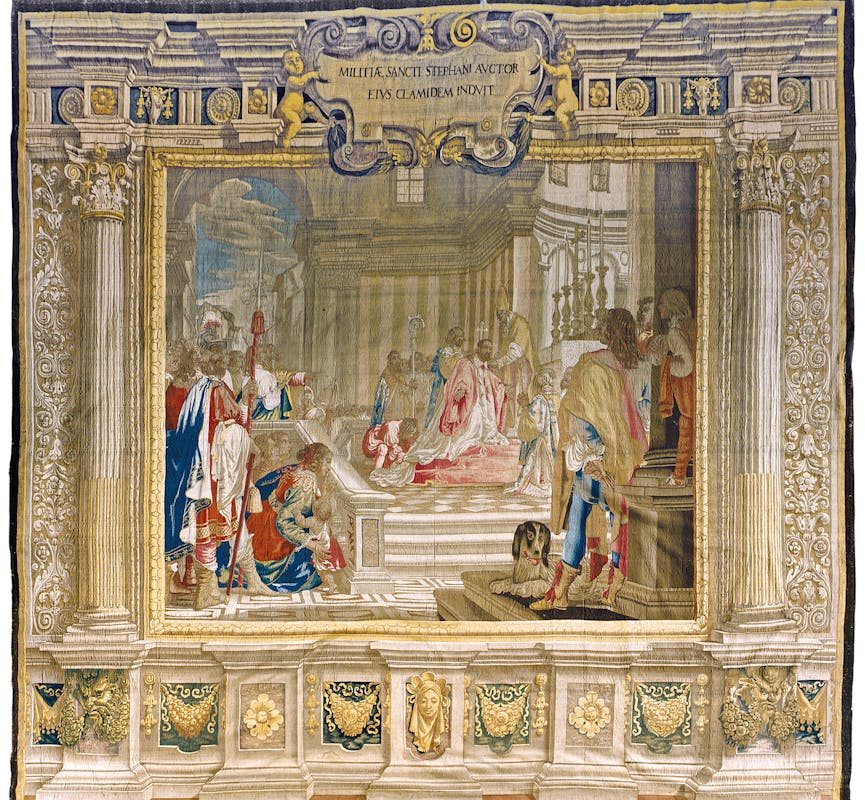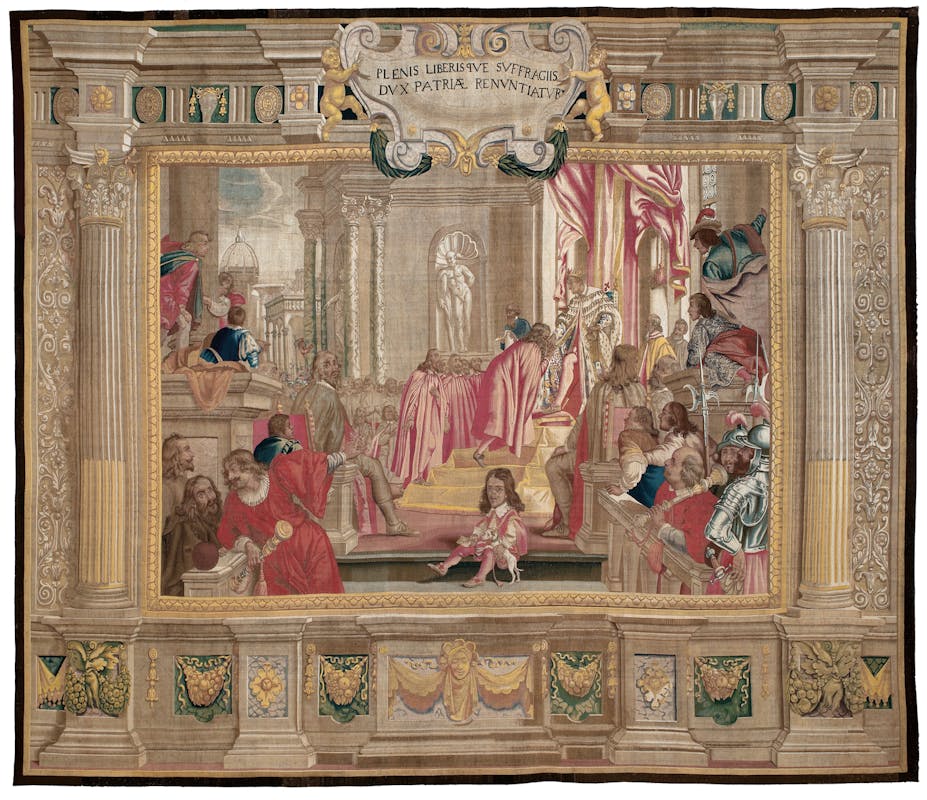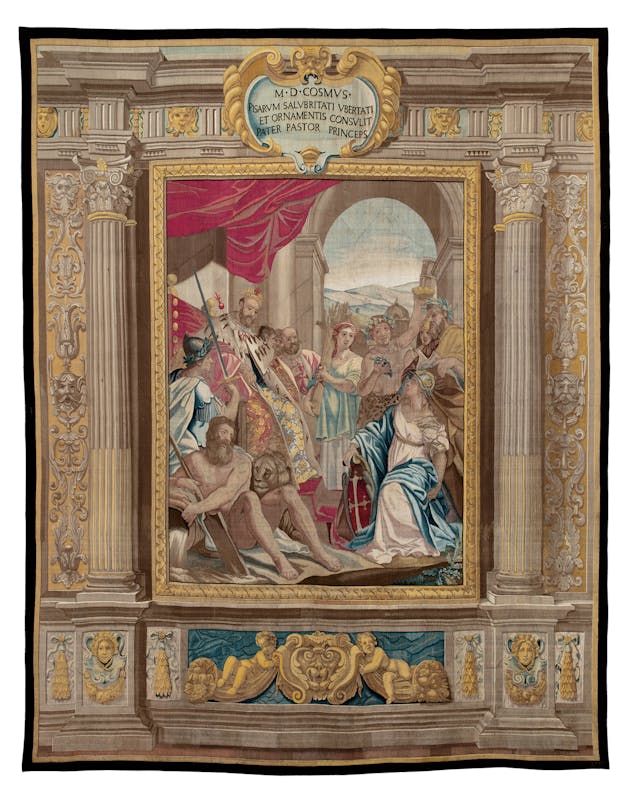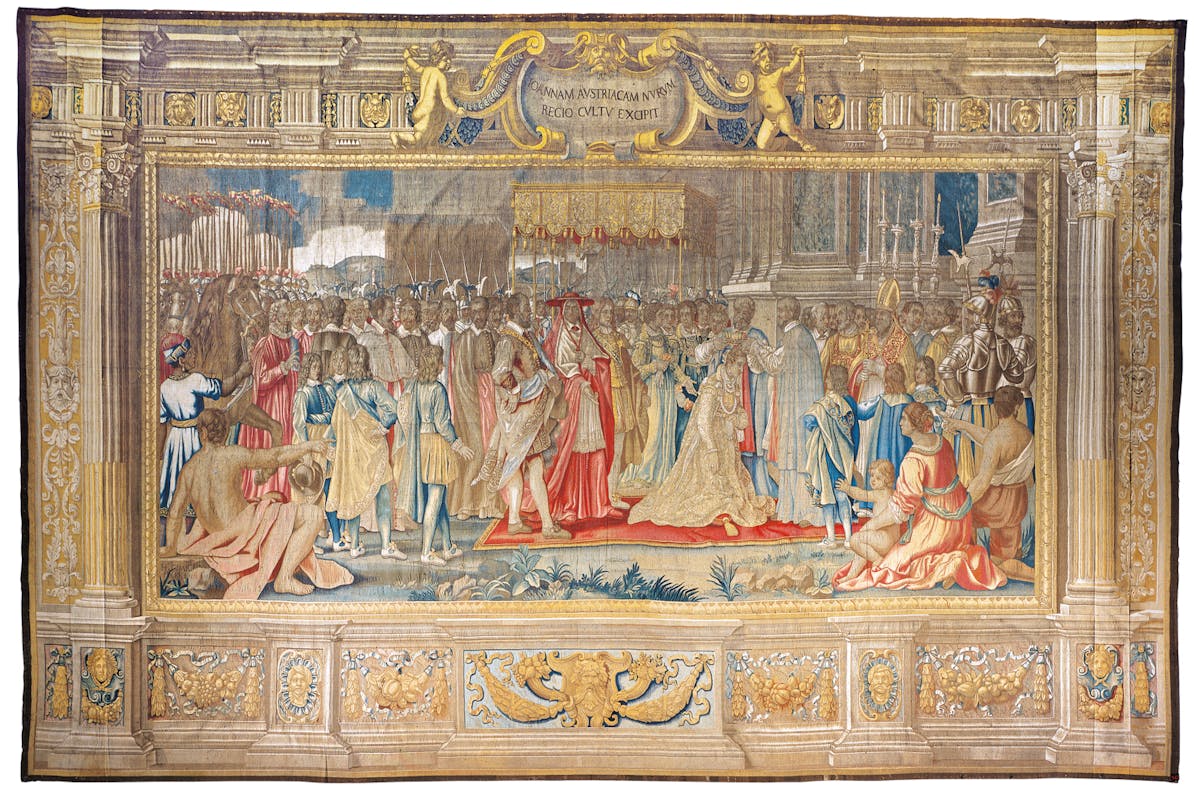 OMAGGIO A COSIMO I
Weaving a Biography. 17th century tapestries in honour of Cosimo I,
5 June – 29 September 2019
Galleria Palatina, Palazzo Pitti
Enti Promotori
Ministero dei Beni e delle Attività Culturali
Gallerie degli Uffizi
Firenze Musei
The exhibition is included in the admission ticket to the museums of Pitti Palace and has the same opening hours info
Servizio visite guidate
Info e prenotazioni: Firenze Musei 055.290383
e-mail firenzemusei@operalaboratori.com
Tuesday – Sunday 8.15 am - 6.50 pm; The ticket office closes at 6.05
Close on Monday