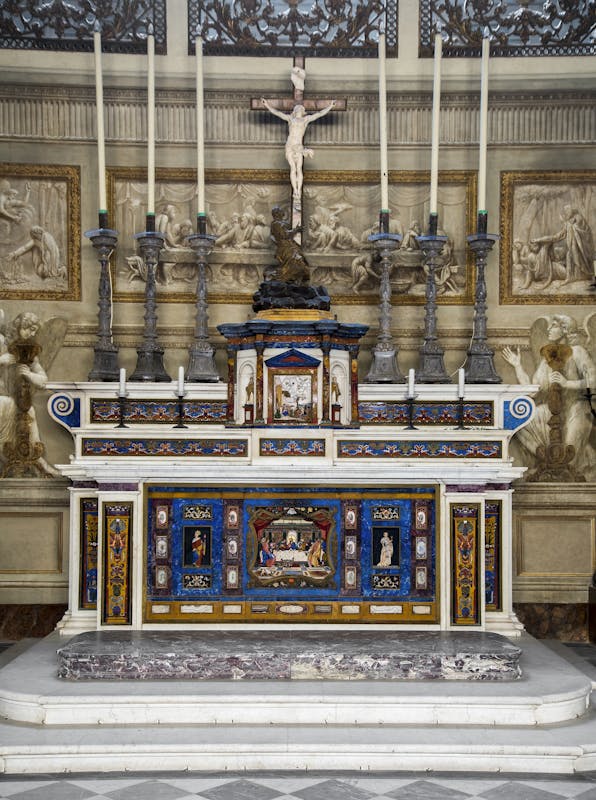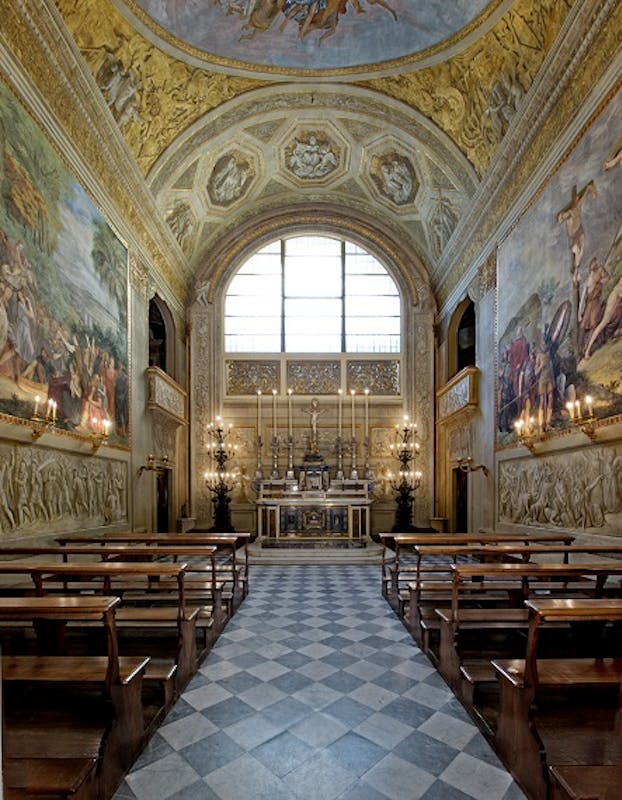 Date
17th century and 1784-1785
Technique
Marble, semi-precious stones, gilded bronze, ivory
The project for the altar of the Palatine Chapel was planned down to the smallest detail in 1784 by the painter Sante Pacini in collaboration with Cosimo Siries, director of the workshops for the Grand Duchy specialising in the processing of semi-precious stones. The multicoloured and glittering ornamental panels that decorate the work, completed in 1785, mostly come from the seventeenth-century altar and ciborium for the Chapel of the Princes in San Lorenzo. The extraordinary ensemble, which was never to be completed and was kept in a room of the Uffizi Gallery, was dismantled in 1779 and its countless elements in semi-precious stones were reused in the creation of three new altars: that of the Palatine Chapel, that of the Basilica of San Lorenzo and that of the chapel of the villa of Poggio Imperiale, which was dismantled in 1820.
Pacini designed a structure of linear simplicity for the altar of the Palatine Chapel to give prominence to the precious panels in semi-precious stones, among which the pilasters decorated with grotesques on a yellow jasper background and the antependium stand out. The latter, covered in lapis lazuli, has a central panel with the Last Supper in semi-precious stone inlays executed in 1604-1606, based on a drawing by the painter Ludovico Cardi, known as Cigoli. Two other seventeenth-century panels depict Charity and Faith, made with semi-precious stone inlays executed in relief. The same sophisticated technique distinguishes the Adoration of the Magi mounted as the door of the tabernacle, whose appearance resembles a small temple surmounted by a tympanum of lapis lazuli and red jasper from Cyprus. The small structure is characterised by two niches at the sides, inside which are placed the statues of Saints Athanasius and John Chrysostom, carved in semi-precious stones in the round and originally part of two reliquaries made for Cosimo III de' Medici. To the same Grand Duchy also belonged the ivory and gilded bronze group of the crucified Christ with Mary Magdalene placed at the top of the altar, donated in 1693 by Cardinal Flavio Chigi.
Interested in visiting Pitti Palace?
Arrange your visit in Florence, find prices and opening hours of the museum.
Go to museum