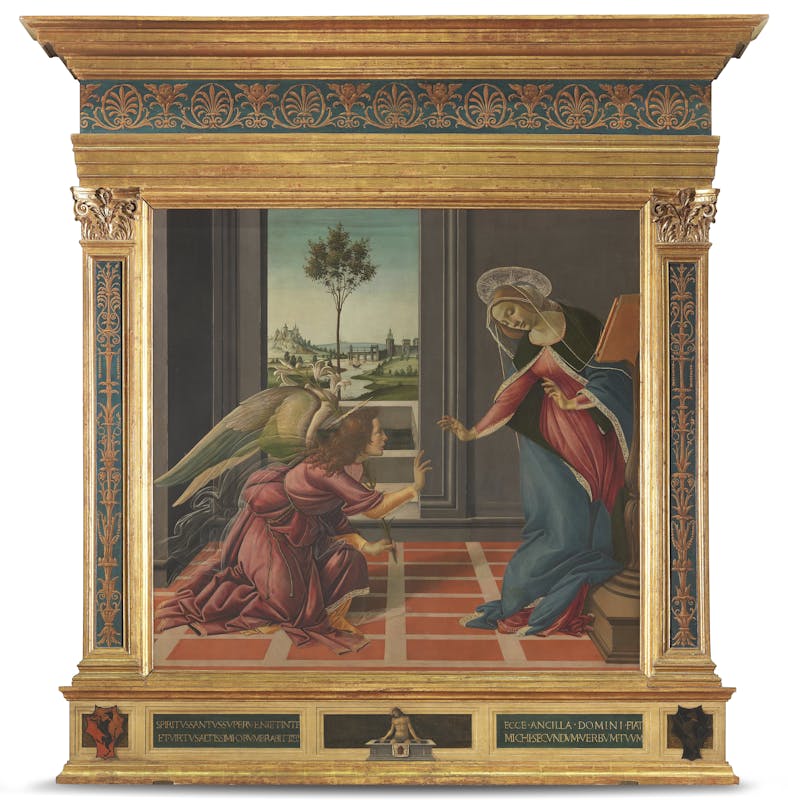 Annunciation
Sandro Botticelli (Florence, 1445 -1510)
Location
A11. Botticelli - The Spring
Inscriptions
SPIRITUS SANCTUS SUPERVENIET IN TE ET VIRTUS ALTISSIMI OBUMBRABIT TIBI (Luke 1, 35)
ECCE ANCILLA DOMINI FIAT MICHI SECUNDUM VERBUM TUUM (Luke, 1,38)
This panel was commissioned from Sandro Botticelli in 1489 by Florentine moneychanger, Benedetto di ser Francesco Guardi for the family chapel in the church of Santa Maria Maddalena, in borgo Pinti, Florence. The essential nature of the scene, almost bare of furnishings, the sober clothing of the archangel Gabriel and Mary, featuring a limited use of colour tones and decorations, the accentuated, almost theatrical gestures of the subjects, reflect the search for simplicity and the religious fervor that had become established in the sermons of Dominican monk, Girolamo Savonarola. There are some of the usual elements of Marian symbolism, such as the opening in the wall that suggests a door of heaven to Mary, and the walled garden visible in the background, an emblem of Mary's virginity. The painting has its original frame, painted at the bottom with the emblems of the customer and the figure of Christ in pietà. There are also two inscriptions in Latin, taken from the Gospel of St Luke, alluding to the incarnation of God's son in Mary's womb.
Factories of Stories
Interested in visiting The Uffizi?
Arrange your visit in Florence, find prices and opening hours of the museum.
Go to museum