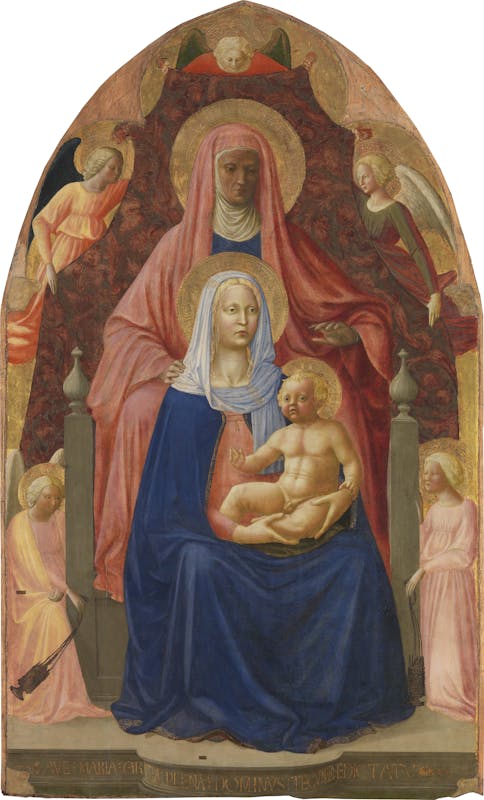 Saint Anne, Madonna and Child, five angels (called 'Sant'Anna Metterza')
Masolino (Tommaso di Cristofano Fini, 1383/84 - documented until 1435); Masaccio (Tommaso di ser Giovanni San Giovanni Valdarno 1401 - Rome 1428))
Location
A8. Masaccio - Beato Angelico
Inscriptions
SANTANNA HEDINOSTRA DONNA FAST[IGIO] on Saint'Anna's halo;
AVE MARIA GRATIA OLENA DOMINUS T[ECUM] on Vrigin's halo
AVE MARIA GRATIA PLENA DOMINUS TECUM BENEDICTA TU on the base of the throne
Originally painted for the Sant'Ambrogio Church in Florence, as specified in the "Lives" by Giorgio Vasari, the altarpiece was commissioned by Nofri Del Brutto Buonamici, from a family of weavers who was very devoted to the Virgin and whose coat of arms was visible before on the two sides of the panel's lower portion.
This artwork is an evidence of the particular reverence Florentine people traditionally paid to the cult of Saint Anne: on the 26th of July in 1343 a city uprising drove out the foreign tyrant, Duke of Athens Gauthier de Brienne, thus gaining back its freedom.
In 1940 Art critic Roberto Longhi attributed to Masolino the execution of part of the painting that previously was ascribed in its entirety to Masaccio by Vasari.
Masolino painted the monastic and stern Saint Anne blessing her daughter both with her hand and with her sturdy body, as a watchful guard of Mary and her herculean Baby, both painted by Masaccio by stressing solid and full volumes.
Deriving from the Tuscan dialect of the 13th and 14th centuries, the term "Metterza" means "she is in the third position", referring to such iconography where Anna, being mother and grandmother of Christ, appears in "third position".
Factories of Stories
Interested in visiting The Uffizi?
Arrange your visit in Florence, find prices and opening hours of the museum.
Go to museum