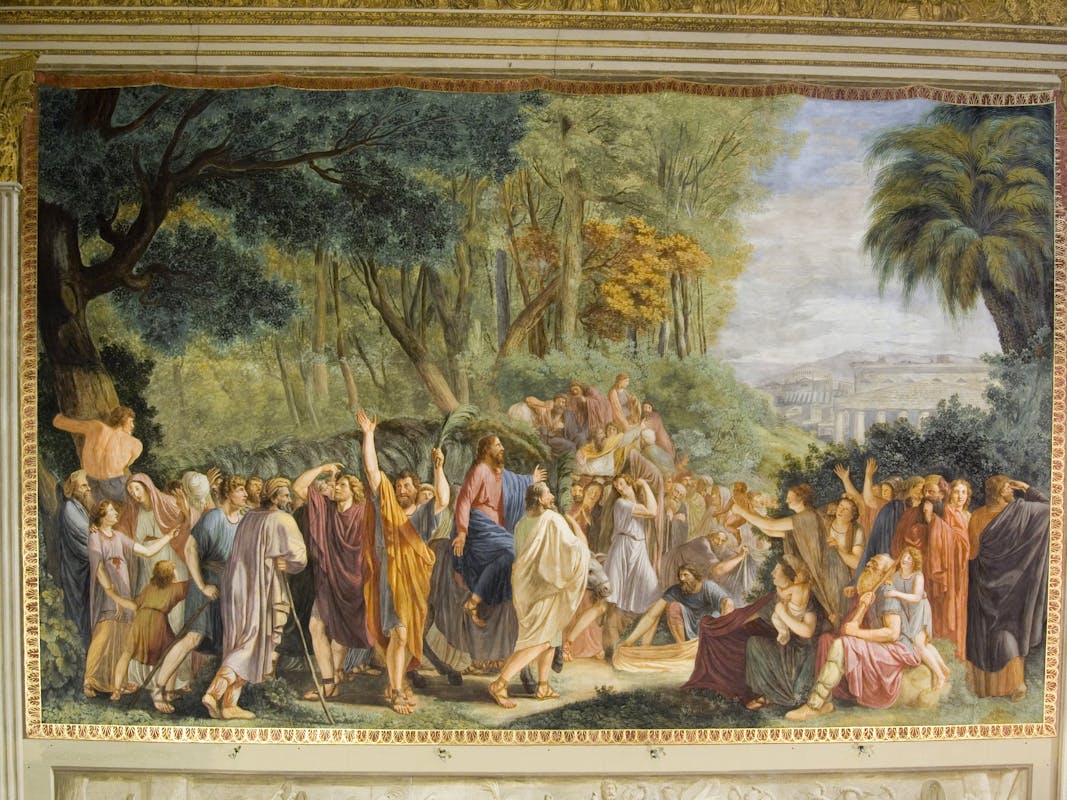 Entry of Christ into Jerusalem
Luigi Ademollo (Milano 1764 – Firenze 1849)
Location
Pitti Palace, Palatine Chapel
Palm Sunday stands out on the wall to the left of the altar. Painted in fresco by Luigi Ademollo and set in an intricate landscape, dotted with palm trees and green trees, it is reminiscent of the capriccios and suburban views of Rome created by Swiss painter Abraham Louis Rudolph Ducros, with whom the Milanese painter had collaborated during his trip to the Capitoline city. The episode is dominated by a bright variety of colors featuring warm shades of green, yellow, red, and orange that characterize both the vegetation and the celebratory crowd in the foreground, intent on accompanying Christ as he marches towards the holy city. As has been rightly pointed out by scholars of the painter, the taste for the picturesque and for the exotic setting are typical motifs of Ademollo's neoclassical style, and here they are confirmed in his predilection for oriental vedutas and precise description of a variegated humanity sporting turbans and Moorish dresses. This particular exoticism, combined with an anthropological curiosity in representing scenes populated by a multitude of minor characters, analyzed and portrayed with the same dignity and physiognomic precision as the main characters, could depend on the still vivid memory of the sketches by Louis François Cassas, painter at the court of Louis XVI, with whom Ademollo collaborated in the illustration of travel books around 1787, during his stay in Rome. In the decoration of the Palatine Chapel, the triumphal entry of Christ into Jerusalem is set alongside that of David, painted in the underlying monochrome frieze, also characterized by a festive atmosphere evoking the joyful tone of the Psalms of the biblical king.
Interested in visiting Pitti Palace?
Arrange your visit in Florence, find prices and opening hours of the museum.
Go to museum