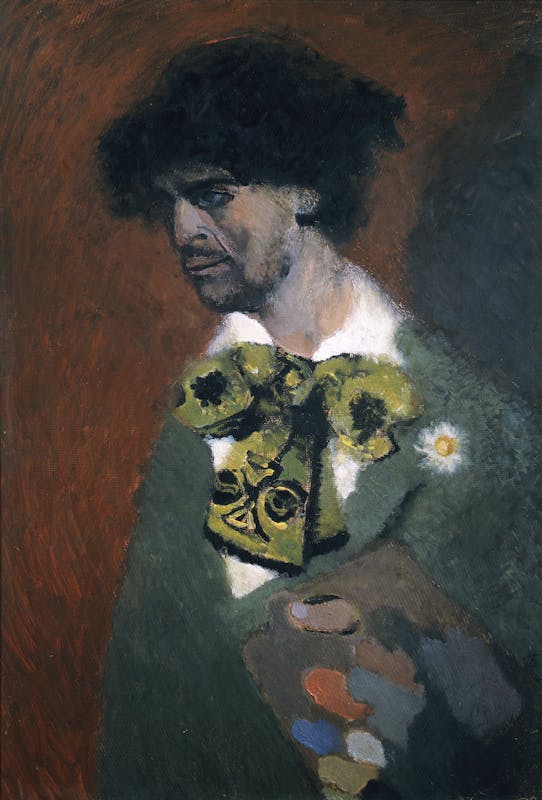 Self portrait
Lorenzo Viani (Viareggio 1882 - Lido di Ostia 1936 )
Technique
Oil on board set on plywood
Lorenzo Viani (Viareggio 1882-1936 Lido di Ostia),
"Tufts of hair as black as ink, a gaunt face, green eyes, gleaming like those of cats, a black neck-tie with yellow flowers": this is how the painter describes his own image in this intense self portrait that can be dated to the years immediately after the periods of time he had spent in Paris, between 1908 and 1911.
Lorenzo Viani, born in Viareggio, trained in Florence and Lucca under the supervision of Giovanni Fattore and Plinio Nomellini; he therefore developed a very personal style that earned him a well-deserved place in the European Expressionist current. Viani's work told the stories of fishermen and marble quarriers, and he cultivated anarchical-socialist ideologies by their side until the war, coining the incisive, passionate, experimental language quoted above, and similarly, a dramatic and expressive type of painting, in terms of both theme and style.
Using bold colours, applied with quick, short brush strokes, through the faces and poses of his characters, he told the story of the people of Versilia in the last years of the early 20th century: not just the workers, but also the mentally ill, the outcasts, the sea widows, with whom Viani had always empathised. In this self portrait, he represents himself in the certainty of his role as a painter, authentically interpreted, even if expressed in the romantic version of the artist as a doomed soul. The painting is inspired by a photograph that the young man had given to his girlfriend before leaving for the war. The Great War deeply changed him, to such an extent that he withdrew into himself and sought certainties in the Fascist movement that was emerging at that time.
Interested in visiting Pitti Palace?
Arrange your visit in Florence, find prices and opening hours of the museum.
Go to museum