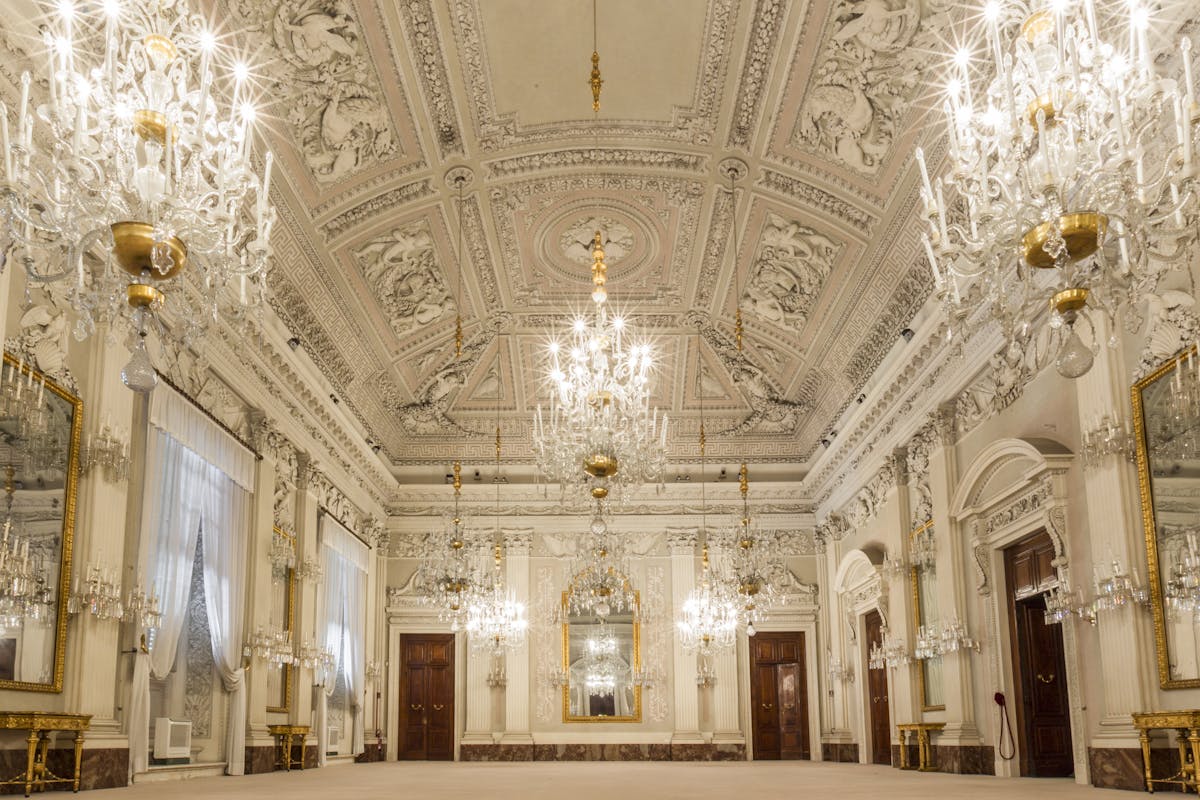 White Hall (or Stucco Hall)
Grato Albertolli (Bedano, 1740 c. – Milano, 1812) e Giocondo Albertolli (Bedano, 1742 – Milano, 1839)
Former "Salone dei Forestieri" (Hall for Guests) at the time of the Medici, it was transformed, at the wishes of Grand Duke Peter Leopold, into a sumptuous ballroom (still the largest room in the whole Palace), and decorated in high-relief stucco between 1774 and 1776 by two brothers from Lugano, Grato and Giocondo Albertolli, hired by the Grand Duke to decorate the ballroom of Villa del Poggio Imperiale too. The rich ornamental style of the stucco works, all based on symbols of Neoclassicism, adds a refined elegance to the room, accentuated by the brightness of the white that stands out against the pastel colours (pink, green and ochre) on the walls, whose delicate tones were brought back to light after the latest restoration interventions. The side walls are spaced at intervals with Corinthian pilasters and large doorways, which are richly decorated with frames that culminate in segmental pediments leading into the rooms adjacent to the ballroom.
This decorative setting, with its extremely modern, clean geometric style was enriched with the sumptuous mirrors coming from Paris and eleven chandeliers purchased in 1785 from the shop-emporium of Giacinto Micali in Livorno and placed to provide a symmetrical division of space and light: a larger one in the centre and 10 on the sides of the room (4 on the long sides and 2 on each of the shorter ones).
In the period just after World War II, this stunning ballroom became the important setting for international fashion: from the first catwalk show, organised by Giovanni Battista Giorgini in 1951, and for the following thirty years, the fashion parades in the White Room have played an important role in spreading the international quality of fashion, making the 'Pitti' name world-renowned.
L. Baldini Giusti, Vicende costruttive (e distruttive), in Palazzo Pitti. L'Arte e la Storia, Firenze 2000, pp. 156- 177; L. Baldini Giusti, Sala Bianca, in Palazzo Pitti la Reggia Rivelata, Firenze- Milano 2003, p. 510.
Interested in visiting Pitti Palace?
Arrange your visit in Florence, find prices and opening hours of the museum.
Go to museum