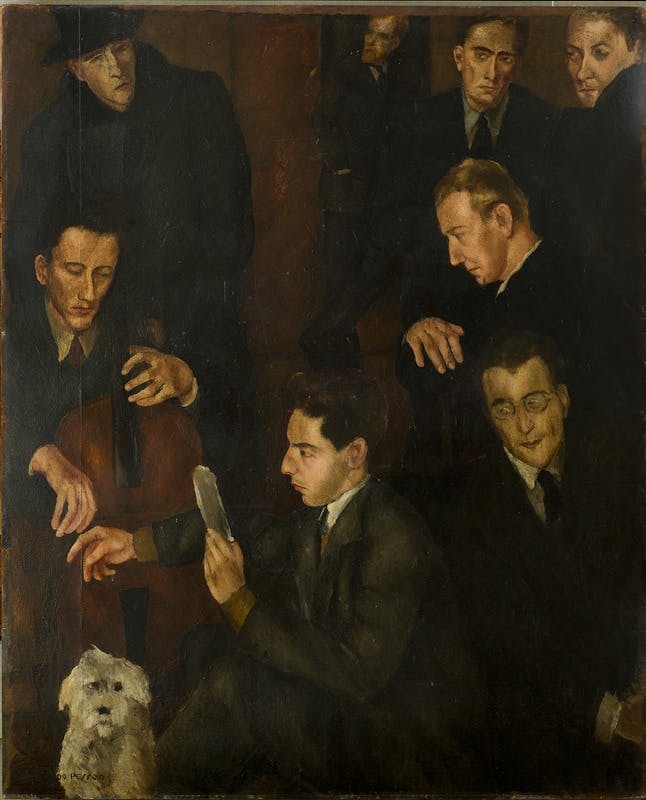 Gli amici nell'atelier
Guido Peyron (Florence 1898 - 1960)
Guido Peyron, painter, racing car driver and even gastronome, was an original artist in the panorama of early 20th century Tuscan art. This painting in particular confirms his talent as a portraitist, capable not only of capturing the physical or psychological qualities of the model, but also of embodying the spirit of an era. Here, taking his cue from a tradition of studio interiors dating back to the nineteenth century, Peyron presents a view of famous people close to him in a dimension suspended in time and space (in fact, nothing but the title indicates that we are in the artist's studio). The apparently casual arrangement of the bystanders underlies a complex compositional structure based on a vertical layout and a palette reduced to browns and blacks that revives memories of seventeenth-century works, particularly those of Rembrandt. Only the artist's dog maintains its own chromatic autonomy, turning its gaze towards the spectator from its peripheral position, and introducing the scene. The portraits unfold in two parallel rows, starting from the one of Luigi Dallapiccola in the middle at the bottom, which captures him as he conducts the cellist Odoardo Zappulli van Oldenbarnevelt. In his left hand Dallapiccola holds a crumpled score at which he is gazing as if looking into a mirror, in a game in which his image identifies itself in the notes. Around him, the man of letters, Arturo Loria (first on the bottom right), listens attentively, with Count Walfredo Della Gherardesca behind him; then, the back row consists of, from right to left, the painters Gianni Vagnetti, Peyron himself and Vieri Freccia from Pistoia, while lastly, leaning against the back wall, rather unconcerned and removed from the context, is Felice Carena, a prominent professor at the Accademia di Belle Arti in Florence. What unites the group is the similarity to "Solaria", the Florentine magazine that pursues the integration of music, art and literature, also a point of reference for the Tuscan branch of the "Novecento" movement, which famously adopted subdued and elegiac themes and formulas. However, Peyron shows a greater openness to new international styles (such as the expressionist painting he witnessed for himself in Paris), but also to national ones (from Lombard chiarismo to Roman tonalism), in parallel with which he defines a painting style more sensitive to the vibrations of the soul than to the quality of the form. Peyron's cultured and aristocratic manners were also defined in the light of his friendship with Eugenio Montale, which developed when he frequented the Antico Fattore trattoria in Via Lambertesca. When Montale won the first edition of the Antico Fattore literary prize in 1931 with the poem Casa dei Doganieri, Peyron, Carena and Vagnetti were among the six engravers called on by Vallecchi to illustrate the publication. This reaffirms the consonance of thought and ideals that had presided over the creation of the painting.
Interested in visiting Pitti Palace?
Arrange your visit in Florence, find prices and opening hours of the museum.
Go to museum