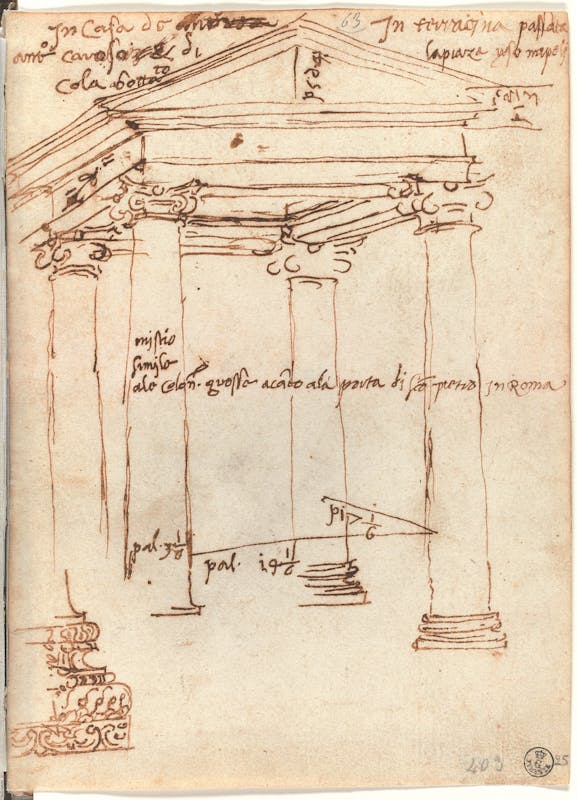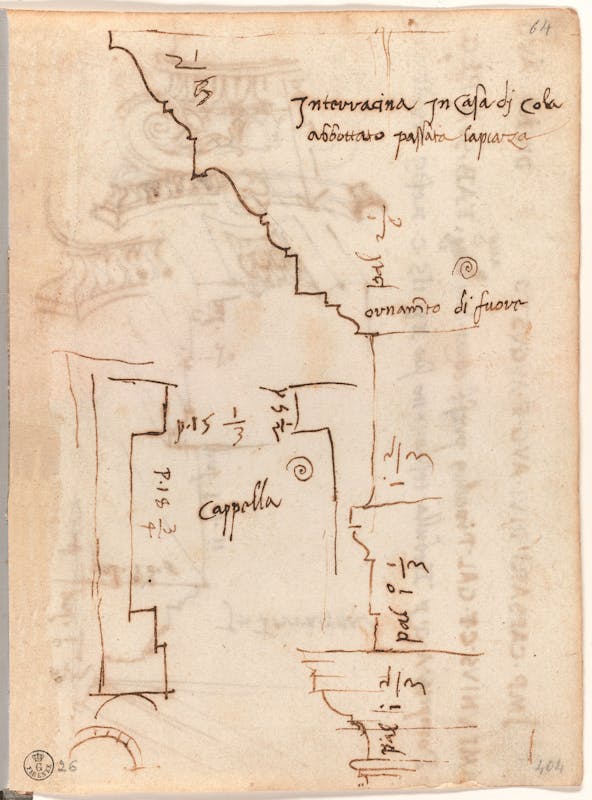 Honorary inscription of the temple of Terracina
Baldassarre Peruzzi (Sovicille, Siena 1481-Rome 1536)
The drawing on display is on the side of the sheet with inventory GDSU 404 A, which belongs to the so-called Taccuino dei viaggi di Baldassarre Peruzzi (Travel Notebook of Baldassarre Peruzzi). The work is composed of thirty-six sheets containing life sketches of antiquities seen by the Siena-born architect during a trip to southern Lazio. It can be dated to between 1519 and 1520, and is today housed in the Department of Prints and Drawings of the Uffizi.
The building depicted on this sheet and on the previous one (GDSU 403 A) is the temple erected in Terracina in honor of Prince Tiberius and his mother, Augusta Livia Drusilla, by then a member of the gens Iulia. It was built before 42 AD and then restored, probably under Claudius' principate, when the honorary inscription was adapted. In the sketch analyzed here, we see the drawing of one of the capitals, which can thus be attributed to the Ionic order, and the section of the entablature, as well as the text of the epigraph (CIL X 6309). The transcription is generally correct, although capital letters and italics alternate for no apparent reason related to their interpretation; one can also spot an initial inaccuracy - in a now lost fragment, the abbreviation of the prince's personal name (the letters - Ti - for Tiberius) should have been inscribed, and not that of the term Imp(erator) - and an omission at the end of line 2, where the verb fec(it), referring to the original construction of the monument, is missing.
Peruzzi's testimony establishes that the temple, built along the Appian Way, was still standing at the beginning of the 16th century, although it had already been partially incorporated into the adjacent medieval buildings constructed in the city center in the meantime.
Interested in visiting The Uffizi?
Arrange your visit in Florence, find prices and opening hours of the museum.
Go to museum