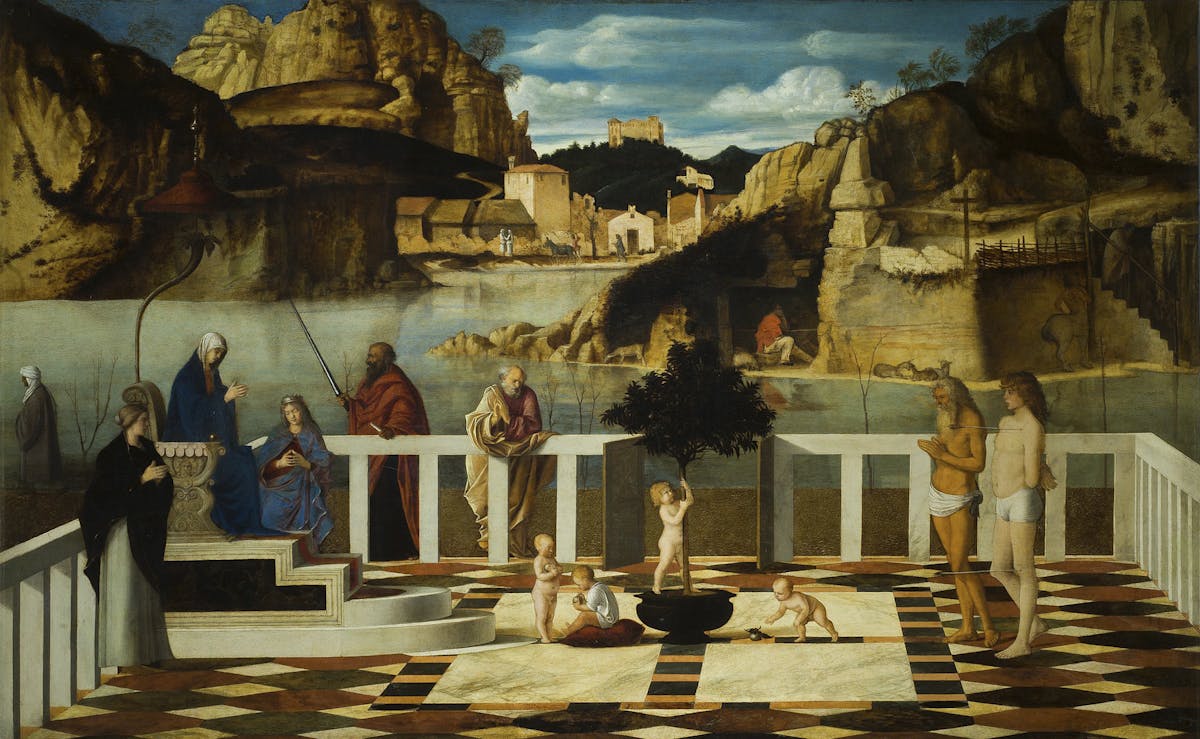 Holy allegory
Giovanni Bellini (Venice 1438/40 – 1516)
One of the most enigmatic and fascinating works of the Italian Renaissance, this painting by Bellini shows the Madonna seated on a throne on the left, and a group of saints and cherubs above a great terrace alongside a reflective pool of water in front of a rocky landscape. The saints include Saint John behind the balustrade and Saint Paul with the sword of martyrdom, while the two semi-nude saints on the right are the hermit Onuphrius, characterized by his uncouth appearance and tanned skin, and the martyr Saint Sebastian. The child seated on a cushion in the center of the painting is possibly Jesus, also represented by the cross erected in the background on the right, to whom the angels offer fruits from the tree of life and knowledge.
The poetic landscape in the background is studded with buildings, animals and saints such as Anthony the Great, depicted descending the stairs to meet the centaur who will lead him through the Thebaid desert to the Monastery of Saint Paul. No element is unintentional and each aspect of the composition helps to provide a harmonious explanation of a complex thought that remains a mystery to the observer. However, the magic of this work by Giovanni Bellini remains and the extremely realistic landscape becomes a central part, introducing the genre of landscape painting which would reach its peak in Venice in the following century.
The intended recipient and original destination of this work are unknown, although it is thought that it may have been part of the wood paneling of a 'studiolo', a private room in a Renaissance palace dedicated to learning and meditation sometimes decorated with exquisite allegorical artwork. However, the theory that the work was created for the office of Isabella d'Este in the Palazzo Ducale in Mantua is not unanimously accepted.
Factories of Stories
Interested in visiting The Uffizi?
Arrange your visit in Florence, find prices and opening hours of the museum.
Go to museum