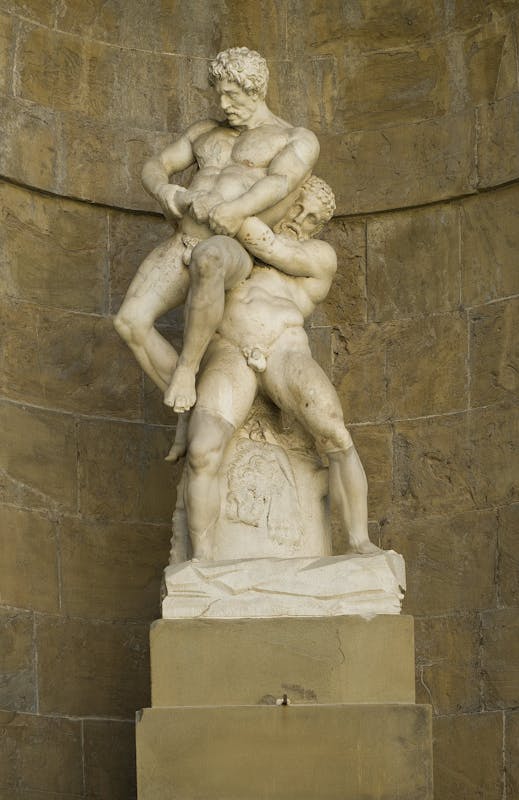 Hercules and Antaeus
Date
second part of the 2nd century A.D.
Technique
Pentelic marble (?); Carrara marble (modern restoration)
Cosimo I often used the image of Hercules as a means of propaganda and heroic self-representation. The sculpted group depicts Hercules wrestling against Antaeus, son of Gaia, the personification of Mother Earth, and of Poseidon, god of the sea. The giant Antaeus is depicted in Florentine marble with the more common dimensions of the hero, Hercules. Antaeus, the King of Libya, challenged strangers to wrestling matches, the result of which was already certain. The giant drew his invincibility from a portent: simple contact with the Mother Earth, which restored his strength and energy. Hercules overcame this test by lifting the giant from the ground, holding him in a lethal grip. The iconographic design of the Florentine sculpture, showing a wrestler held by the shoulders by his adversary, was widely used in Greek vessel production from the late 6th century B.C. The subject is inspired by the practice of bare hand fighting, "Pankration", which was already an Olympic discipline in 648 B.C.
The basic sculpture, without restored part, was placed in the Belvedere Courtyard in Rome as early as 1509. It was taken to Pitti Palace in 1564, and the missing parts were added during restoration work. The original Antaeus figure was without a head, shoulder, left forearm, right arm, abdomen and part of both legs. Hercules was given a right shoulder blade, forearms, hands and also the lower part of his legs, and a support shaped like a rock, which is covered by the lion skin that is another of his heroic features. The marble is a copy from a statue model of uncertain origin, dated by scholars to the period between the 4th and the 2nd-1st century B.C. The workmanship used on the Florentine example seems to date it to the second part of the 2nd century A.D.
Interested in visiting Pitti Palace?
Arrange your visit in Florence, find prices and opening hours of the museum.
Go to museum