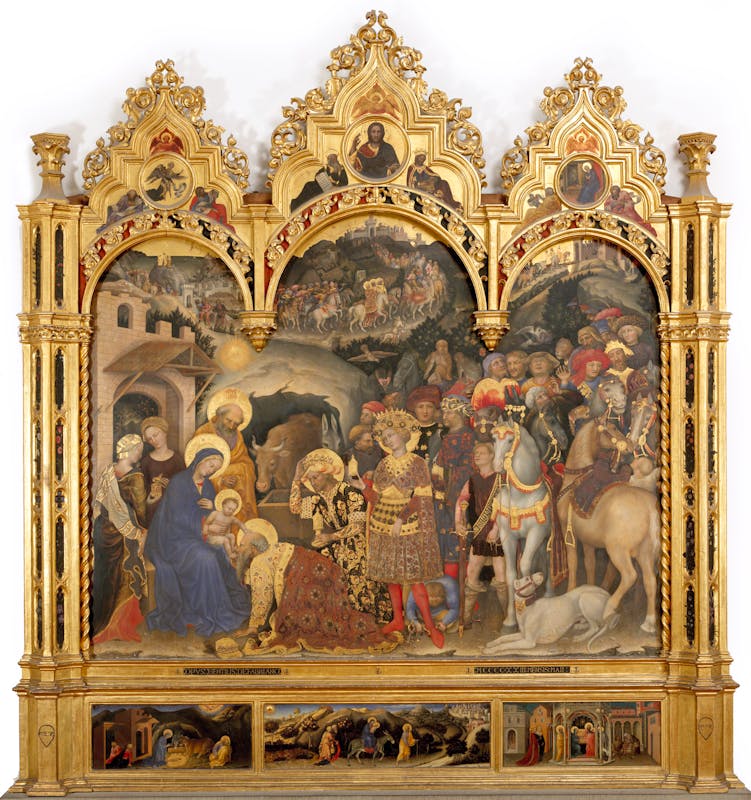 Adoration of the Magi
Gentile da Fabriano (Fabriano 1370 c. – Roma 1427)
Location
A7. Lorenzo Monaco - Gentile da Fabriano
Inscriptions
OPUS GENTILIS DE FABRIANO MCCCCXXIII MENSIS MAII
At the end of a long journey, the Magi arrive before the newly born Messiah, guided by a star, and they kneel before the Holy Family, offering their precious gifts. The three wise men are dressed in extraordinarily rich, fashionable garments and are accompanied by a multi-ethnic procession that also includes exotic animals, to emphasise their coming from the Far East. The journey of the Magi, from the time that they see the star, to their pause at Herod's palace and finally, their return home, is depicted in three separate episodes in the background of the work, brought together by the rocky backdrop on the horizon, but visually separated by the three arches of the frame. With its stunning frame decorated at the sides with painted flowers, this altarpiece is completed by a predella showing scenes of Christ's childhood: from the left, the Nativity, the Flight into Egypt and the Presentation at the Temple. The section with the Presentation at the Temple is a modern copy of the original, which is at the Louvre Museum in Paris. The painting itself was commissioned by rich banker and refined art lover, Palla Strozzi, for the family chapel in the sacristy of the Church of Santa Trinita in Florence. The panel, which is signed by the artist, and dated 1423, is Gentile's finest work and has been recognized the most important example of International Gothic painting in Italy. It shows extraordinary technical skills in the use of specific techniques, as can be seen in the large amounts of metal leaf, embossed partially to create a relief that adds a three-dimensional aspect to the items, such as the spurs on the horseman or the hilt of a sword. In the predella, in place of the gold background used in Mediaeval times, the scenes have blue skies, demonstrating an interest in nature and the beginning of those cultural and aesthetic canons that would flourish in the Renaissance.
Factories of Stories
Interested in visiting The Uffizi?
Arrange your visit in Florence, find prices and opening hours of the museum.
Go to museum