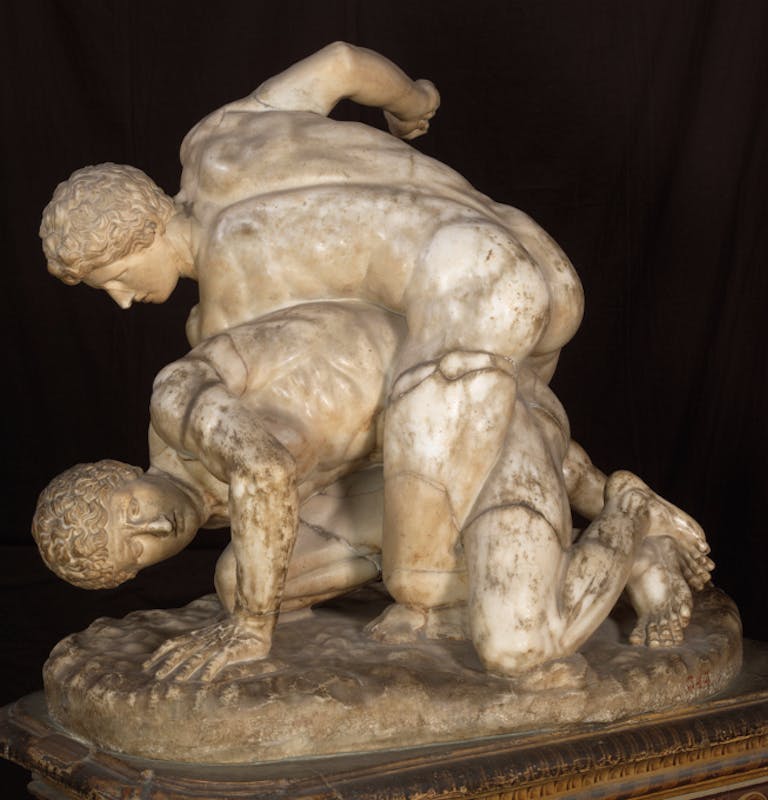 Technique
Parian marble, lychnite variant
Rarely did the architectural finds of the 16th century recover the large groups from ancient statuary in full, but the Wrestlers are an exception to this rule. The work was discovered, along with the famous group of Niobids, in 1583, in a vineyard owned by the Tommasini family near Porta San Giovanni in Rome. In Roman times, the estate was part of the Horti Lamiani, sumptuous gardens on the top of the Esquiline Hill belonging to the residence of consul Lucius Aelius Lamia (hence the name). Treasures such as the Lancellotti Discobolus (now at the National Museum of Rome) and the Esquiline Venus (now at the Capitoline Museums) were found in the same horti.
The group depicts two men with pronounced muscular structure, engaged in a wrestling bout, rendered particularly realistic by the firm anatomies and good proportions of the subjects. The balance of the bodies is such that the outcome of the match is not revealed. The lost heads were added during restoration, ordered by Cardinal Ferdinando de' Medici, who purchased the work. Exhibited for around a century at Villa Medici in Rome, it was transported to Florence in 1677, where further restoration work certainly led to the recovery of the top wrestler's right arm. The marble group, which dates to the 1st century B.C., is a Roman copy of a lost original in bronze from the 3rd century B.C., can be attributed to Lysippus, a sculptor renowned for many bronze and marble works and, in particular, for his portrait of Alexander the Great. It represents a unique example, since no further copies are known.
3D model in collaboration with Indiana University. Visit https://www.digitalsculpture-uffizi.org/
A. Cecchi – C. Gasparri, La Villa Médicis. Le collezioni del cardinale Ferdinando. I dipinti e le sculture, Roma 2009, p. 62, n. 50
Interested in visiting The Uffizi?
Arrange your visit in Florence, find prices and opening hours of the museum.
Go to museum