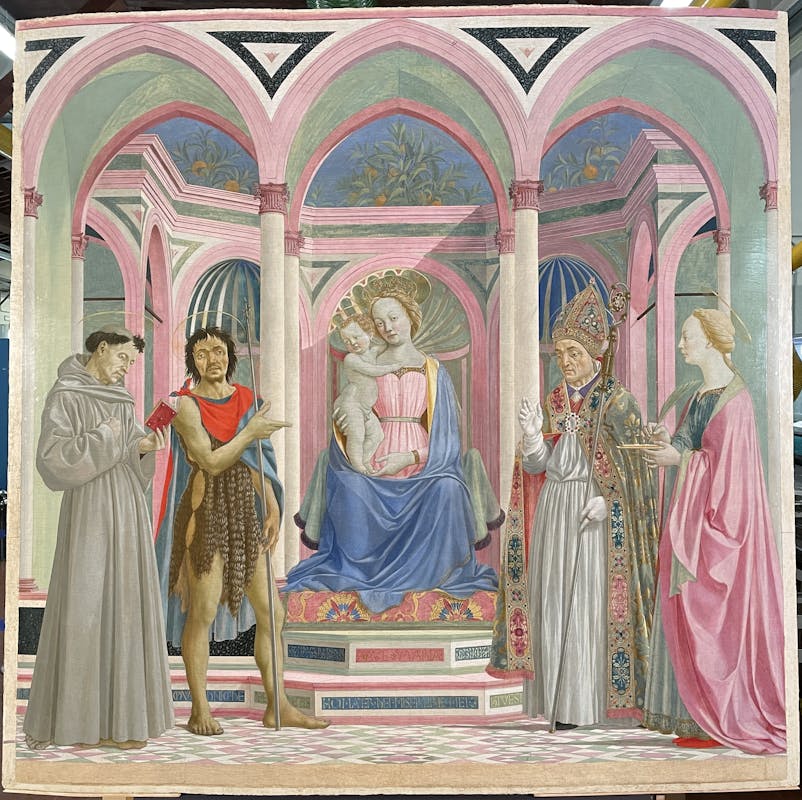 Madonna and Child enthroned with St. Francis, John the Baptist, St. Zenobius and St. Lucy
Domenico Veneziano (Venice, early 15th century – Florence 1461)
Inscriptions
OPUS DOMINICI DE VENETIIS HO[C] MATER DEI MISERERE MEI DATUM EST
In the centre of a portico, in front of marble columns with boughs of orange trees protruding above, the Madonna and Child are surrounded by four saints, including the patron saints of Florence, John the Baptist and Bishop Zenobius. The figures, posed naturally and at ease, create a "sacra conversazione" (holy conversation), a reinterpretation of the traditional theme of the Madonna and Child surrounded by saints depicted in Gothic polyptychs which became widely used in the fifteenth century as square or rectangular altarpieces became more common.
Originally displayed on the high altar of the church of Santa Lucia de' Magnoli in Florence, the painting has since been separated from its frame and predella (currently shared between the National Gallery in Washington, the Fitzwilliam Museum in Cambridge and the Gemäldegalerie in Berlin) which depicts the Annunciation and Four Scenes from the Lives of the Saints.
The step of the dais where the Virgin Mary sits is signed by Domenico Veneziano, one of the greatest interpreters and innovators of the Florentine Renaissance, although records have always referred to the master painter as a native of Venice. The artist demonstrates his mastery of linear perspective with a central vanishing point conceived by Filippo Brunelleschi; the clear light entering from the right enhances the chromatic range of predominantly light tones and refines the shapes of the bodies, while their shadows cast on the floor are perfectly proportioned. The purity of the skin tones and the idealized beauty of the figures of the Madonna and Child and Saint Lucy – the latter holding a dish bearing her eyes which were gouged out during her martyrdom – contrast with the amber tones and worn faces of the three saints, respecting the iconographic models and aesthetic canons in vogue during the 15th century. The setting features certain elements still attributable to the Gothic tradition, such as the pointed arches of the colonnade.
Interested in visiting The Uffizi?
Arrange your visit in Florence, find prices and opening hours of the museum.
Go to museum