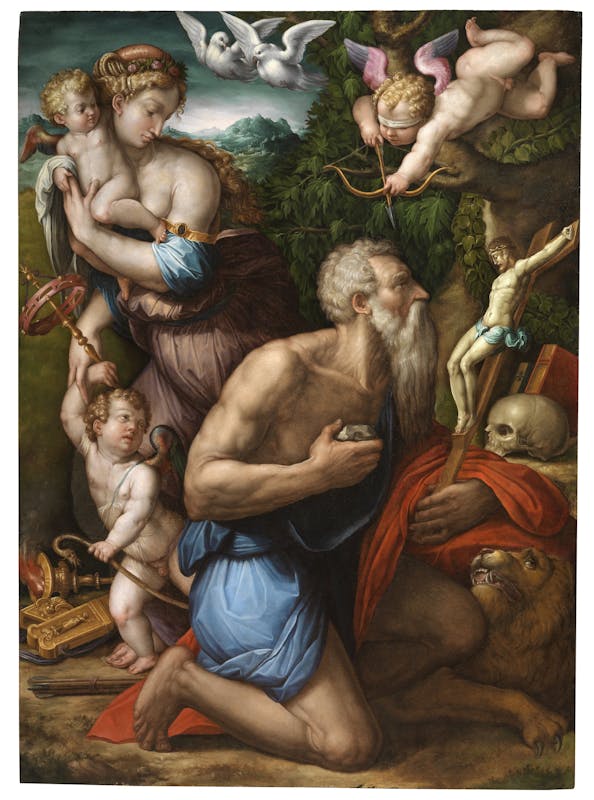 The Temptation of St. Jerome
Giorgio Vasari (Arezzo 30 luglio 1511 – Firenze 27 giugno 1574)
In accordance with a literary tradition focusing on his period of solitude in the desert, St Jerome has been depicted as an old, bearded and energetic man kneeling in the foreground and wearing a simple blue tunic finished off with a red cloak. In his right hand he is holding a crucifix and he is beating his breast with a stone in a sign of repentance. There is a skull in front of him, symbol of the futility of the earthly life, together with books, sign of the study which led to the drawing up of the Vulgate, namely the translation of the Bible into Latin. The lion at his feet is a reference to an episode passed down in the sources, the origin of the Jacopo da Varazze Golden Legend (late 13th century) according to which the lion with a thorn in its paw was healed by the saint and thus remained loyal to him, accompanying him for the whole of his period in the desert. This iconographical model – i.e. the figure of the saint with the lion alone – was a very common painting theme from the mid-15th century onwards. Vasari adds Venus to this model, standing behind the saint as a symbol of passion and carnal love, carrying a putto in her arms and pulling another child shaking some cymbals along by the hand. This is a personification of play which, in this allegorical context, represents another of the worldly temptations. Above them two doves are flying, together with a blindfolded cupid preparing to let loose its arrow into the saint. But the empty quiver, the bunch of arrows and the brazier, used for love sorcery, have been abandoned on the ground, having failed to overcome the saint's moral strength. Venus is obliged to leave the scene and give up attempting to use her seductive arts. The composition is finished off by other symbolic elements that Vasari loved to use, such as the horse chestnut tree around which ivy has wrapped itself, both of which are symbols of eternity. The landscape in the background is dotted with historic buildings and gradually fades into the pink sunset sky. This complex allegory was designed by Vasari for Ottaviano de' Medici, his great friend and art patron and an eminent figure on the Florentine scene in the 1530s. The panel is a good example of the evolutions which took place in the style of Vasari's work in the early 1540s. It was an eclectic moment during which his Florentine training, to models used by Andrea del Sarto and Rosso, were being supplemented with the experiences of a few years earlier in Rome, his ancient sculpture studies and of the work of Michelangelo and Raphael carried out untiringly in Rome in the company of his painter friend Francesco Salviati and thoughts on the work of Parmigianino.
Interested in visiting Pitti Palace?
Arrange your visit in Florence, find prices and opening hours of the museum.
Go to museum