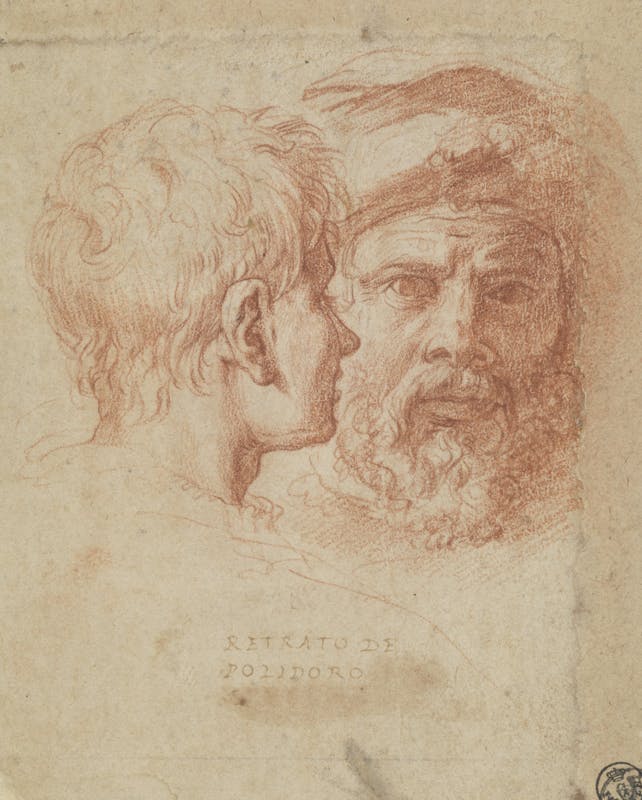 Two male heads (Self-portrait with friend?)
Polidoro Caldara, detto Polidoro da Caravaggio (Caravaggio 1490/1499 – Palermo 1543)
Inscriptions
On the recto, centre bottom, in pen, in sixteenth-century handwriting (F. de Holanda?) "RETRATO DE / POLIDORO"; on the verso, in pencil, in nineteenth-century handwriting "Cart. 507 - /1929/ Scuola Lombarda/ sec.o XVIII"; on the verso, in pencil, in nineteenth-century handwriting "Polidoro da Caravaggio"
The bearded man, facing forward, is considered by most critics to be a self-portrait executed by Polidoro da Caravaggio. This identification is based on the ancient inscription "RETRATO DE POLIDORO" on the painting itself; this inscription is also found on two other studies which are currently preserved in Paris (Musée du Louvre inv. no. 6096; Fondation Custodia inv. 2896). It is likely that the inscription was made by painter and art theorist Francisco de Holanda (Lisbon, 1517-1584), in whose collection these three works would have been included in the second half of the sixteenth century. Due to the aged appearance of the sitter, academics who accept the theory that the painting is a self-portrait date the work in the artist's later years between his arrival in Naples (post 1527) and his death in Messina in 1543. The use of red chalk is not inconsistent with such a late period as it features in numerous examples of the artist's mature works. The chiaroscuro effect achieved through a masterful use of the chalk emphasizes the penetrating quality of the sitter's expression. Shadows are rendered through soft and blurred strokes, while more precise and flowing marks and defined light are used to highlight the contours of the face. The natural appearance and physiological introspection of the face seem to capture a moment of real life. Indeed, the artist is known for his frequent representations of scenes from daily life, which conceal a deep focus on internal thought. The bearded face in this study is an archetypal character who recurs often in the artist's pictorial works, and it is not implausible that the artist chose a self-portrait to create a figure with a universal quality that could be used in different compositions.
Interested in visiting The Uffizi?
Arrange your visit in Florence, find prices and opening hours of the museum.
Go to museum