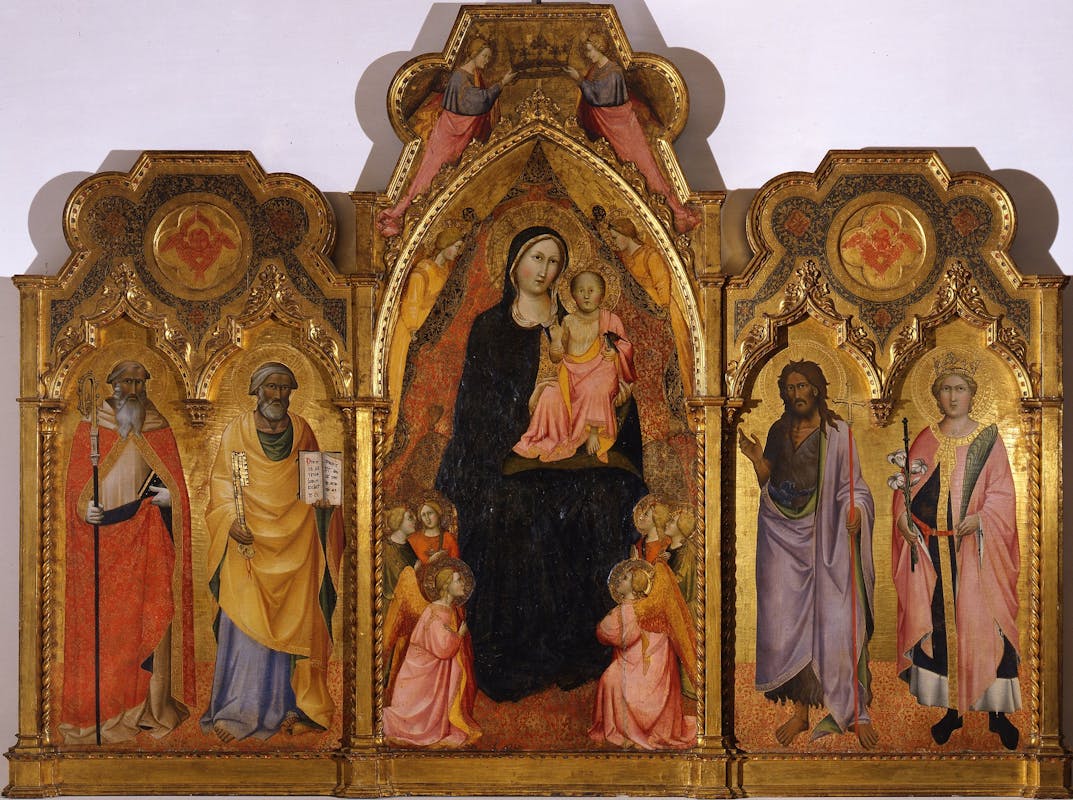 Virgin and Child with ten angels and the Saints Benedict, Peter, John the Baptist and Miniatus
Agnolo Gaddi (Florence, documented between 1369 and 1396)
Date
Central panel: 1380 ca.; Side panels: 1375
Location
B4. Sassetta - Andrea del Castagno
Technique
Tempera on wood, golden background
Inscriptions
DOMINE TECUM PARATUS SUM ET IN CARCEREM ET IN MORTEM IRE (Lc, 22, 33, on St. Peter's book)
Jesus sits on his mother's lap, in the presence of angels, issuing blessings and holding a small bird, considered a symbol of the human soul. At the top, in the frame, two angels are crowning Mary as queen. The throne, which consists of cushions and a drape of honour, has lost all architectural connotations to become a precious, decorated casket. At the sides, four saints, including John the Baptist (right), patron saint of Florence, and the young prince, Miniatus, Florence's first martyr, are depicted with a crown, sceptre, and lilies. The saints are much smaller than the figures in the central panel. The various parts differ in terms of conservation, shape and even the proportions of the arches and decorations on the haloes. The altarpiece is, in fact, the result of a modern assembly of two separate works by Agnolo Gaddi, a major exponent of Late Gothic painting in Florence. The original destination of the central painting with the Virgin and Child is unknown, while the side paintings with saints come from a polyptych possibly painted for the church of San Miniato in Florence, which originally featured the enthroned Madonna in the centre when in the Kisters collection in Kreulingen. The saint holding a crozier is perhaps the founder of western monasticism, Benedict. Under his cope, he wears a white tunic, identical to those worn by the Olivetan Benedictine monks who lived in the Florentine monastery from 1373. The apostle Peter, next to St Benedict, is holding a book, inscribed with a phrase from the Last Supper: DOMINE TECUM PARATUS SUM ET IN CARCEREM ET IN MORTEM IRE (Lk, 22:33; And he said unto him, Lord, I am ready to go with thee, both into prison, and to death).
The Virgin and Child, which belonged to the Masi collection in Peccioli (Pisa) in the early 20th century, and then to the Achillito Chiesa's collection in Milan, joined Alessandro Contini Bonacossi's collection in 1929, while the side paintings were purchased in Rome before 1931. To make the different shapes and sizes of the components of this polyptych less obvious, the frame of the panels with the saints was remade in the 20th century to imitate the cornice of the panel portraying Mary's coronation, which is in part original.
Interested in visiting The Uffizi?
Arrange your visit in Florence, find prices and opening hours of the museum.
Go to museum