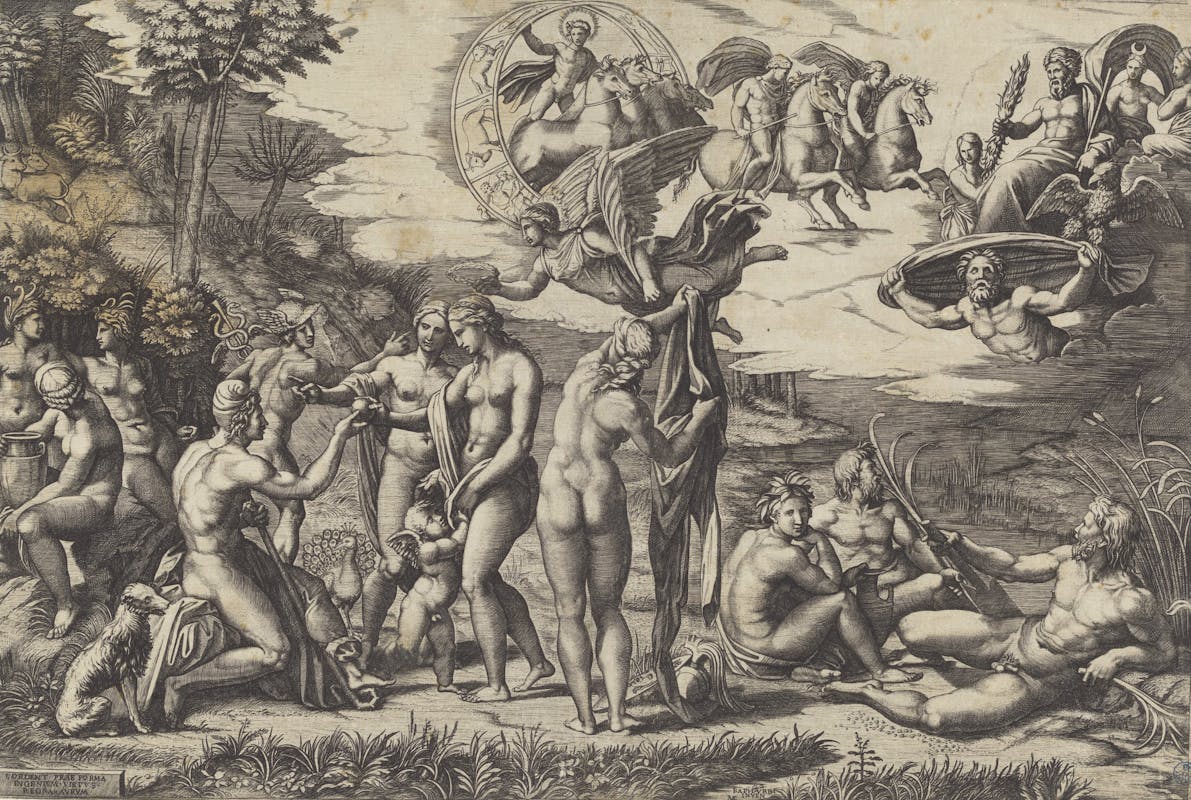 The Judgment of Paris
Marcantonio Raimondi (Argine, Bologna 1480 ca. – Bologna 1534), da Raffaello
Inscriptions
«SORDENT PAE FORMA / INGENIVM . VIRTVS . / REGNA AVRVM // RAPH VRBI / INVEN / MAF»
This print represents the high point of the collaboration between Marcantonio Raimondi and Raphael, who designed the subject specifically for it to be replicated as an engraving, as well as the starting point of a successful method to spread his works. The immediate success of this graphic masterpiece, which according to Vasari "astonished all of Rome", led to the production of various copies and derivative works throughout the following centuries, making it one of the most famous prints of the sixteenth century.
The scene relates to the grisaille painting executed for Pope Leo X below the fresco of the Parnassus in the Segnatura Room in the Vatican. In this print, Raimondi succeeds in expressing exquisite pictorial effects with a velvet tonality, achieved through the use of a grained plate which was then polished and sanded in the white areas and thus offering an array of differing shades of grey. However, in terms of its composition, there are many recurring elements from earlier works by Raphael dating back to 1510-15 approximately. The scene shows Raphael's mastery of exploring subjects through different styles and formal characters, while demonstrating an interpretative freedom and power that was entirely new for that period.
Interested in visiting The Uffizi?
Arrange your visit in Florence, find prices and opening hours of the museum.
Go to museum