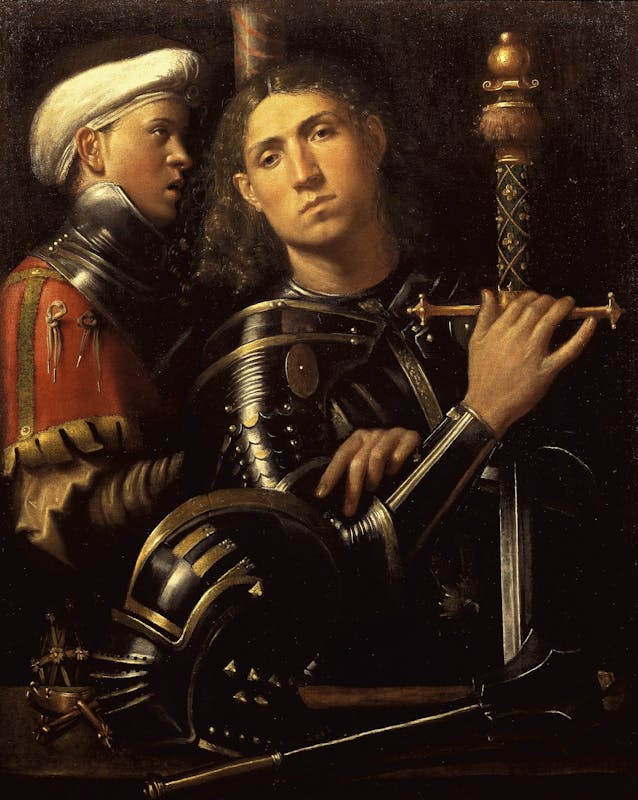 The "Gattamelata". Man in armour with a squire
Giorgio da Castelfranco, known as Giorgione (Castelfranco Veneto 1477 ca. - Venice 1510)
The young knight, with proud expression, holds the magnificent scabbard of his sword with one hand and with the other, points to his helmet, spurs and mace, the pieces of his armour, shown on the parapet in the foreground. Behind him, a squire, depicted in profile, holds the standard pole and is wearing a "bevor", another important element of a condottiere's equipment.
The work comes from the imperial collections of Prague Castle and was on show throughout the 18th century in the Belvedere Castle in Vienna, correctly attributed to Giorgione and with the knight identified as Erasmo of Narni (1370-1443), known as "Gattamelata", and the squire, as his son, Antonio. The work was brought to Florence following an exchange of paintings between the imperial collections of Vienna and the grand ducal galleries of Florence in the period between 1792 and 1821. The portrait of a knight was then added to the collections in the Uffizi Galleries.
According to a more recent, and picturesque theory from critics, the painting is a portrait of Cleitus, valiant lieutenant and close friend of Alexander the Great, about to mount his horse before heading off to one of the many military expeditions into Asia. The work would seem to be based on the painting model used by great Greek artist, Apelles, well known to Giorgone at the time, through the descriptions passed down from Pliny the Elder. Apelles' mastery inspires the rendering of the light and markedly, the depiction of the reflections on the armour, together with an ideal distant comparison between Giorgione and the ancients, with regard to the technical skills used to build up shapes and depth through use of light.
The canvas seems to date back to the earlier part of the 16th century, with the best placement being the intensely experimental period that characterised the beginning of modern painting, boosted by Leonardo's stay in Venice, in 1500.
Interested in visiting The Uffizi?
Arrange your visit in Florence, find prices and opening hours of the museum.
Go to museum