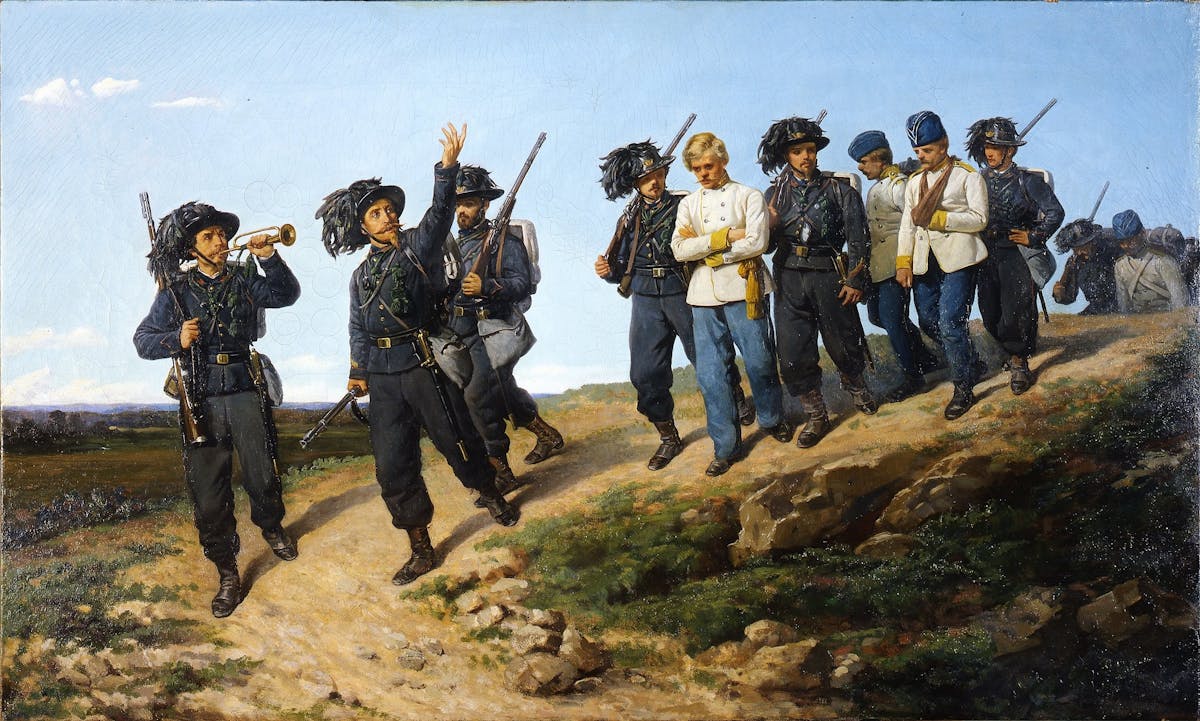 Sharpshooters leading Austrian prisoners
Silvestro Lega (Modigliana, Forlì 1826 – Florence 1895)
In Silvestro Lega's artistic career, this painting ideally marks the end of his academic apprenticeship. With this work, the painter finally felt free to express his artistic spirit, to follow his instinct, in fact then becoming one of the leading representatives of the Macchiaioli movement.
Silvestro studied at the Accademia di Belle Arti in Florence, under Antonio Ciseri (1821-1891). His early work was also influenced by the pictorial ideal of Luigi Mussini (1813-1888), from whom he learned to use clear, pure colours, the result of careful research on the paintings of primitive man. This is a characteristic that we also find in this painting, where the range of colours used closely reflects such teachings. The composition is marked by the approach of the victorious sharpshooters, followed by the melancholic Austrian prisoners. The historical episode, contemporary to the artist's lifetime, is illustrated without pathos or rhetoric. The masterful use of the "macchia" or colour stain, is visible in the colour contrasts, obtained by offsetting the different uniforms, and in the expert application of colour in the rocky terrain and the crystal clear sky. In this painting, Lega portrays both his loyalty to the movement and his sentiment, in terms of support for the Risorgimento. Indeed, the Macchiaioli were not only united by the fact that they shared a new pictorial style, but also by a common patriotic passion that led many of them to sign up. Lega himself participated , as a volunteer, in the Battle of Curtatone and Montanara. It was therefore not surprising that precisely between 1859 and 1861, the production of works on the theme of the Risorgimento was significant, with all the leading figures of the Macchiaioli movement playing a part. In particular, with this painting, Lega raised the quality of his work to another level, using the "macchia" with extraordinary expertise to produce an absolute masterpiece. An evolution that did not go unnoticed when the painting was exhibited by the Società Promotrice of Florence. Indeed, the work was purchased by the Government, becoming one of the founding pieces of the new collection of contemporary paintings that would be exhibited from 1914 onwards, in the Gallery of Modern Art in Palazzo Pitti.
A well-documented anecdote concerns the title of the painting. Lega had originally called the work Return from an Expedition. Since the works of the Macchiaioli often tended to remain unsold (they would be shipped, then returned to the sender), Silvestro's friend and colleague, Telemaco Signorini (1835-1901), had advised him to change the title. Lega took his advice, and ironically, this very canvas would be the one to break that tendency. Telemaco would surely have been overjoyed to be contradicted! Although immediately acclaimed by the critics for his artistic qualities, Silvestro Lega failed to make his fortune and died a very poor man.
Interested in visiting Pitti Palace?
Arrange your visit in Florence, find prices and opening hours of the museum.
Go to museum