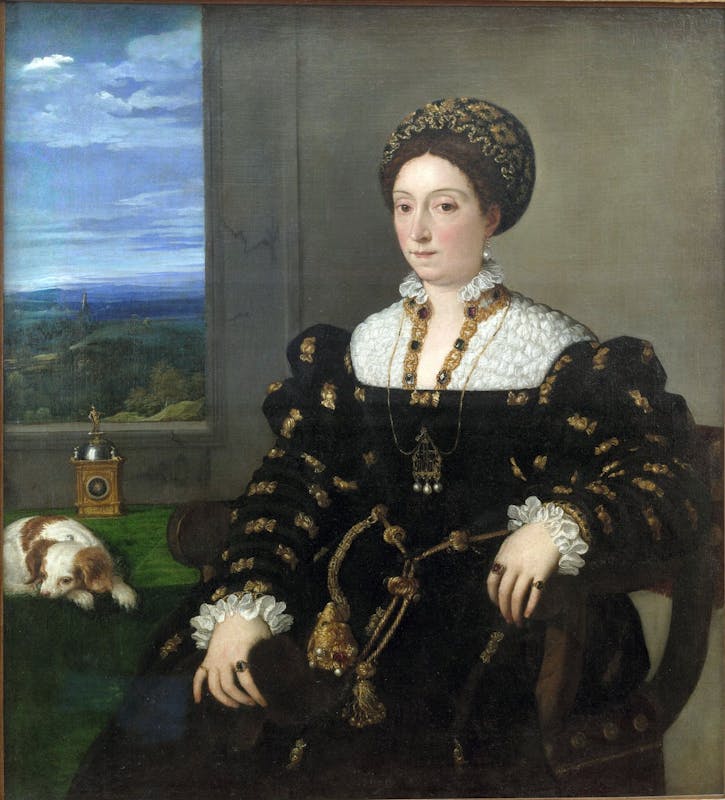 Portrait of Eleonora Gonzaga, Duchess of Urbino
Titian (Pieve di Cadore 1488/90 – Venezia 1576)
Location
D15 Room of the Dynasties
This work was probably painted by Titian in the winter of 1536-1537, when the duchess was staying in Venice. It precedes - albeit by just a few months - the portrait of her husband, Francesco Maria I della Rovere, Duke of Urbino.
Painted as a companion, and although not conceived to be a comparison - strictly in terms of composition - it is deeply complementary, since one depicts a prototype of the valorous man of arms and the other is the perfect example of the faithful bride (the dog is in fact a symbol of marital fidelity), an embodiment of womanly virtue.
In November of 1537, before the ducal diptych was delivered to the patrons, famous polygraph, Pietro Aretino celebrated Titian's talents as a portrait artist in two famous sonnets, describing the painter's wonderful ability to immortalise inner qualities, the moral attributes of the subjects of his paintings, demonstrating that he could even surpass the expressiveness of poetry.
Interested in visiting The Uffizi?
Arrange your visit in Florence, find prices and opening hours of the museum.
Go to museum