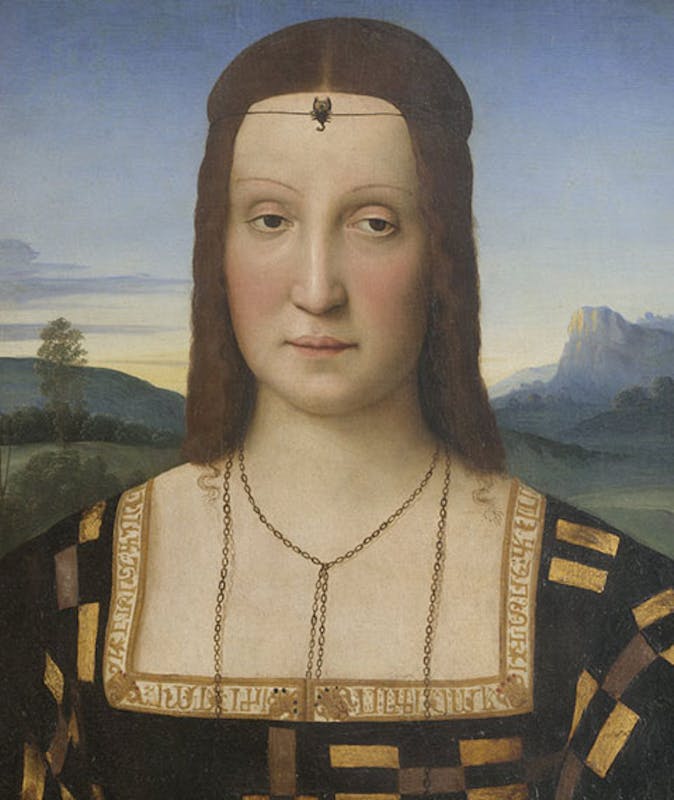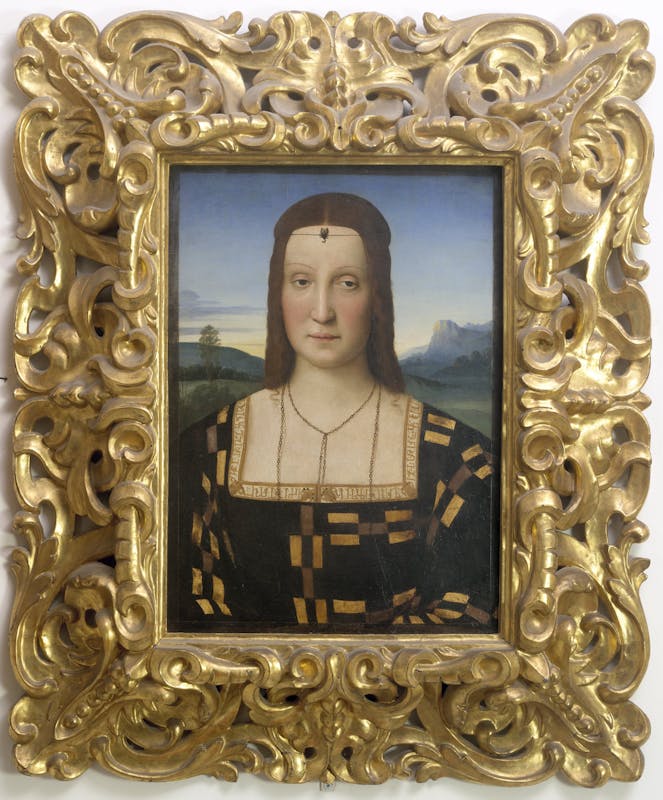 Portrait of Elisabetta Gonzaga, Duchess of Urbino
Raffaello Sanzio (Urbino 1483 – Rome 1520)
Location
A38. Raffaello and Michelangelo
Elisabetta Gonzaga, wife of Duke of Urbino, Guidubaldo da Montefeltro, was one of the most important figures in the cultural life of her time. A lover of art and literature, Elisabetta is the protagonist before whom the dialog takes place over days in the "The Book of the Courtier" by Baldassarre Castiglione and it is Elisabetta who is praised as the personification of grace, the most appreciated quality in the perfect lady of court. The position of the subject, shown to just under her chest, leaves out arms and hands to focus solely on the shoulders and the face, which are shown strictly from the front. The background shows a peaceful, light and airy landscape, typically Umbrian, with hillsides dotted with trees and high mountains in the background. The duchess is dressed in black, with a "gamurra" (or "camurra") dress decorated with rectangles set out in gold and silver, in an asymmetrical design, inspired by the heraldic colors of the Montefeltro family. The duchess' white neckline has gold lettering in Kufic characters, and she is wearing two simple gold chains around her neck. On her extremely white forehead is a jewel in the shape of a scorpion, containing a precious stone. At times, this piece of jewelery has been interpreted as an amorous symbol, with regard to the letter S that Elisabetta sports in one of the dialogs of the Courtier; however it may refer to Scorpio, the astrological sign linked to fertility and therefore, a good luck charm for the duchess, who was unable to have children due to her husband's sterility. The ultra-fine painting techniques, featuring contrasts between the deep shadow of the dress and the pale tones of the subject's skin, are, together with the painstaking attention to every detail, reminiscent of the Flemish examples that Raphael would have been able to see and study during his early years in Urbino, especially looking at the paintings of Justus van Gent and Pedro Berruguete in the Duke's study. However, these initial trials by the artist already show his aptitude for representing the stirrings of the soul, his desire to make even an official portrait such as that of Elisabetta more authentic and exciting, leaving the onlooker to experience all of the truth of the expression in that reserved, noble gaze, as well as in the still youthful curve of the lips.
Interested in visiting The Uffizi?
Arrange your visit in Florence, find prices and opening hours of the museum.
Go to museum