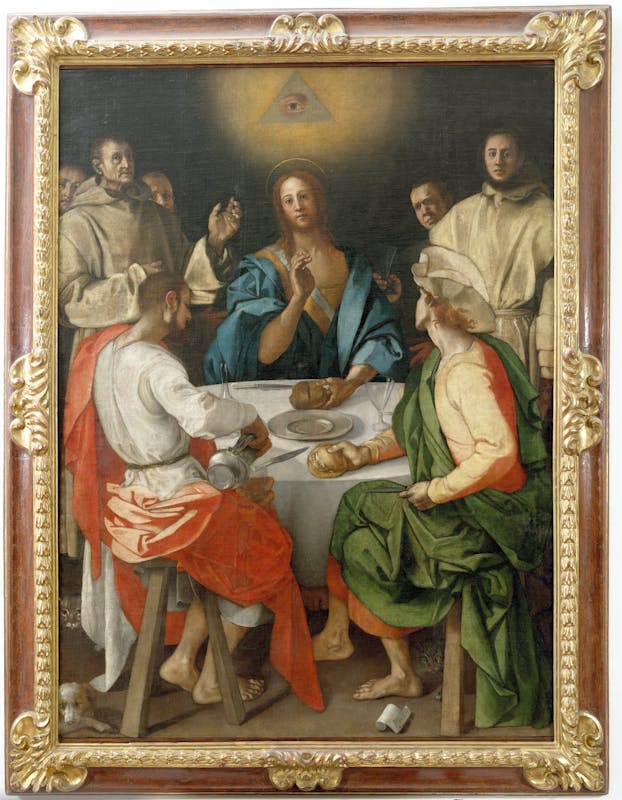 Supper at Emmaus
Jacopo Carucci, known as Pontormo (Pontorme, Empoli, 1494 – Florence, 1552)
Location
D12 Pontormo and Rosso Fiorentino
Jacopo Carucci, known as Pontormo, after his birth town, trained in Florence in the workshops of Piero di Cosimo and Mariotto Albertinelli, before eventually joining that of Andrea del Sarto, where he worked alongside Rosso Fiorentino. From his early works, influenced by the master's moderate classicism and his deep reflection on the models of Michelangelo, the artist developed a vibrant, restless style, based on a new psychological and compositional tension, and an incisiveness of northern descent, derived in particular from the prints of Dürer. These characteristics would be developed in his later works, and effectively exacerbated in the final part of Pontormo's artistic career, which personifies the most tormented phase of Mannerism.
In 1523, Jacopo took shelter in the Galluzzo Charterhouse to flee from the plague that was raging through Florence. There, he set to work painting the cycle of frescoes with the Stories of the Passion on the lunette windows of the main cloister. Once he had completed the cycle, the monks of the charterhouse commissioned him to paint this large panel for the guest quarters. The painting depicts the apparition of Christ to the Apostles as related in the Gospel of Luke (24:13-35). After his resurrection, Jesus, dressed as a traveller, met two of his disciples along the road that led to Emmaus, a small village near Jerusalem, but they failed to recognise him until dinnertime, when he took the bread, blessed and broke it then handed it round those at the table.
The painting is inspired by the engraving of the same subject in Dürer's Small Passion series. The layout of the composition is centred round the figure of Christ, depicted as he breaks the bread. His sudden revelation to the disciples, who recognise him from this gesture, is emphasised by the beam of light that illuminates his face. The table is portrayed with a few simple elements of great naturalism: the metal jug, the clear glasses, the dog and the cats hiding underneath, waiting for the leftovers.
The monks of the charterhouse emerge from the darkness in the background, called upon to witness the sacred episode. Among these figures, the piercing portrait of Leonardo Buonafede stands out. The old prior of the charterhouse, he is identified as the monk standing on Christ's right-hand side.
The divine eye at the top, a symbol of God the Father within the trinity triangle, is the result of a posthumous repainting job, designed to conceal the original three-sided face, representing the Trinity, which had been prohibited by the Counter-Reformation.
Interested in visiting The Uffizi?
Arrange your visit in Florence, find prices and opening hours of the museum.
Go to museum