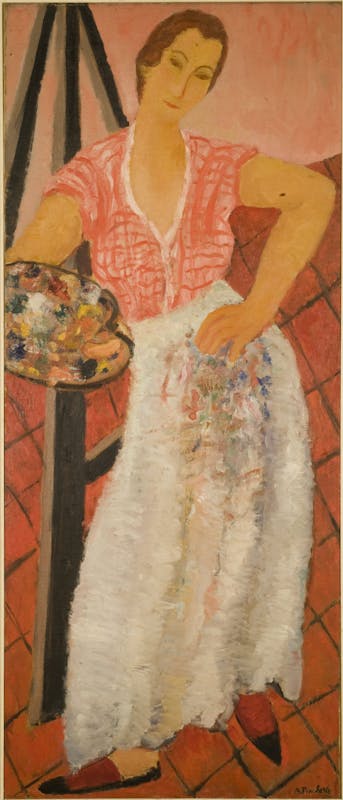 Self-portrait
Adriana Pincherle (Roma 1905 - Firenze 1996)
Location
C14. The Cardinal Leopoldo de'Medici
Bibliography
Adriana Pincherle, catalogo della mostra (Firenze, Galleria Pananti, 1987), a cura di R. Guerricchio, Firenze 1987;
Gardens and Ghettos. The Art of Jewish Life in Italy, catalogo della mostra (New York, Jewish Museum, 17 1989 - 1990), a cura di V. B. Mann, Berkeley-Los Angeles-Oxford 1989, pp. 327, 338;
G. Badino, scheda n. 45, in I mai visti. Capolavori dai depositi degli Uffizi, X. Autoritratte. "Artiste di capriccioso e destrissimo ingegno", Firenze 2010, p. 94;
Pincherle and Pacini. Twentieth-century women painters in Florence / Pincherle e Pacini. Pittrici del Novecento a Firenze, catalogo della mostra (Firenze, Palazzo del Pegaso, Villa Il Palmerino 2016), a cura di L. Falcone, L. Mannini, C. Toti, Prato 2016.
Inscriptions
On the back: Adriana / Pincherle / 1934 / Alla Galleria degli Uffizi / contenta di entrarvi
English version coming soon.
Interested in visiting The Uffizi?
Arrange your visit in Florence, find prices and opening hours of the museum.
Go to museum