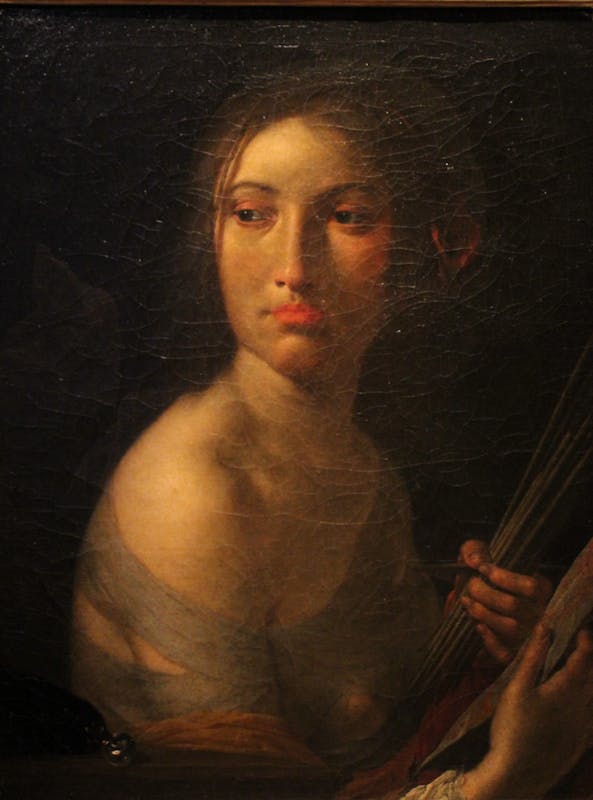 Allegory of Painting
Giovanni Martinelli (Montevarchi, Arezzo 1600 – Florence 1659)
The girl emerges from the shadows in the background, with no other spatial detail except for the edge of the table, bottom left, and a cushion decorated with a tassel. Her gaze is lost in the distance and her noble, regular features are enhanced by a soft light that highlights her delicate complexion, soft pink cheeks and full red lips which, together with the white and yellow-red robes that drape over and yet uncover her at the same time, give her an air of suspended, seductive charm. In her hands she clasps a number of brushes and a sheet of paper on which some faint drawings in red pencil can be made out, symbols that allude to her role as a figure of the art of painting, and also correspond to the criterion of Ripa's Iconologia : "A beautiful woman, with thick black hair, dishevelled and twisted in various ways, with arched eyebrows that show imaginative thought.…She holds a brush in one hand and a palette in the other, and is draped in evanescent robes, which cover her feet. At these feet one can make out a number of Painting tools, showing that Painting is a noble art which cannot be practised without the diligent application of intellect".
Perhaps due to the subject of the work, as well as to its bright colours which feature many changes in tone, the Allegory of Painting was included in the late 18th-century inventories as a self-portrait by Venetian artist, Chiara Varotari, daughter of Dario and sister of the more famous Alessandro, known as Il Padovanino.
However, there are good reasons for identifying it as a Florentine piece from the early 17th century, painted by Giovanni Martinelli, influenced here by the works of Artemisia Gentileschi and Simon Vouet, through whom he probably encountered naturalism in the style of Caravaggio. The focus on warm light, which covers the figure from the side, and the accentuated sensuality of female beauty are both characteristic of the artist's more youthful works. The frame is of the 17th-century.
Interested in visiting The Uffizi?
Arrange your visit in Florence, find prices and opening hours of the museum.
Go to museum