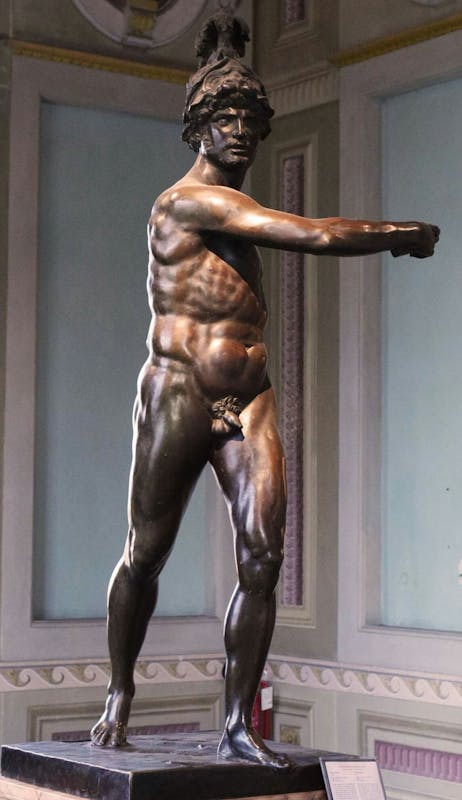 Mars Gradivus
Bartolomeo Ammannati (Settignano 1511 – Florence 1592)
The majestic statue known as "Mars Gradivus" – characteristic that indicates his divinity or his battle stance – is one of Bartolomeo Ammannati's masterpieces, a virtuous example of the cultured assimilation of Michelangelo's lessons in the accurate rendering of the anatomy and torsion of the torso. It represents the god Mars marching at the head of an army with a baton in his right hand and a sword in his left, originally with a blade. An expenses list dated June 1559 includes transport from Ammannati's house to the Sapienza foundry of "an earth mould to cast a bronze Mars", providing a chronological reference that places the execution of Mars at the time when Ammannati was working on Palazzo Vecchio's Fountain of Neptune and on "the many statues in marble and bronze" that were made, as Vasari points out, by the sculptor for Cosimo I de' Medici. It would thus be possible to interpret the sculpture as Cosimo I's celebration of the god under whose auspices he was born: in fact, Mars embodied the "values of virtue and intellect" laid down by Cosimo as the foundation of his government. Cosimo also chose the Capricorn as his personal emblem, an animal dear to the warrior god, and Emperor Augustus' sign of the zodiac, and Bartolomeo placed one under Mars' crest. The size of the statue and the references to the Duke of Florence lead to the assumption that it was intended for exhibition in a public place in the city. During the 17th century the bronze was transferred to Rome and initially placed in the gallery and then in the area in front of the loggia at Villa Medici by Cardinal Ferdinando de' Medici, where it stood with Silenus and the infant Bacchus by Jacopo del Duca. The bronze returned to Florence in 1797 and has been on display in the Uffizi Galleries ever since.
Interested in visiting The Uffizi?
Arrange your visit in Florence, find prices and opening hours of the museum.
Go to museum