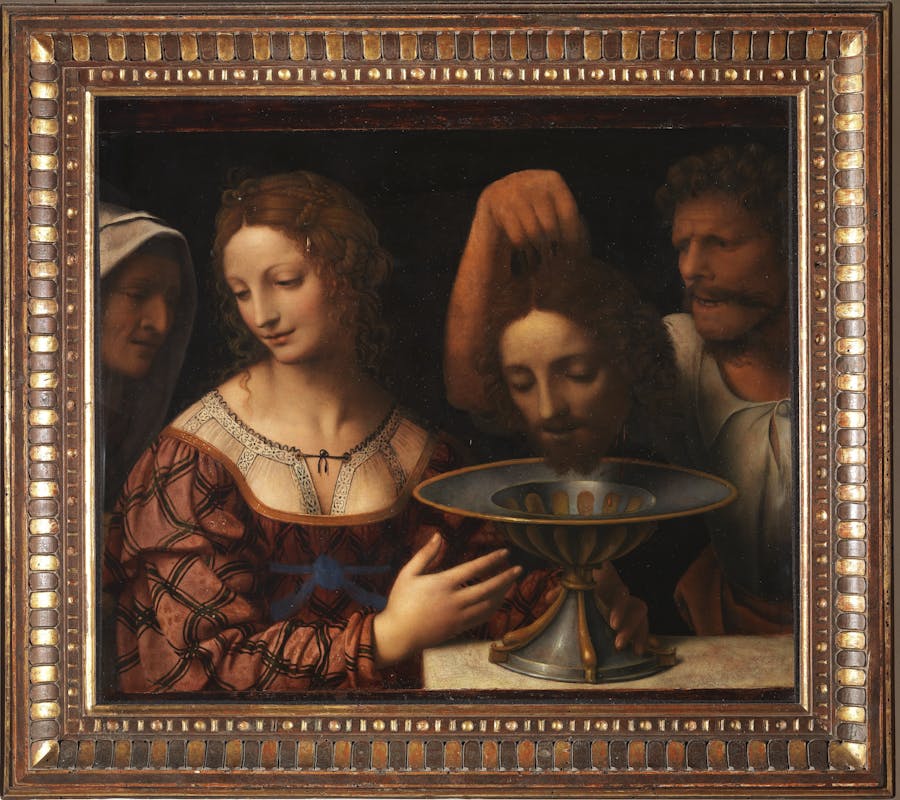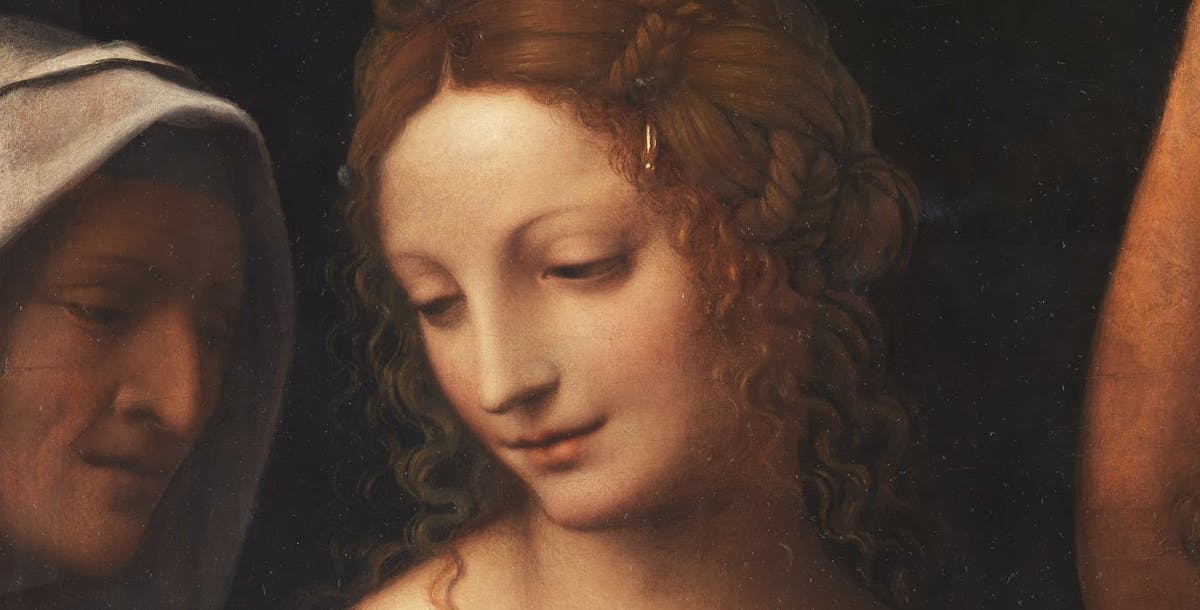 Salome receives the head of John the Baptist
Bernardino Scapi, also known as Bernardino Luini
This painting by Bernardino Luini belongs to an extensive catalogue of artworks depicting Salome with the head of John the Baptist. It was a very prevalent subject among Lombardy's artistic circles at the turn of the sixteenth century (a movement with which Leonardo da Vinci was often associated), and its popularity is most likely linked to Aimery d'Amboise, Grand Master of the Knights Hospitaller and brother of Georges, a French client of Andrea Solario, one of Leonardo's most trusted followers. In fact, some sources attribute the unearthing of a new relic of St. John to this French nobleman (a bone fragment taken from a skull preserved in Amiens), which would have further contributed to the subject's success at the time. The event was often depicted in a half-bust format featuring three or four characters. Rarer depictions featured a full figure or just the platter itself holding the head of John the Baptist – a reference to the medieval Johannesschüssel model. Here, Luini adopts the former compositional model (a horizontal format featuring three characters) and takes inspiration from the evangelist Mark (Mark 6:14-29), which is evident from the presence of the guard, who is absent in Matthew's account (Matthew 14:1-12). Generally speaking however, the story begins with John the Baptist being imprisoned by Herod Antipas for publicly condemning his relationship with his brother's wife, Herodias. Herodias has a daughter who we know to be called Salome thanks to Flavio Giuseppe's Antiquities of the Jews. Salome is merely identified as the 'daughter of Herodias' in the gospels, which lends itself to the idea that she was but a pawn in her mother's games. After charming Herod Antipas with a dance performance, Salome is granted a reward, and she asks for the head of John the Baptist to be brought to her on her mother's behalf. What follows – and on which both Mark and Matthew agree – is the delivery of John's head to Salome on a platter. Salome is often depicted as disturbed by the barbaric sight – such as in Alonso Berruguete's well-known painting located at the Uffizi (see the artwork) – and the iconography was frequently used as a means to extol the beautiful artefacts made by local goldsmiths in fifteenth-century Lombardy. Rather than referring to the gospels, Luini was instead inspired by Leonardo and his famous Testa di Fanciulla – traditionally known as La Scapigliata (Parma, National Gallery) – on whom he bases his depiction of John's head, with eyes lowered and lips parted, as though he is whispering to the servant next to Salome. In fact, the painting was originally attributed to Leonardo when it was sent from Vienna's imperial collections to Florence in 1792 as part of an exchange between the Habsburg-Lorraine family collections. Quoted several times by Stendhal in his writings, it was definitively traced to Luini in the 1830s. Over time, critics have put works from this era into chronological order, thereby reducing the centrality of this particular painting, which they attributed to a later date in the 1520s.
Interested in visiting The Uffizi?
Arrange your visit in Florence, find prices and opening hours of the museum.
Go to museum