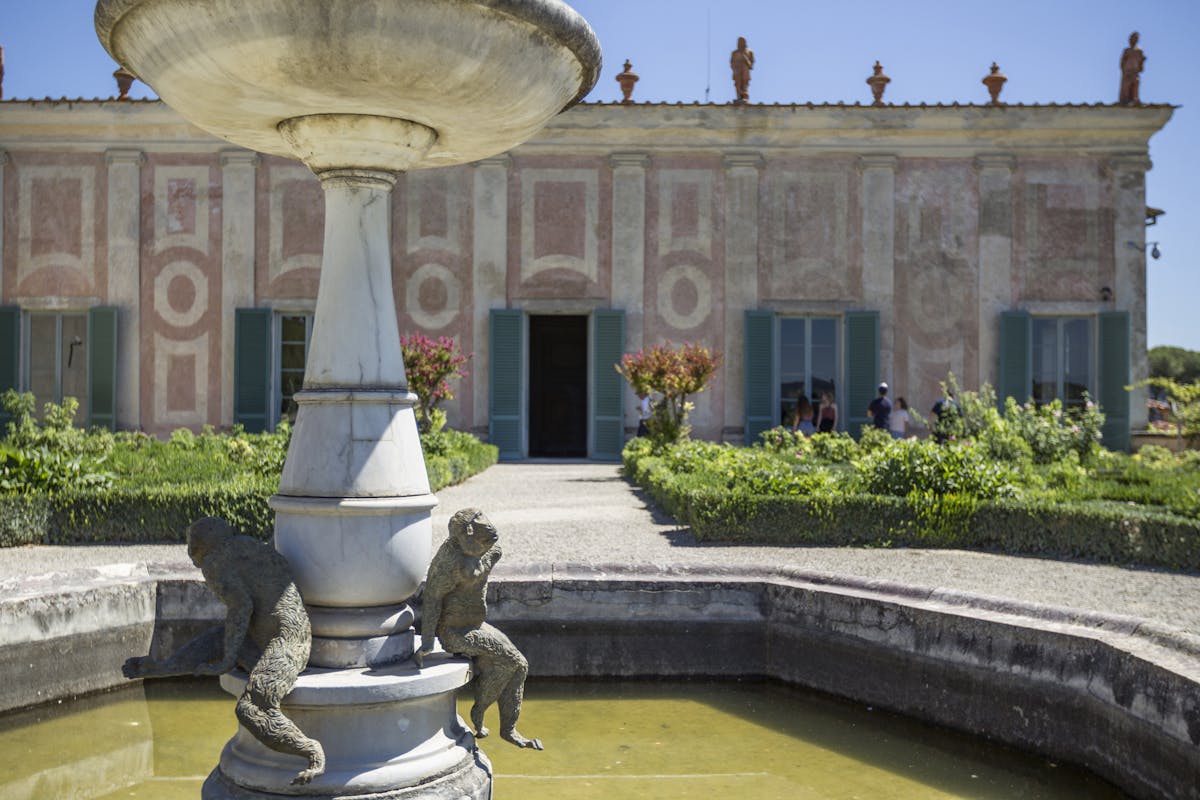 Knight's Building and Rampart (Palazzina e Bastione del Cavaliere)
Giuseppe del Rosso (1760-1831) ed altri
Date
1527-1530, with modifications until the 18th century
The Knight's Building (Palazzina del Cavaliere) situated on the eponymous Rampart (Bastione del Cavaliere) was constructed in the era of the Republic of Florence, between 1527 and 1530. On the top, as revealed by the lunette painted by Giusto Utens (1599-1602), there used to be a building where Knight Malatesta Baglioni lived, giving this part of Boboli Gardens its name. It is the meeting point of the Rampart built during the siege of Florence in 1527, the fourteenth-century walls and the outer wall commissioned by Cosimo de' Medici between 1546 and 1548 during the conflict with Siena. In 1614, two reservoirs were built to supply water to the new extension to the Boboli Gardens, one at the base of the Rampart, known as the Trout Reservoir (Conserva delle Trote) and the other within the Rampart itself, the Knight's Reservoir (Conserva del Cavaliere). At the end of the 17th century, Grand Duke Cosimo III de' Medici commissioned the current Knight's Building for his second-born son Giangastone. It was constructed above the Trout Reservoir, which was in turn covered by a vaulted structure supported by a great pillar submerged in the water, giving this place a particularly fascinating aspect.
In front of it lies the beautiful Knight's Garden (Giardino del Cavaliere), accessed by a double staircase designed by Giuseppe del Rosso in 1793 which curves around a cylindrical structure topped with a circular terrace.
In this period, the Knight's Building façade took on the Neoclassical look that is still visible today. In fact, it is divided by ten pilaster strips with Ionic capitals topped with a protruding cornice running along the full length of the front. On the top of the façade, a series of six terracotta vases alternated with four statues, also in terracotta, refines the regularity of the rectangular front. The spans between the pillar strips are decorated with geometric patterns. Five simple doorways lead into the interior rooms which host the Porcelain Museum and its important assortment of Meissen, Ginori and Sèvres porcelain works originating from the Lorraine collections.
Interested in visiting Boboli Gardens?
Arrange your visit in Florence, find prices and opening hours of the museum.
Go to museum