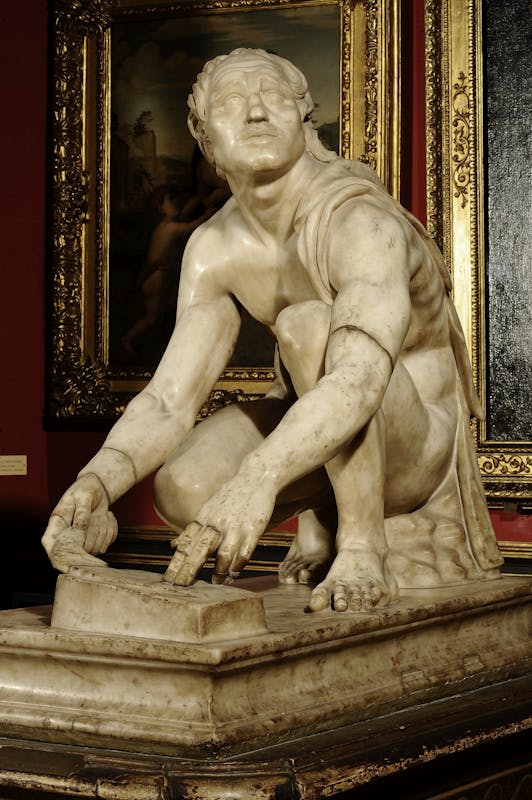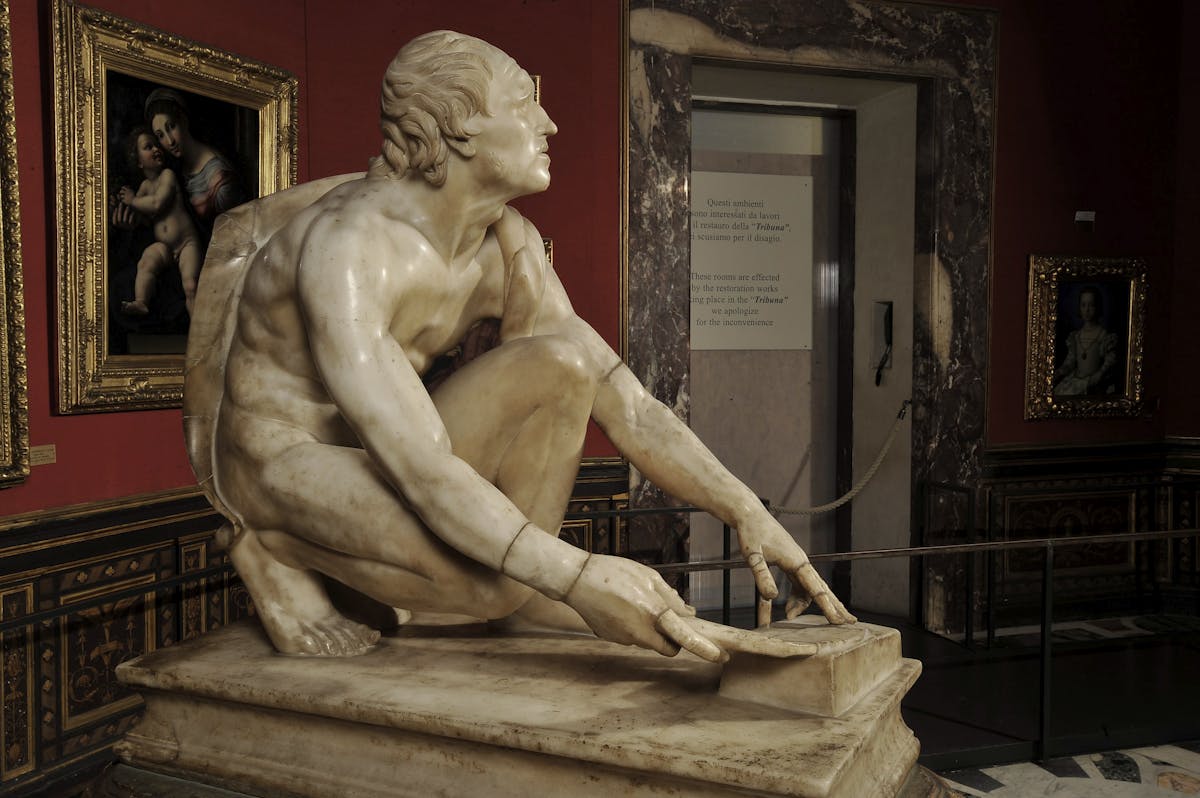 Knife Grinder (also known as the Scythian)
Roman art
This work, as for other ancient sculptures, was restored after it was found in Rome in the early 16th century. A sketch by Maarten Heemskerk, Dutch artist in the period between the 15th and 16th centuries, shows the original appearance of the statue, in reasonable condition, although missing a few fingers. The sculpture, sold by the Mignanelli family to Cardinal Ferdinando de' Medici, and was bought to Florence in 1677 and placed on display in the Tribune, where it can still be seen. It is known as the "Arrotino" and shows a kneeling man who is sharpening a knife on a stone. The man, who has long eyebrows, recessed pupils and swollen eyelids, is looking upwards, his forehead marked with deep frown lines. The semi-naked figure, wearing a light cloak over his right shoulder, was initially thought to be a Scythian, or even a royal barber plotting against the state. In the 16th century, the idea was put forward that the sculpture could be part of a group depicting the flaying of Marsyas. The figure was therefore identified as a slave, preparing the blade used to torture the satyr. The work itself, dates back to the second century A.D. and therefore, it is the surviving element of a copy from a group of statues from the Pergamene school, which can be dated back to the third century B.C. It included the figure of Marsyas, tied to a tree and awaiting his punishment. In the Third Corridor of the Uffizi Gallery, there are two ancient examples of this subject. Although they cannot be traced back to the same group, the fragments on show in the Tribune and Gallery, suggest the appearance of the whole in ancient times.
A. Cecchi – C. Gasparri, La Villa Médicis. Le collezioni del cardinale Ferdinando. I dipinti e le sculture, Roma 2009, p. 68, n. 58
Interested in visiting The Uffizi?
Arrange your visit in Florence, find prices and opening hours of the museum.
Go to museum