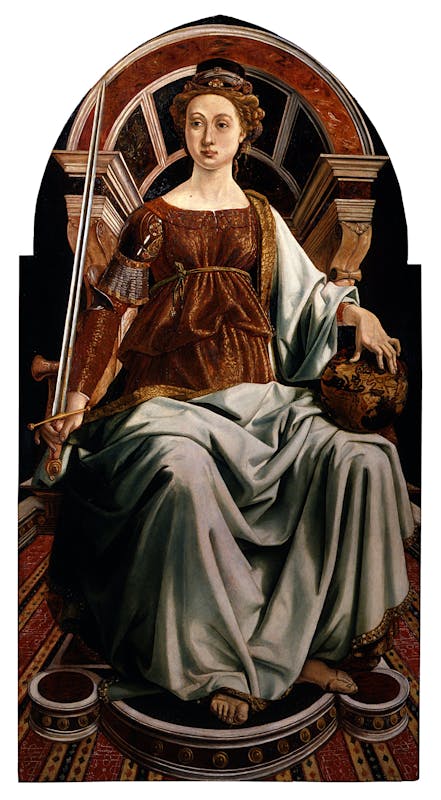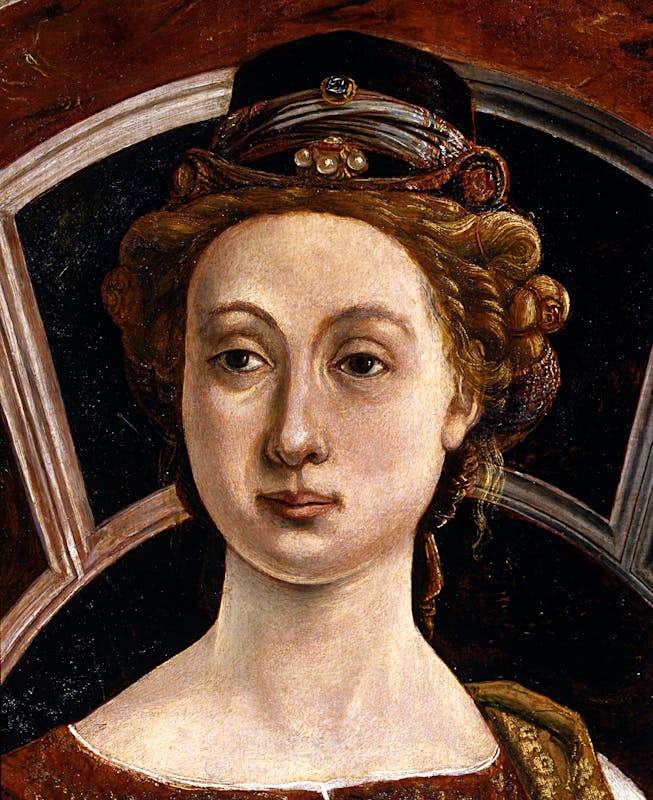 Justice
Piero del Pollaiolo or Pollaiuolo (Florence 1441 - Rome 1496)
Justice is seated on a bench, sword in hand, with the tip pointing upwards. On her knees she holds a globe. Her clothing consists of an elegant dress, woven through with gold, and a grey-green cloak; it includes the harness and couter of a suit of armour. The iconography of Justice at arms became established in the 14th century, perhaps with the aim of vindicating the principle of certain penalty as a guarantee of peace and good government, or to indicate the righteous use of power. The globe probably alludes to the field in which Justice is called upon to exercise her reign, referring to the judgmental functions of the magistrature for which the painting was executed.
This piece is part of a cycle of paintings dedicated to the Virtues and commissioned from Piero del Pollaiolo in 1469. They were painted for the Audience Chamber in the Tribunale di Mercanzia in Piazza della Signoria, Florence. The cycle was completed before March 1472, when a wood merchant was paid to provide a frame that would keep the seven paintings together.
The Tribunale di Mercanzia was the body that decided on the business disputes between Florentine merchants and administered justice among the guilds, known as the Arts. In the 18th century, the wealth and heritage of this judiciary went to the Chamber of Commerce, including the seven paintings of the Virtues, taken to the Uffizi Galleries in 1777.
Interested in visiting The Uffizi?
Arrange your visit in Florence, find prices and opening hours of the museum.
Go to museum