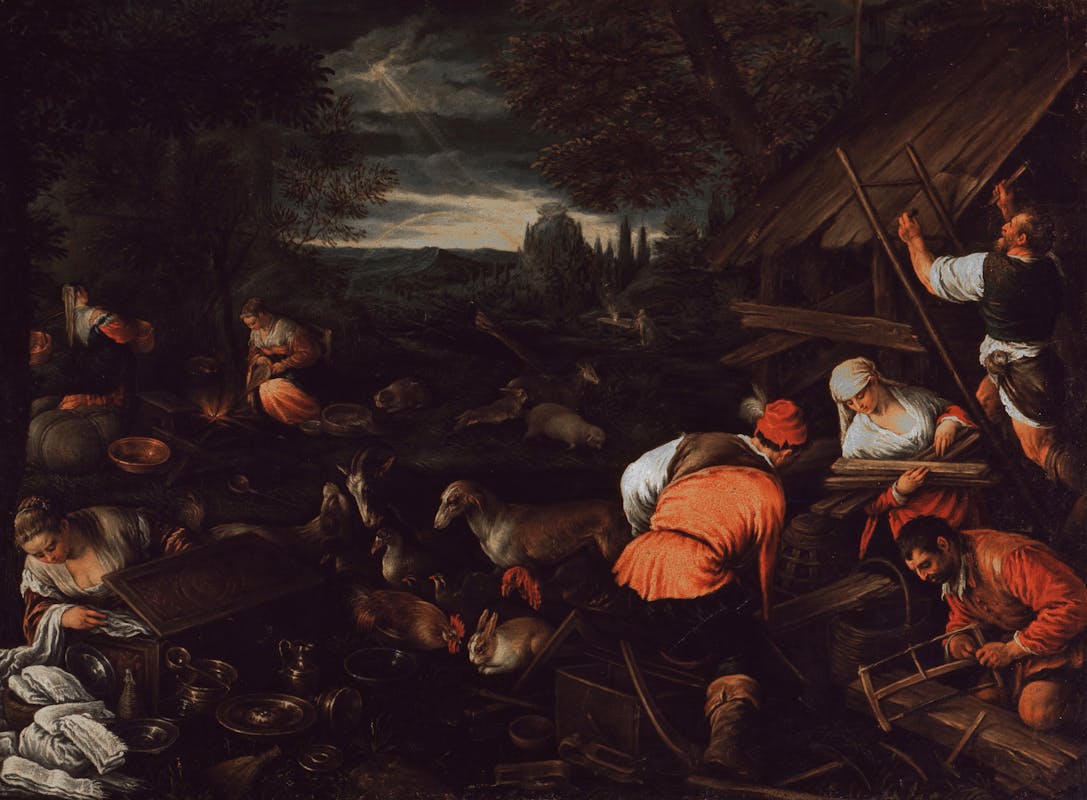 God speaks to Noah after the Flood
Jacopo and Francesco dal Ponte, known as I Bassano (Bassano del Grappa 1515 – 1592) / (Bassano 1549 c. – Venice 1592)
The scene is part of a cycle known as 'the Flood' composed of four canvases – the other three featuring the Building of the Ark, the Animals entering the Ark, and the Great Flood – and belongs to one of the many series of stories about Noah which Jacopo Bassano, one of main interpreters of Venetian figurative civilization in the sixteenth century, devised during the 1570s and replicated many times in collaboration with his son Francesco. The foreground is animated in the style of a genre scene featuring figures engaged in various domestic activities surrounded by furniture, furnishings and animals, while the real subject of the work can be seen in the background: Noah kneeling before his hand-carved altar to give thanks to the Lord who, appearing as a ray of light at the end of the Flood, sends a rainbow to symbolize the divine promise of friendship between Earth and Heaven.
The painting is a typical example of the artistic works of the Dal Ponte workshop, one of the most important artistic dynasties best known by the name of their home town, Bassano del Grappa, and made famous by Jacopo, the inventor of the so-called "pastoral fables", that is the composition of biblical, evangelical and allegorical subjects set in a rural and pastoral landscape, which proved so popular on the market that the painter formed a partnership to share the workload with his sons Francesco and Leandro, helped by a host of assistants.
The series of four canvases to which this painting belongs was acquired by Cardinal Ferdinand de' Medici just before 1578 for his residence in Rome, Villa Medici di Trinità dei Monti. The cycle was then dismantled in the eighteenth century and this particular painting arrived at the Pitti Palace in 1761; the other canvases are housed at the Museum of Medieval and Modern Art in Arezzo (inv. 1890 nn. 580 and 2138) and the Prefecture of Pistoia (inv. 1890 n. 959).
Interested in visiting Pitti Palace?
Arrange your visit in Florence, find prices and opening hours of the museum.
Go to museum