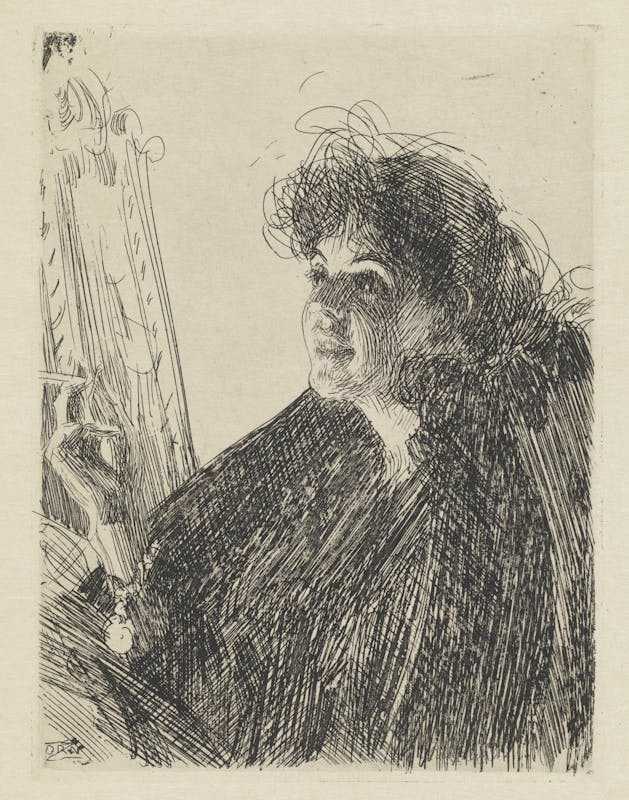 Girl with a Cigarette I (Portrait of Miss X.)
Anders Zorn (Mora, Sweden 1860-1920)
Inscriptions
Signed on the plate, bottom left: "Zorn"
The virtuosity of the etchings of Anders Zorn, Swedish painter, sculptor and engraver with a prodigious international career, was immediately greatly appreciated and in much demand due to the scenographic effects of light and shadow, including spectacular use of light and shade and a dense network of marks that are characteristic of his graphic style, which owes a lot to the methods of James McNeill Whister. With expert, poetic use of light, the artist has been able to give his own prints a vitality and intensity of emotion that is very different from the conventions in vogue for the stereotypical female figures of his Parisian contemporaries, such as Edgar Chahine or Paul Helleu, a fashionable drypoint virtuoso.
Images such as this, in their instant-like immediacy, record Zorn's deep interest in a cosmopolitan gallery of female subjects that he presents in a host of different poses and with a wide variety of expressions. The anti-conformism - rare for the period - of a woman in the act of smoking in public, does not detract from the serene fineness expressed on the model's face, confirmed by the painting of which the print is an engraved version. Like many etchings by the artist, this is an extraordinary interpretation, in the smaller size of a sheet, of one of his painted portraits. Thanks to the vitality of an extremely mobile engraved stroke, leaving wide areas filled with light, following an "unfinished" effect, the image has a "photographic" immediacy in its composition, which finds its roots in the brilliant works of Rembrandt.
Interested in visiting The Uffizi?
Arrange your visit in Florence, find prices and opening hours of the museum.
Go to museum