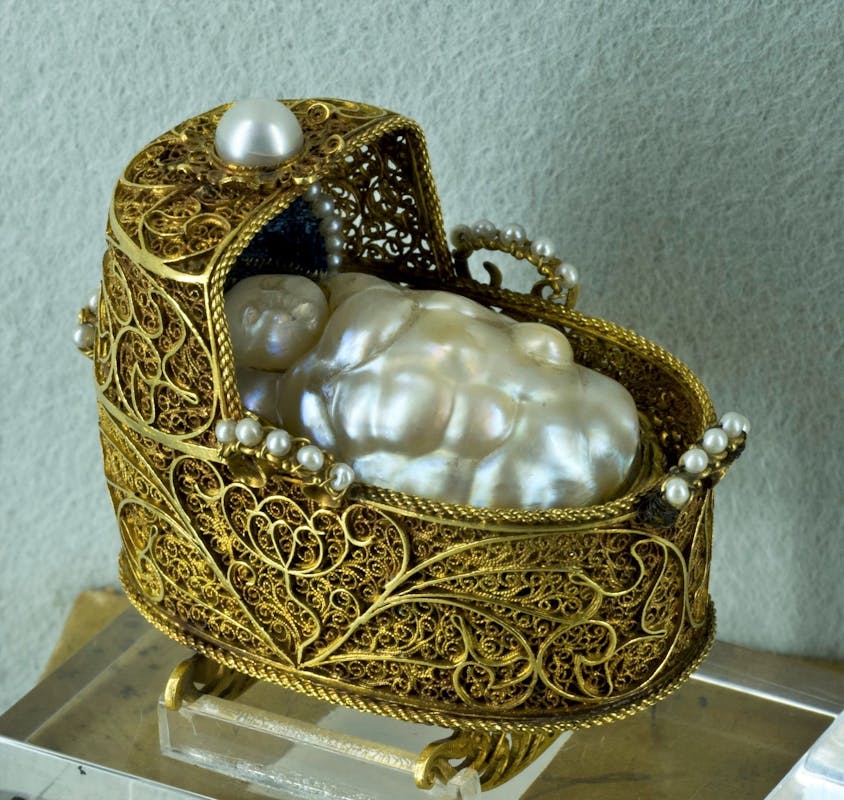 Cradle with child
Dutch goldsmith (Amsterdam)
Technique
Gold, enamel, two baroque pearls, twenty-eight diamonds, twenty-one pearls, blue silk quilted with pearls
Inscriptions
AVGVROR EVENIET (on the back, near the two rockers)
The cradle, in gold filigree with four handles garnished with pearls, has a large baroque pearl that is like a duvet from which the head of a new-born baby emerges, made with another similar, but smaller pearl, partially engraved with facial features. The child is placed on a decorative gold cushion surrounded by diamonds with faux black and white enamel embroidery. The inside of the cradle is lined in blue silk, quilted with minute pearls. The cot rests on two gold rockers in openwork to allow them to rock. The presence of the word "AVGVROR EVENIET" added in gold thread on the back of the jewel shows that it was a precious gift from the Palatine Elector Johann Wilhelm von der Pfalz-Neuburg (1658 – 1716) to his wife Anna Maria Luisa de' Medici (1667 – 1743), daughter of the Grand Duke Cosimo III and last exponent of the illustrious lineage, as a good omen for the announced birth of a son and heir that would, however, never arrive.
The precious object was linked to a letter sent from Amsterdam by André Joseph van der Cruyce to Johann Wilhelm in which he announced the news of the sending of "a swaddled infant in eastern pearls" with its "cradle". The Dutch origin of the precious item appears to be confirmed by the similarities with a real cradle in the Rijksmuseum in Amsterdam and technical likenesses with gold jewellery produced in that city and still conserved in the museum.
Interested in visiting Pitti Palace?
Arrange your visit in Florence, find prices and opening hours of the museum.
Go to museum