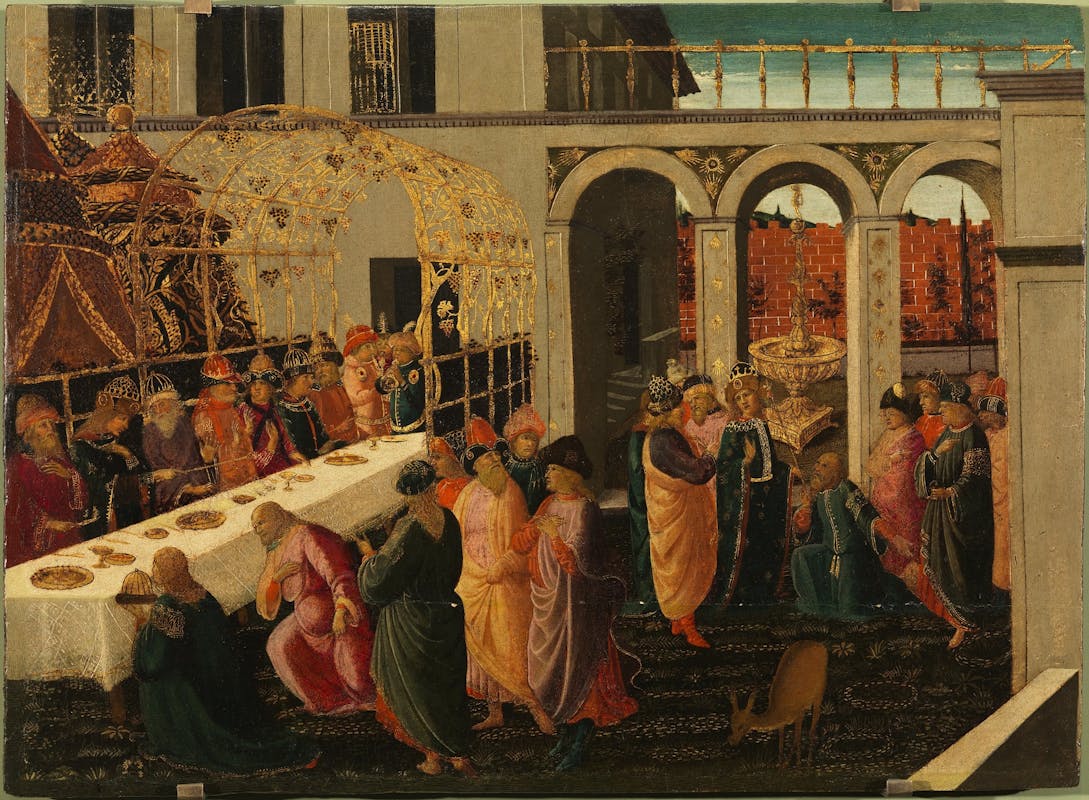 The Banquet of Ahasuerus
Jacopo del Sellaio (Florence 1442 – 1493)
The panel is part of a cycle of paintings dedicated to the story of biblical heroine Esther, who would become the wife of Persian king Ahasuerus (better known as Xerxes) and do her best to protect the Jewish people against a plot organised by a court dignitary. The story begins with the banquet organized by Ahasuerus for the citizens of Susa in the courtyard of the palace. The king, who is wearing a large blue cloak embroidered in gold, is shown at the table, while he orders his queen, Vashti, to be called to attend the banquet and show off her beauty. The king is shown again, standing on the right, while he consults with dignitaries to decide on how to behave with Vashti, who has refused his invitation. Jacopo del Sellaio shows the gardens of the Persian king's palace as a rich, flourishing place, with a pergola for grapes that shades the guests, and a meadow rich with flowers and plants. The sumptuous Far East is evoked by the rich curtains in the encampment of Ahasuerus' army chiefs who have come to the banquet, as well as the imaginative headdresses and the abundance of golden decorations. Behind the portico is a fountain and on a windowsill is a caged bird. Esther's story was considered an example for Renaissance women and this subject was often chosen to decorate the furnishings in the bridal chambers of the wealthier classes. The panels painted by Jacopo del Sellaio for the Uffizi (inv. 1890 nos. 491, 492, 493), now split into fragments, were part of these illustrious furnishings and this group also included two pieces in the Louvre and in the National Museum of Budapest.
The other two stories of Esther by Jacopo del Sellaio at the Uffizi:
Interested in visiting The Uffizi?
Arrange your visit in Florence, find prices and opening hours of the museum.
Go to museum