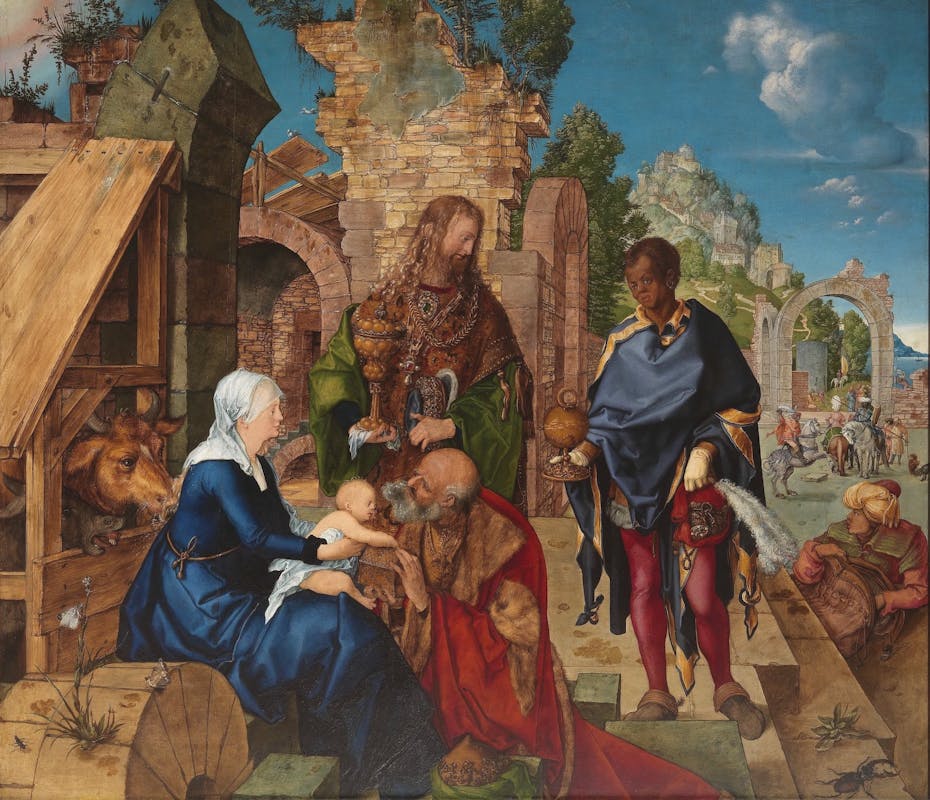 Adoration of the Magi
Albrecht Dürer (Nuremberg 1471 - 1528)
Location
A42. Dürer and the transalpine Renaissance
This painting executed by Dürer in 1504 is a masterpiece of elegantly combined Nordic models and Italian influences. At this time, Dürer had already travelled to Italy once and was therefore familiar with ancient artworks and Italian art (in particular, the works by Mantegna, Bellini, and Leonardo). In Nuremberg (his birthplace), the young Durer had had occasion to see prints, coins, medals and engraved gems brought to the city, thanks to a busy trade with Northern Italy. In this Adoration, although taking the Nordic models into account (Dieric Bouts and David Gerardi, for its references to mixed architecture, to broken arches and precarious wooden structures), the master expresses his art in an "Italian-style" language, choosing to represent just a few, solidly constructed figures that move through a well-constructed space. The bearded king kneeling and bending towards the Child evokes, for example, Leonardo and specifically the Wise Man and the figure of the old man leaning out, both in the Adoration of the Magi at the Uffizi, recently restored and displayed in the Gallery after a lengthy absence. The king shown in profile is also rather Leonardesque in style, and is thought to be based on Dürer himself, a man with long, blond curls recalling the self-portrait at the Prado. The whole scene is described in elegant detail and search for particulars: fabrics, brocades, crowns and goblets (made by goldsmiths in Nuremberg), rubies, pearls, the Virgin's veil, feathers, animals, and plants, all according to Flemish tastes from the other side of the Alps. The colour selection is also worth mentioning: in the foreground, the red, green and blue; in the background, the blue of sky and sea with a palette that becomes lighter and brighter as it opens out onto a fairy tale landscape, with knights and a village in the distance. The iconographic choice is focused on the main characters: the Virgin showing the Christ Child to the three Wise Men, who have brought gifts of gold, incense and myrrh. The painting is dated "1504" and signed with the artist's monogram "AD", on the grey stone placed in the foreground, near to the Virgin.
Interested in visiting The Uffizi?
Arrange your visit in Florence, find prices and opening hours of the museum.
Go to museum