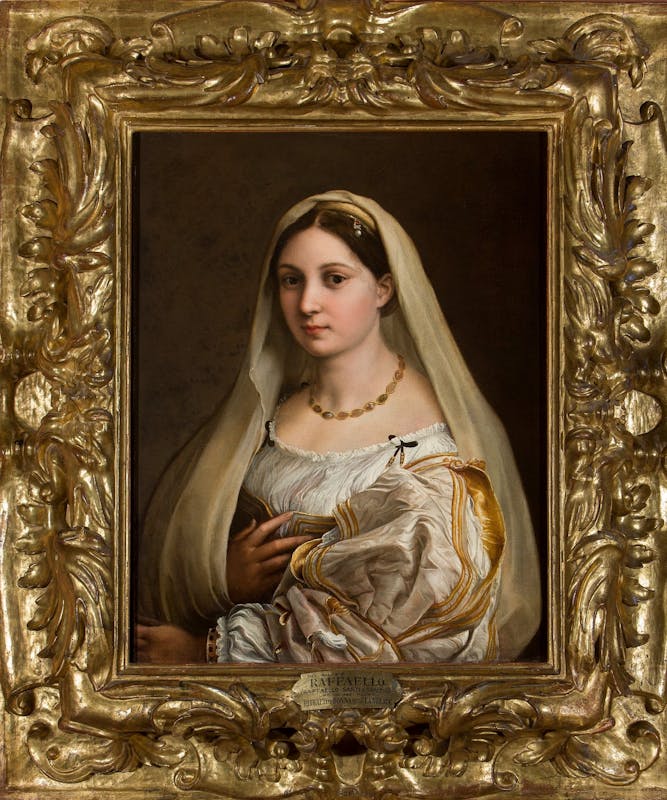 Woman with a Veil
Raphael (Urbino 1483 – Rome 1520)
The veil over the hair, from which the name of this splendid work by Raphael is derived, indicates that the woman is married, yet her precise identity is unknown. According to Giorgio Vasari (1550, 1568), who observed the painting in the house of the merchant Matteo Botti in Florence, the work features Margherita Luti, known as La Fornarina, a woman who Raphael loved throughout his life, but the exquisite gown and jewels are more indicative of a commissioned portrait of a young noblewoman.
It is a three-quarter portrait where one of the shoulder set behind, as already explored by Leonardo da Vinci, emphasizes the spatial depth and modulations of light and shade. The dark background highlights the pink skin tones of the young woman and the luminosity of her pale silk clothing. The gesture of placing her right hand to her heart is perhaps an expression of devotion and love, but the position of the other arm extended in the foreground is a device to spotlight the sumptuous material of the sleeve and the exquisite interplay of light in the folds. Indeed, on closer inspection, the gown is the central focus of the painting, created through extraordinarily masterful skill, while the woman's face, set back slightly and partly in shade, and in particular her deep and penetrating dark eyes, express the subject's inner thoughts. The overall effect is both complex and extraordinary.
Executed by Raphael after moving from Florence to Rome in 1508, the painting represents one of the apexes of the master painter's portrait work.
Interested in visiting Pitti Palace?
Arrange your visit in Florence, find prices and opening hours of the museum.
Go to museum