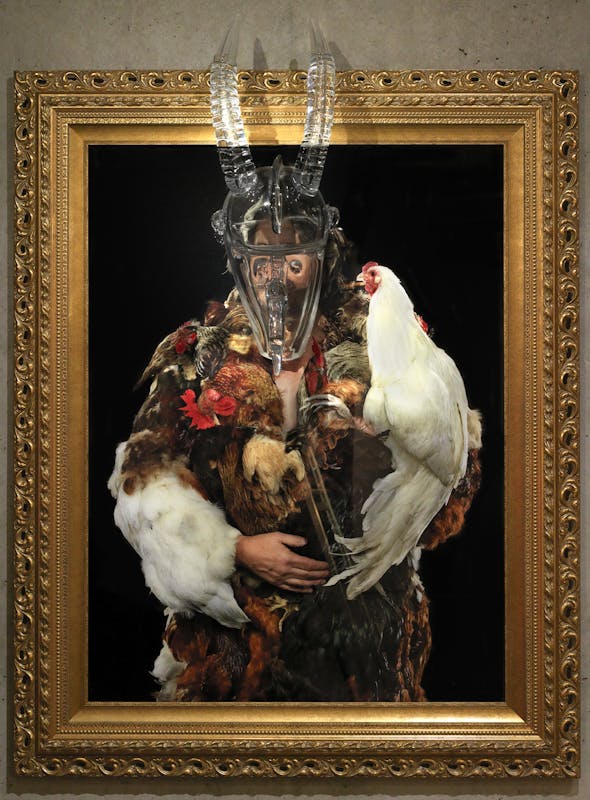 Ubuntu
Koen Vanmechelen (Sint-Truiden, Limburg 1965)
Technique
Diasec print on acrylic, Murano glass, gilded wood
Self-taught artist, painter, sculptor, performer, eclectic figure whose interests range from anthropology to bioethics, from the protection of human rights to bio-genetics, Belgian Koen Vanmechelen focuses his research on the concepts of hybridisation (of animal and plant species) and contamination (of expressive techniques and materials).
His installations trigger reflections on the archetypal and antithetical concepts that have always nourished the human imagination: life and death, human and divine, earthly and spiritual, and natural and artificial. Vanmechelen stages the inevitable and fatal attraction that has always been the engine of natural evolution and that drives matter, and living beings, to combine, to always generate new life forms: in fact, new hybrids.
With his artistic practice, as well as the many philanthropic projects that the artist promotes and coordinates in many parts of the world from his atelier-museum Labiomista in Genk, Belgium, Vanmechelen invites us to be open to what is different from us and as such surprising, outside the norm if not downright monstrous, and to recognise this diversity as an advantage and a concrete possibility of salvation. Together, a reminder to remember our limits as human beings, to grasp the signals that nature sends us, and to understand the urgency of finally approaching it with "religious" respect.
In this self-portrait, donated to the Uffizi Galleries on the occasion of the solo exhibition Seduction (2021), the artist presents himself in the guise of a shaman. He wears an overcoat made of feathers and taxidermied chicken parts from his decades-long Cosmopolitan Chicken Project. He gazes at us through a tribal mask, modelled on an African specimen from his extensive collection gathered by his wandering around the most remote places on the subcontinent, and made of fragile Murano glass. Our perception is distorted by the disorienting costume and this glass diaphragm. At the same time, the reaching out of the mask towards the observer and the transparency of the material metaphorically point to the artist's stripping of his own soul, generously offering himself to the Other. Ubuntu, in fact, literally means "I exist, because we exist" in the Bantu language. It is a powerful invitation to embrace the principle of this South African philosophy and to become intimately involved in the profound bond of exchange that unites all humanity and natural creation. Because both biologically and socially, we are nobody without others.
Interested in visiting The Uffizi?
Arrange your visit in Florence, find prices and opening hours of the museum.
Go to museum