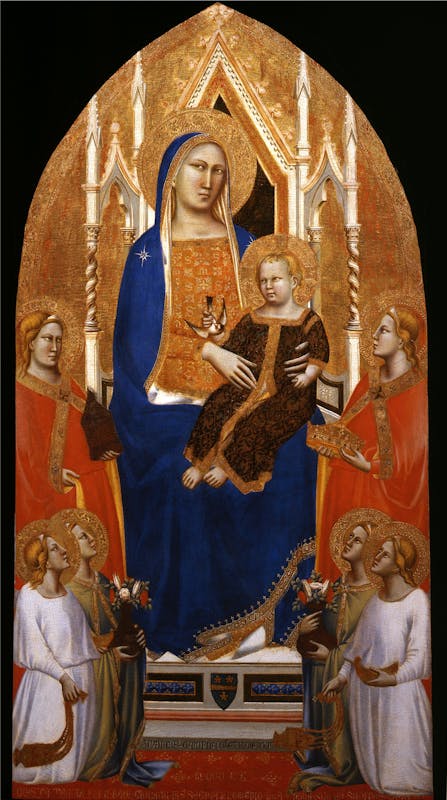 Madonna and Child Enthroned with Angels
Taddeo Gaddi (Florence c. 1290/1300 - 1366)
Inscriptions
on the throne step: TADDEUS GADDI DE FLORE(N)TIA ME PI(N)XIT
on the carpet: MCCCLV
QUESTA TAVOLA FECE FARE GIOVANNI DI S(ER) SEGNIA P(ER) REMEDIO D(EL)LA (A)NIMA SUA E D(EI) SUOI PASSATI
According to the iconography of the Madonna in Majesty, Mary sits as queen on the throne carrying her son Jesus on her lap. He tenderly grasps his mother's fingers and holds a goldfinch in his right hand, a recurring attribute in images of the infant Jesus, interpreted alternately as a symbol of the soul placed in the hands of the Saviour, or rather as a prefiguration of the Passion of Christ, recalled by the red mask that connotes the bird.
At the sides of the throne, two angels - their wings are not visible - devoutly offer a pyx and a crown, ornaments that also characterise the saints Mary Magdalene and Catherine of Alexandria, with whom the two figures, dressed in red, have sometimes been identified. Below, other angels offer vases full of flowers to the Virgin and Child and scatter incense with thuribles, a motif inspired by one of the most venerated Marian images in Florence, Bernardo Daddi's painting of the tabernacle in Orsanmichele.
As the inscription states, the panel was commissioned by Giovanni Segni to atone for his own sins and those of his ancestors for the chapel the family patronised in the church of San Lucchese in Poggibonsi (Siena). The coat of arms of the house is depicted in the centre of the throne step.
Because of the presence of the name of the author and the date in the inscription, the panel is a milestone in the career of Taddeo Gaddi, Giotto's pupil who, having survived the terrible epidemic of the Black Death, became the most authoritative representative of Giotto's tradition after the mid-14th century. The homage to Giotto is evident in this image, which takes up the model of the Majesty of All Saints (Uffizi) in its composition and in many details, although made more sumptuous by the decorative richness, as shown by the Virgin's dress, adorned with the letters S and M (Santa Maria). The work is also a demonstration of the mastery achieved by many 14th-century painters in working with gold and silver leaf, used not only for the background and the halos, but also for the decoration of the robes, the throne and the material rendering of the furnishings.
The painting, on loan from the Pinacoteca Nazionale di Siena, has been on display in the Uffizi since 1914.
Interested in visiting The Uffizi?
Arrange your visit in Florence, find prices and opening hours of the museum.
Go to museum