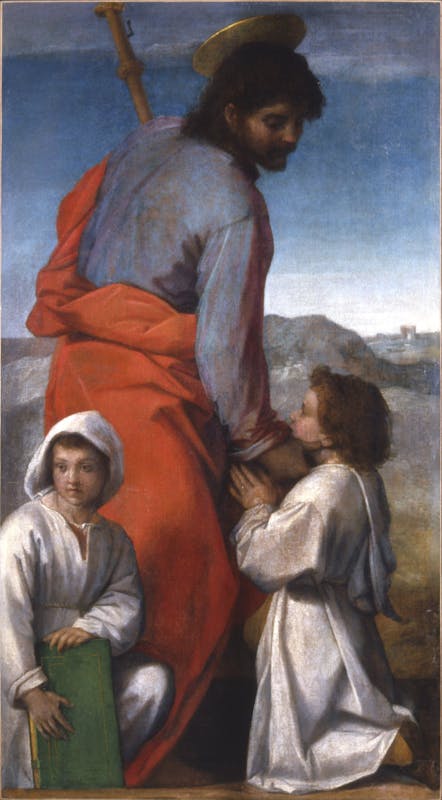 Standard of Saint James
Andrea d'Agnolo, known as Andrea del Sarto (Firenze 1486 – 1530)
St James, with his back slightly turned, and clothed in a blue robe and red cloak, can be recognised from the "bordone", the long stick used by pilgrims. Having stopped walking for a moment, he is tenderly caressing a kneeling boy. The other boy on the left of the painting, is looking towards his right and holding a green book in his hands, a reference to the rules of the fellowship to which they belong. The children are wearing the white robes of the Compagnia del Nicchio (the shell, attributed to St James), a confraternity with headquarters at the Spedale degli Innocenti. Some sources believe that Del Sarto had been a member of the Compagnia, the recipient of the painting. The scene is constructed to recreate the simple clarity of a moment in everyday life: it does not feature many other details, except the sparse landscape behind the subjects. This particular aspect of del Sarto's art, the ability to transfer a holy image to an everyday, domestic setting, became a source of inspiration for the Florentine painters of subsequent generations, who tirelessly followed the example of the artist that Vasari had defined as "the Faultless Painter".
Interested in visiting The Uffizi?
Arrange your visit in Florence, find prices and opening hours of the museum.
Go to museum