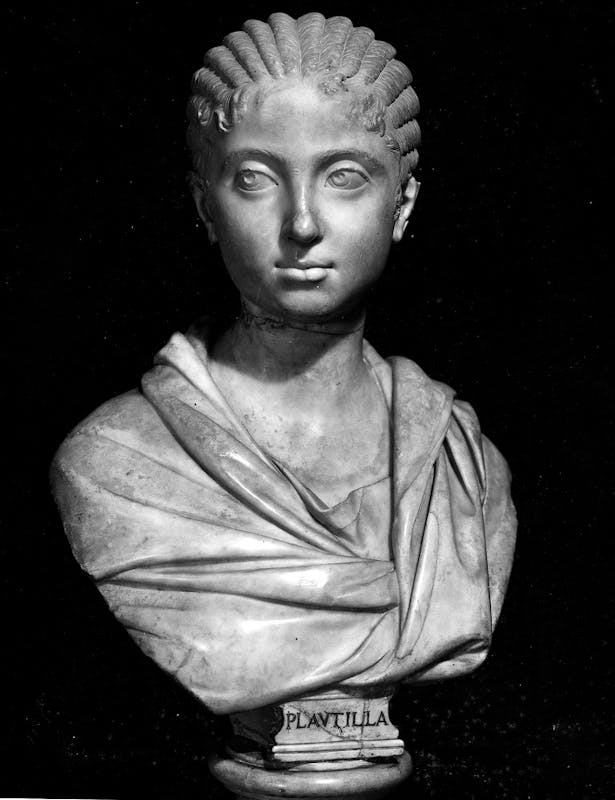 Portrait of Plautilla
Roman art
The statue is of a young girl, with vaguely childlike features and a particular "melon" hairstyle, consisting of twelve braids around the head, gathered at the nape in a toupet. The barely closed mouth, head turned to the right, and downward gaze all contribute to the almost melancholy expression, which places the sculpture among the iconographic types usually chosen for funeral portraits. In spite of some additions, both the head and the bust are considered ancient, although perhaps belonging together: the face seems to date back to the Severan period, while the writing style of the epigraph, AUTIL (integrated into PLAUTILLA) dates it back to the second century A.D. It is not to be excluded that the sculpture is of a private citizen who chose to copy the official portrait model of Plautilla, young empress married to Caracalla at just 14 years of age in 202 A.D. and exiled by him to Lipari before being put to death in 212 A.D.
3D model in collaboration with Indiana University. Visit https://www.digitalsculpture-uffizi.org/
Interested in visiting The Uffizi?
Arrange your visit in Florence, find prices and opening hours of the museum.
Go to museum