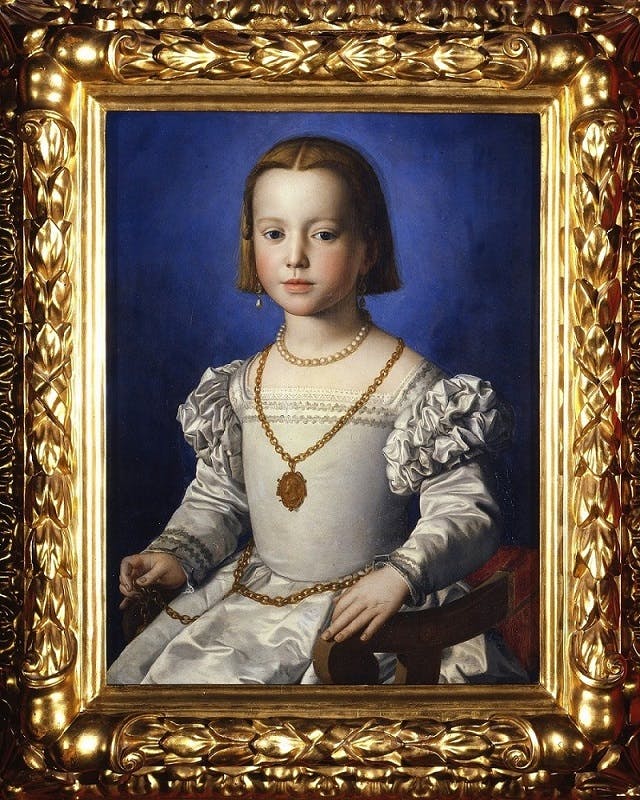 Portrait of Bia de' Medici
Agnolo di Cosimo Tori, known as Bronzino
Location
D15. Room of the Dynasties
In the late 19th century, this painting was already identified as a portrait of the "natural daughter of the Duke", Cosimo, born before his marriage in 1539: the little Bianca, known as Bia.
In 1560, Francesco Maria II della Rovere's ambassador to Tuscany, Simone Fortuna wrote in a letter that Cosimo "in his first years as duke, had, by a noblewoman of Florence, a girl who was baptised in the name of His Illustrious Excellence, and called Bia. And the Lady Duchess, finding her in her home, was raising the girl lovingly, as she was born to her husband before she became his wife." The young girl was therefore brought up, as often happened, alongside the legitimate children of the household, surrounded by the affection of Eleanor of Toledo and her grandmother, Maria Salviati, with whom she spent a great deal of time and who was particularly fond of her.
Unfortunately, at the age of about five, Bia suddenly fell ill towards the end of January 1542 and died within a few weeks.
The duke was distraught and had a plaster funeral mask cast of the child, as listed in the Guardaroba inventory of 1553, which also contains the first record of the portrait of Bia by Bronzino, mentioned by Giorgio Vasari in his biography of the artist. Some scholars have advanced the theory that Bronzino did not paint the child while she was alive, but that he took the mask as his model. The date of the work is therefore between 1542 and 1545, when the painter also completed the Portrait of Eleanor of Toledo with her son, Giovanni (Uffizi) which uses the same solution as the other painting, placing the figure before a deep blue background that becomes lighter around the face.
In spite of the young girl's clothing, which is in white to allude both to her purity and her name, Bianca, and the abundance of jewels worthy of an adult princess, Bronzino's exceptional talent has given the living image of the child all of the vivacity of a painting done from life. This is also due to the seated position that sees the child almost ready to jump to her feet, with a barely contained exuberance, and the way that she fidgets with the belt between her fingers.
As well as the string of pearls around her neck, the child is also wearing a gold chain with a medal showing the profile of her father, Cosimo, as he appears in a portrait by Pontormo, now in the Palatine Gallery in Pitti Palace.
Interested in visiting The Uffizi?
Arrange your visit in Florence, find prices and opening hours of the museum.
Go to museum