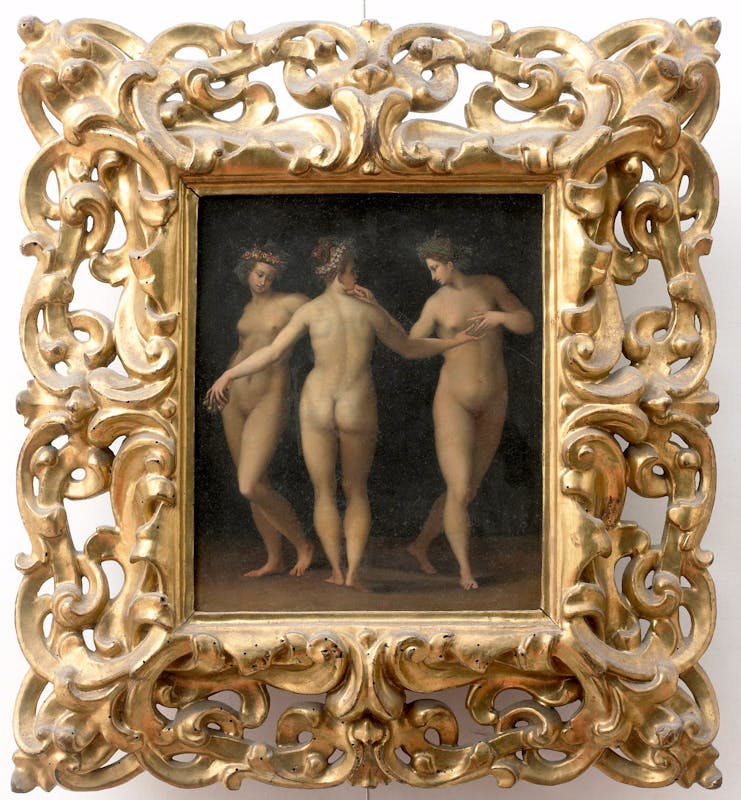 The three Graces
Francesco Morandini, known as Poppi (Poppi, Arezzo 1544 – Firenze 1597)
The three young girls, the daughters of Zeus and Eurynome, are the personification of female beauty and grace. The Greek poet Hesiod, in his poem Theogony, recalls their names: Euphrosyne (Joy), Aglaea (Radiance), and Thalia (Prosperity).
In line with the traditional iconography of Greek-Roman origin, Poppi depicts them nude, according to the classical custom that saw the female nude as the representation of ideal beauty which has no need for ornaments. The three women are standing in a circle. The central figure has her back turned and the other two are facing the spectator. They are clasping hands with one another in a sort of dance that symbolises the circular harmony of friendship.
Francesco Morandini, known as Poppi, a student of Vasari's, belonged to the circle of artists active at the Medici court in the sophisticated intellectual circle that had formed around Francesco I de' Medici and scholar Don Vincenzo Borghini in the early 1570s.
One of the paintings created by Poppi for Francesco features a portrayal of the Golden age: The subject was part of a series of "inventions" that Borghini had developed, based on episodes taken from classical mythology and Ovid's Metamorphoses, designed to celebrate the Florentine "talents" and the great Medici governance.
Poppi was also one of the artists appointed to translate into painting the complicated iconographic plan developed by Borghini for Francesco's Studiolo in Palazzo Vecchio, under Vasari's supervision, between 1570 and 1572.
This oil painting on copper is therefore part of the category of those small works with a mythological theme, destined for private use, particularly appreciated by Francesco and his court.
From a stylistic point of view, the work is strongly influenced by the 'monumentalism' of Michelangelo, but this is mellowed by the soft, round features, expressed in the characteristic elegant, sophisticated poses of Poppi's style.
Interested in visiting The Uffizi?
Arrange your visit in Florence, find prices and opening hours of the museum.
Go to museum