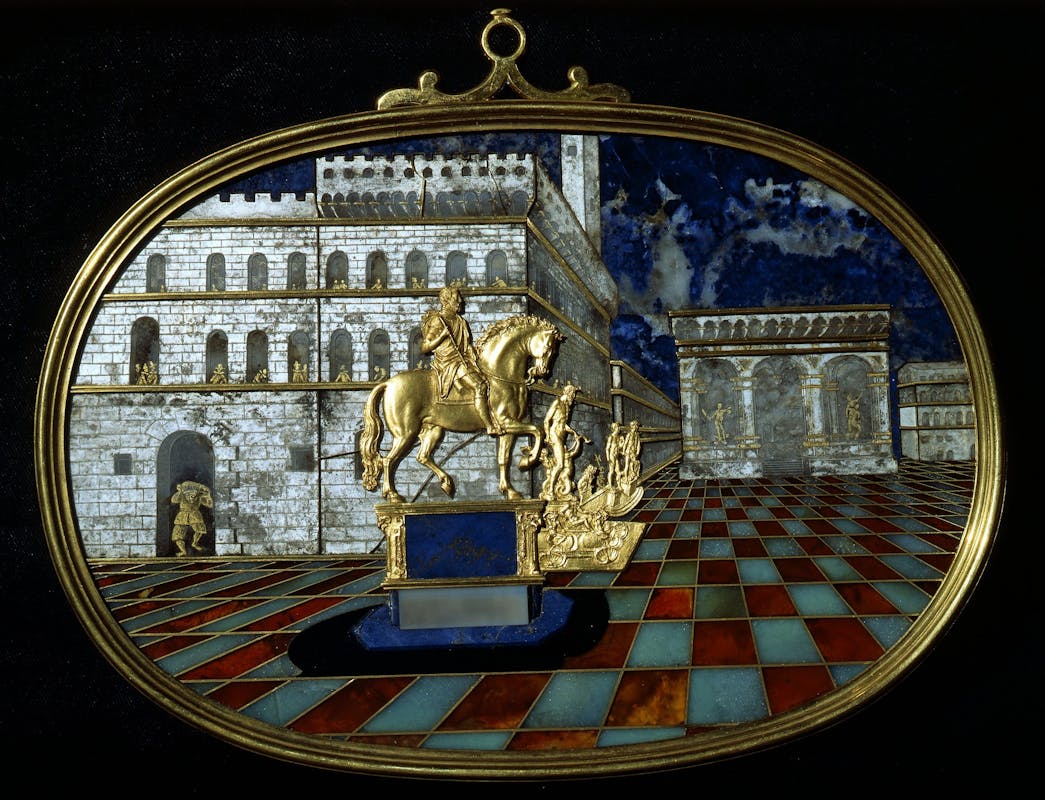 Oval with perspective view of the Piazza Granducale
Botteghe granducali, Bernardino Gaffuri (Milan ? - Florence 1606) Jacques Bylivelt (Delft 1550 - Florence 1603)
Technique
Mosaic in pietra dura (lapis lazuli, oriental chalcedony, cornelian, heliotrope, rock crystal), gold and gilded bronze
This work, a masterpiece from the Florentine workshops under the rule of Ferdinando I de' Medici, shows a spectacular view of the Piazza Granducale (now the Piazza della Signoria), dominated by the equestrian statue of Cosimo I by Giambologna, and masterfully created using molded and engraved gold leaf. The same method is used for the reproductions of the other famous sculptures lined up in front of Palazzo Vecchio: the Fountain of Neptune by Bartolomeo Ammannati, the Marzocco by Donatello, David by Michelangelo, and Hercules and Cacus by Baccio Bandinelli. Illuminated and engraved gold and silver have been used to distinguish the fronts of the buildings overlooking the piazza, the little figures looking out from the windows, with the sculpted groups of Perseus by Benvenuto Cellini and the Rape of the Sabine Women by Giambologna, under the Loggia dei Lanzi's two outermost arches. These illuminated sections are protected by ultra-fine slivers of rock crystal, fastened to the background via the gold architectural ledges. The whole piece is completed by a background in precious lapis lazuli and a marvelous floor in cornelian and heliotrope tiles, creating a strong perspective view.
The oval was commissioned by Ferdinando I de' Medici from two of the most gifted artists in his workshops. Bernardino Gaffuri (or Gaffurri), who came from a famous Milanese family of pietra dura engravers, called to Florence by Francesco I de' Medici in 1575, and the court goldsmith Jacques Bylivelt, originally from Delft. In a contract dated 12 July 1599, Gaffuri was appointed to add the pietra dura parts of the plate, while Bylivelt was commissioned to create the embossed gold work, which he completed in early December 1600. For the view of the piazza, Gaffuri used a woodcut, published in a booklet from 1583, printed on the occasion of the unveiling of the Rape of the Sabine Women by Giambologna. Bilivelt added the gold relief work to the Equestrian Statue of Cosimo I, erected in May 1594.
After its completion, the work was placed in the back of the central niche of the monumental Studiolo Grande, set into the recess in the wall opposite the entrance to the Tribuna. It remained there until 1780 when, together with the piece of furniture, it was moved to the Museum of Physics and Natural History of Florence, established shortly before this period by Leopold II, Holy Roman Emperor. Following the destruction of the cabinet, the plaque was taken to the Lorraine Guardaroba, before being placed on display in the Collection of Gems in the Uffizi Galleries (now the Cabinet of Miniatures) from where it was moved, in 1921, to the Treasury of the Grand Dukes.
Interested in visiting Pitti Palace?
Arrange your visit in Florence, find prices and opening hours of the museum.
Go to museum