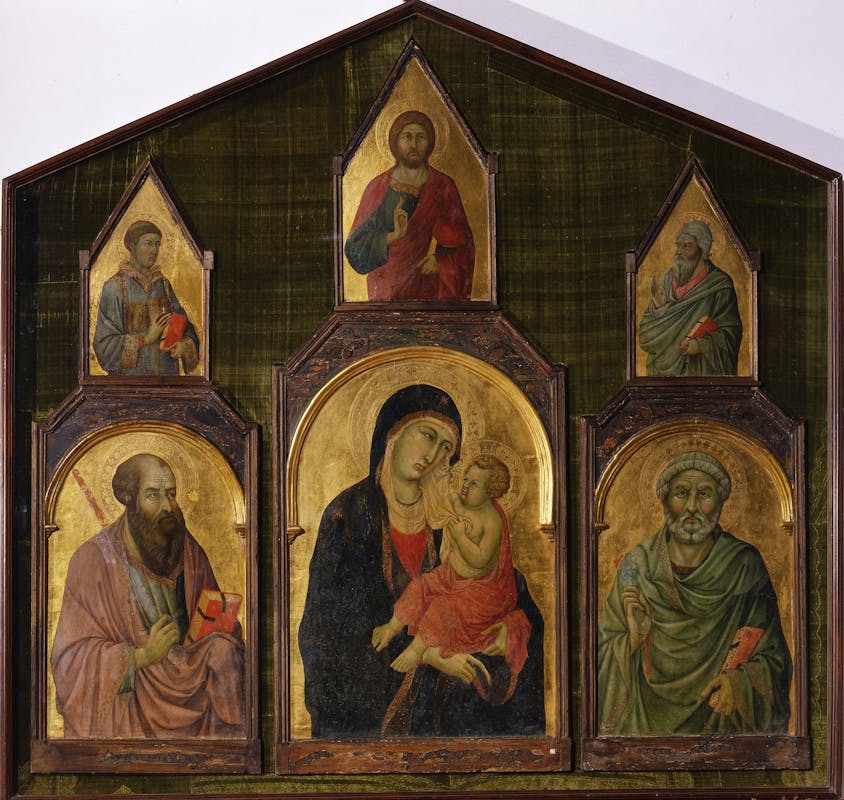 Madonna and Child with Saints Peter and Paul
Ugolino di Nerio (Siena, documented from 1317 to 1327) and Bartolomeo Bulgarini (Siena, documented from 1338 to 1378)
Location
B3. Contini Bonacossi - Gold founds
Technique
Tempera on panel, gold base
Fragmentary inscriptions on the frame identify the saints on either side of the Madonna and Child. On the left, Paul (S. PAULUS APL) holds a sword symbolising his martyrdom, and on the right Peter (S. PETRUS APL) holds the keys to the kingdom of heaven. To create a realistic effect, a thin later of metal foil was originally applied to the sword and keys, but it has since been almost completely destroyed. The triangular arches above the altarpiece form another triad with Christ the Blessed Redeemer in the centre. On the left is the deacon Saint Stephen, the first martyr, with a bleeding head, and on the right is the holy apostle Andrew, brother of Saint Peter.
The triptych is attributed to Ugolino di Nerio, a faithful follower of the Sienese master Duccio di Boninsegna, who probably collaborated with a younger painter, Bartolomeo Bulgarini, to whom we owe the figures' frowns and more marked expressions.
The painting was originally displayed in the church of San Pietro in Villore in San Giovanni d'Asso, near Montalcino, but was sold to the Contini Bonacossi family in 1938 by the Gori-Pannilini family, who were patrons of the parish.
Interested in visiting The Uffizi?
Arrange your visit in Florence, find prices and opening hours of the museum.
Go to museum