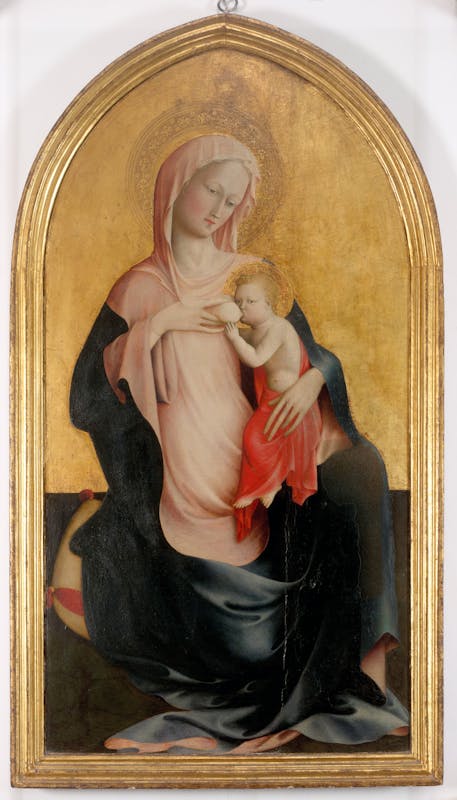 Madonna of Humility
Tommaso di Cristofano Fini, known as Masolino (Panicale, San Giovanni Valdarno 1383 – Florence 1440 c.)
Location
A8. Masaccio - Beato Angelico
Technique
Tempera on wood, gold base
Mary is seated upon a cushion on the ground, following the iconographic model known as the Madonna of Humility (from the Latin humus, ground). The Virgin is feeding her son, Jesus, offering her breast, a reason for which the iconography of the Madonna of Humility often merges into that of the Nursing Madonna, widely in use in Tuscan paintings, above all during the 14th century. Both models emphasize Mary's privileged role as intermediary between God and humanity. This subject seems particularly suited to a holy image displayed in worship and destined to a small oratory or the secondary altar of a church, as the small size of Masolino's painting would seem to suggest.
The right side of the panel is damaged, where the support shows a modern addition at the top, and there is extensive reapplication on the gold background and painted surface. In spite of this, the image of the Madonna and Child is clear overall, characterized by the fluid progression of the clothing, in late Gothic style and the softness of the tender skin. The majority of scholars attribute the painting to Masolino, of whom this Madonna of Humility would be one of the oldest works known to date.
The origins of the work are not known. It was purchased from the English antiques market during the 1930s by Alessandro Contini-Bonacossi, who sold it to Nazi military leader, Herman Göring in or around 1942. It was later tracked down in Germany by Rodolfo Siviero and returned to Italy in 1954 before being moved to the Uffizi Galleries in 1988.
Interested in visiting The Uffizi?
Arrange your visit in Florence, find prices and opening hours of the museum.
Go to museum