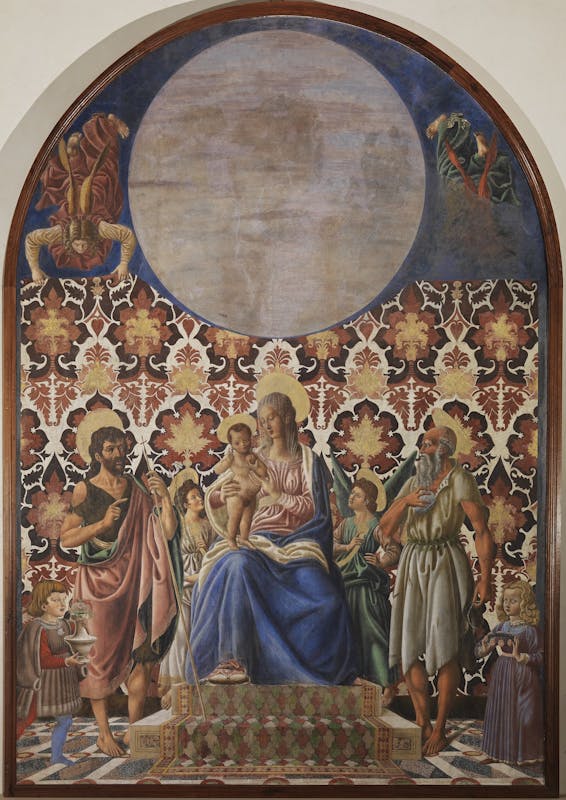 Madonna and Child with Saints John the Baptist and Jerome, angels and two children from the Pazzi family
This fresco was originally above the altar in the chapel of Castello del Trebbio in Pontassieve, owned by the Pazzi family. The connection with this famous noble family of Florence is made obvious by the presence of two children at the foot of the throne, where the Virgin is seated with the Child. The girl holding a garland is Oretta, daughter of Piero d'Andrea Pazzi, born in 1437 together with her twin, Niccolò, who died while an infant. The little boy holding a vase of flowers would seem to be her younger brother, Renato, born in 1442.
The fresco has been attributed to various painters over the years, although it is now considered part of the work of Florentine painter Andrea del Castagno, who painted it after 1445. This date would seem to be confirmed by the apparent ages of the children and the arabesque decoration on the cloth of honour being held by two angels in the distance. It is inspired by Venetian style and can be traced to the painter's stay in Venice (1442-1444). In this painting, accompanied by Saints John the Baptist and Jerome and two angels, the Virgin is seated below a round form, painted grey, that perhaps corresponded to a circular window or a coat of arms belonging to the Pazzi family in the original chapel.
The fresco was detached several years before 1930 under the supervision of antiquarian Stefano Bardini, and the Contini Bonacossi family came into possession of it in 1936. The substantial damages to the work, not necessarily due to transport, made restoration necessary, as carried out by the Uffizi between 1989 and 1991.
Interested in visiting The Uffizi?
Arrange your visit in Florence, find prices and opening hours of the museum.
Go to museum