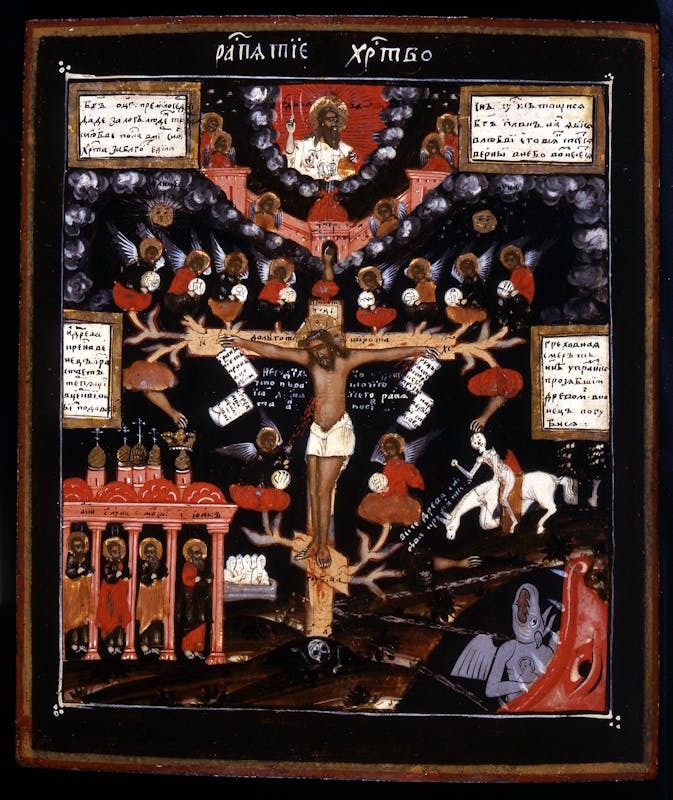 The Fruits of the Passion of Christ
Central Russia workshop
Location
Collezione delle icone russe, sala 2
Christ on the crucifix is shown in the centre of the composition on a cross resembling a tree with angels branching out like flowers from it, bearing globes featuring the symbols of the Passion. At the top of the cross, a hand points to the open gate of a walled town, the celestial Jerusalem over which God the father reigns. The message is clear: Christ's sacrifice redeemed the original sin and made humanity's salvation possible. Below left, under the arches of a temple over which a further hand is branching out from the cross to lay down a crown, are the four evangelists, representing the church founded by Christ. To the right, death, in the form of a skeleton on horseback, has been defeated, while the underworld, conceived of as a huge mouth emerging from a grotto where the devil keeps the soul of Judas – the apostle who betrayed Christ– chained to the cross, opens up in the bottom corner.
Accompanied by inscriptions illustrating every detail, the icon celebrates Christ's sacrifice and, juxtaposed to it, his victory over the devil, death and sin. It thus comes across as a sermon in visual form.
Icons of the Crucifixion and the fruits of the Passion were relatively commonplace in Russian paintings in the late 17th century and the first decades of the 18th century, on the basis of an illustrious prototype made in 1682 by Vasily Andreev, an artist at the Kremlin Armoury in Moscow. The Uffizi icon was the work of a provincial workshop in Central Russia in 1730-40 and its painting technique shows particular affinities with those of the martyrdom of St John as a soldier (inv. 1890 no. 9358) and the Mother of God, Joy of All Who Sorrow (1890 no. 9324) also in the museum's collection.
Interested in visiting Pitti Palace?
Arrange your visit in Florence, find prices and opening hours of the museum.
Go to museum