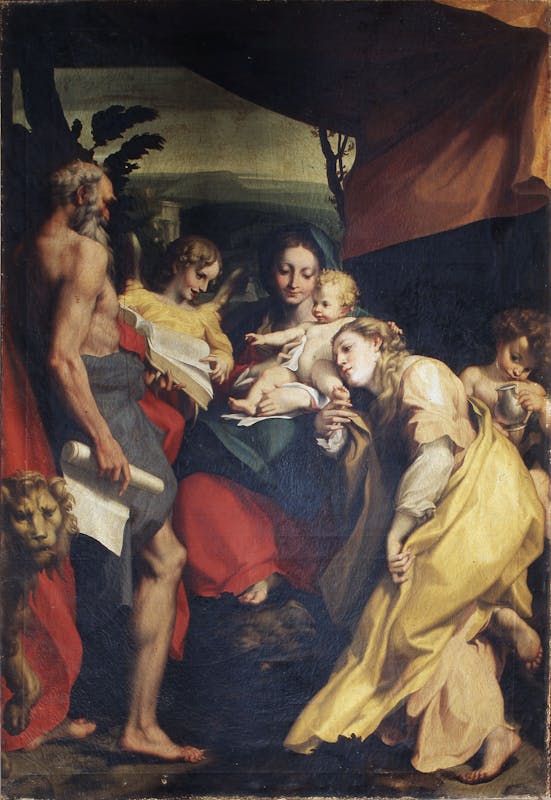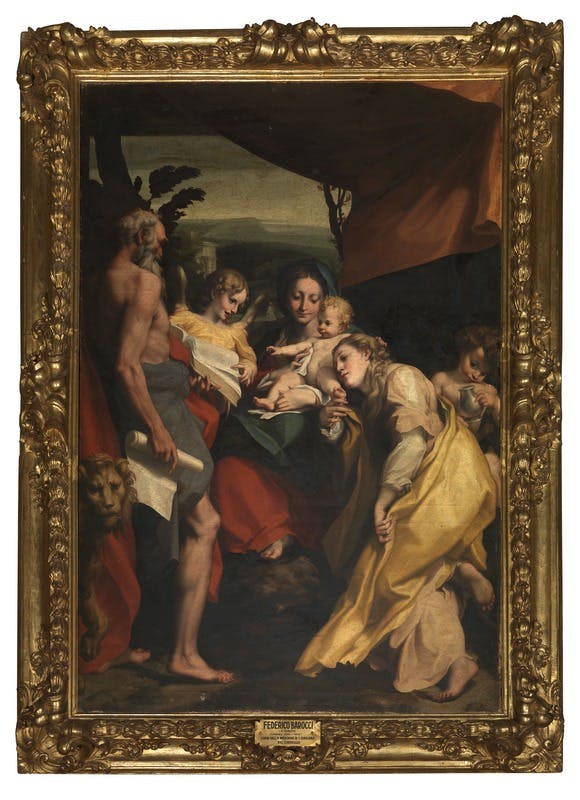 Copy of Madonna of St. Jerome after Correggio
Anonymous seventeenth-century Sienese painter (formerly Federico Barocci)
The painting is a faithful reproduction of the Madonna and Child with Saints John and Jerome, Mary Magdalene, and an angel, painted by Correggio for the Bergonzi Chapel in the church of Sant'Antonio Abate in Parma. The painting is a highly celebrated masterpiece and undoubtedly the most replicated of Allegri's works. It has been the subject of passionate disputes between princes and collectors throughout Europe. Even Grand Duke Ferdinand de Medici – who had studied and admired the painting during a trip to Parma – tried in vain to buy it by putting pressure on the Bergonzi heirs. The heirs' were unwilling to part ways with the painting, and so de Medici instead focused his attention on a reproduction that must have been pointed out to him by one of his many brokers. Said reproduction was easier to acquire as it was located on the high altar of Santa Maria dei Servi Church in Montepulciano, patronage of the Nobili family. The negotiation – documented in detailed correspondence between Ferdinando, the Prior of the Servite Order and the Marquis de' Nobili – was successful, and by 1699 the painting had entered the Apartments in Pitti Palace. Ferdinando was so enthusiastic about the painting that he wrote to Niccolò Cassana, his painter and trusted advisor, to say: "I have the reproduction of the Correggio painting I told you about, which is not by Vanni, but by Baroccio. It is very beautiful and Ugolino, who is familiar with the original, says that it is a very good reproduction and even improves on the original in some ways. Some of the brushstrokes on St. Jerome's leg – which were removed by a French monk while cleaning the painting – appear in this reproduction. Every single brushstroke. It is essentially another original". This letter adds weight to the belief that the painting is by Barocci, the name under which it is listed in all inventories and in the Gallery's earliest guidebooks. Specialists have, however, expressed some concerns. The firm, steady painting techniques and the bright strokes of yellow, red and blue are not entirely in keeping with the Urbino painter's painting style. In fact, the techniques bear more similarities to Raffaello Vanni's style, who was the son of Francesco and whose workshop also specialised in producing and selling reproductions.
Interested in visiting Pitti Palace?
Arrange your visit in Florence, find prices and opening hours of the museum.
Go to museum