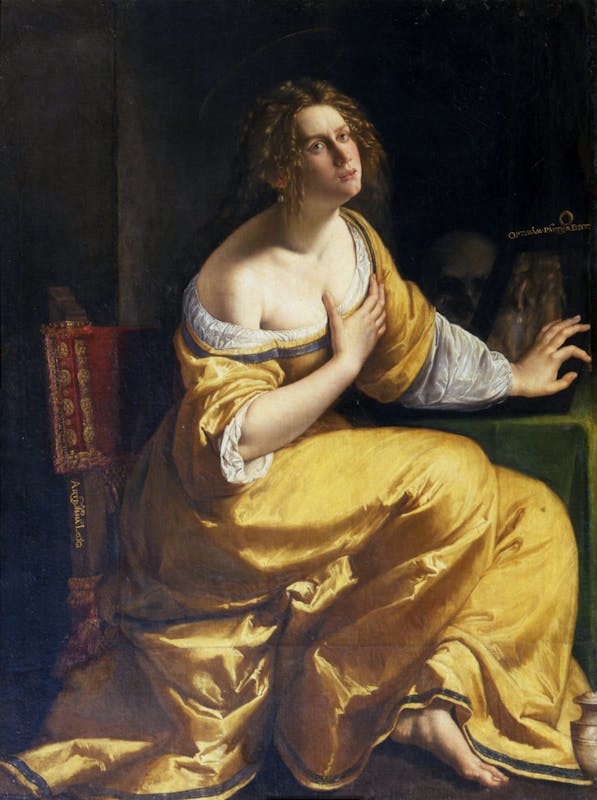 St. Mary Magdalen
Artemisia Gentileschi (Roma 1593 – Napoli 1652/53)
Mary Magdalen was a much-loved subject both by painters and the public because she represented the ideal model of the search of virtue and the renunciation of worldly pleasures. Artemisia Gentileschi wished to recount the story of this difficult path in her portrayal of a young woman with wild hair wrapped in a magnificent yellow silk gown holding a mirror, the symbol of vanity and inscribed with the words Optimam partem elegit ("you have chosen the best part", namely virtue) away from her. The beam of intense light illuminates the figure from the right, a demonstration of the technique Artemisia would have learned by studying Caravaggio's works in Rome, and conveys the sense of drama that envelopes the subject. Mary Magdalen's inner turmoil is also a reflection of the painter's own difficult life, who only a few years previously had been raped and endured the shame of a trial. The human and professional parable of Artemisia Gentileschi, an extraordinary artist and a spirited woman, is thrilling because she is seen as forerunner of female talent, gifted with a unique character and strength of will. It was this talent that enabled her, on her arrival in Florence from Rome at a very young age, to enter into the Academy of Art and Design in Florence; to learn to read, to write, to play the lute and to become a part of the cultural world in every sense. Her strength of will helped her to overcome domestic violence and financial difficulties; moreover, it enabled her to claim her own freedom to write passionate letters to her lover Francesco Maria Maringhi, a nobleman who was as cultured as he was tender and who remained a faithful companion throughout her life.
Interested in visiting Pitti Palace?
Arrange your visit in Florence, find prices and opening hours of the museum.
Go to museum